ELLISTON — For some Montanans, a Christmas tree hunt isn't complete without a trail-ready four-wheel drive, a winch and a few friends to help get unstuck.
Helena-based Frontier 4x4 Club held its annual Christmas tree run on Saturday in the mountains above Elliston. From heavily modified Jeeps tailored to mountain travel to bone-stock SUVs and trucks, they headed out through the soupy fog east of the Divide to the crystal clear skies of Telegraph Creek. Lumbering through the trees they found a spot to make a campfire, get the kids on a sledding hill and warm up a pot of chili to take the bite out of the air.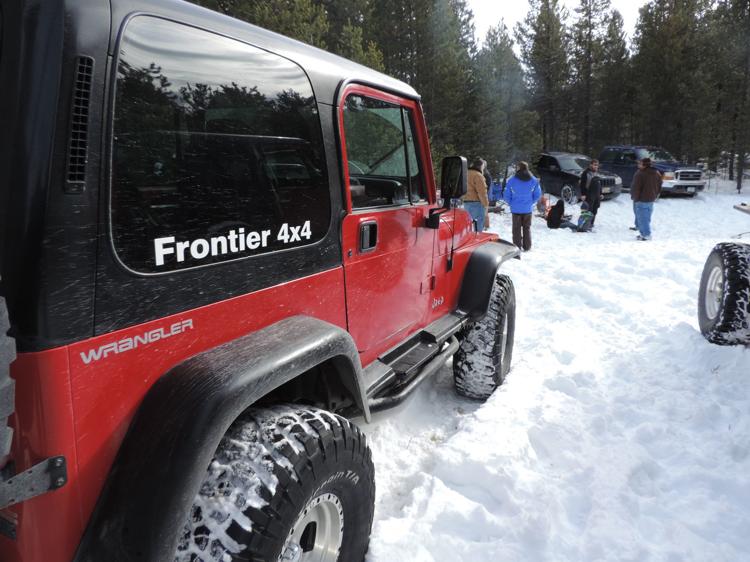 "Our motto is friendship, unity, family, fun," said club president Tom Mandera. "We are a family club and we're about responsible four-wheeling. There's no drinking when we're on the trail and we stay on the trail."
Frontier started in 1974, advocating for vehicle access on public lands and providing a network of four-wheel drive enthusiasts.
"A lot of it is the teaching part, getting people out and we teach them how to drive right through it," said Daryl Hardie. "We keep an eye out for each other."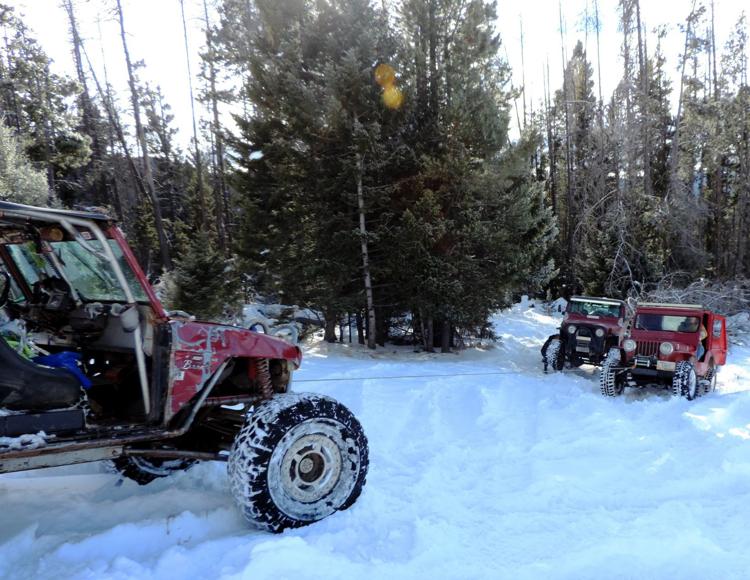 Both Mandera and Hardie said the club emphasizes safety. That means riding in a group, never leaving a vehicle behind, keeping consistent radio contact, and having the equipment necessary to get out of a jam. Hardie opened up the back of his 1992 Jeep, packed full with ropes, shovels, axes, tire chains, an air compressor and other tools of the trade.
The club also believes in being responsible when out on the landscape, Hardie said. That includes adhering to the pack it in, pack it out philosophy, picking up trash along the road and doing voluntary trail clearing and maintenance. They often hear from the Forest Service when it comes to accessing difficult to reach places and do the work at their own expense.
The club runs year-round, doing both summer and winter runs about once a month. Summer trips are typically a bit more technical and include rock crawling. Winter is more about dealing with snow, and knowing how to power a vehicle through slick conditions without getting too stuck.
"The No. 1 mistake is your right foot and that right pedal," Mandera joked. "Every newbie just won't stop hitting the gas."
For some Montanans, a Christmas tree hunt isn't complete without a trail-ready four-wheel drive, winch and a few friends to help get unstuck.
After a little socializing and lunch, it was time to take a few of the vehicles up the road. With air pressure down to as low as 6 pounds per tire, most were able to get enough grip to make it up a steep hill in conditions that no factory vehicles would have a chance in.
Morgan Huston stood next to his Jeep at the top of the hill, admiring the view back towards Elliston — the reason he and the others enjoy spending so much time, energy and money getting their four-wheel drives just how they want them.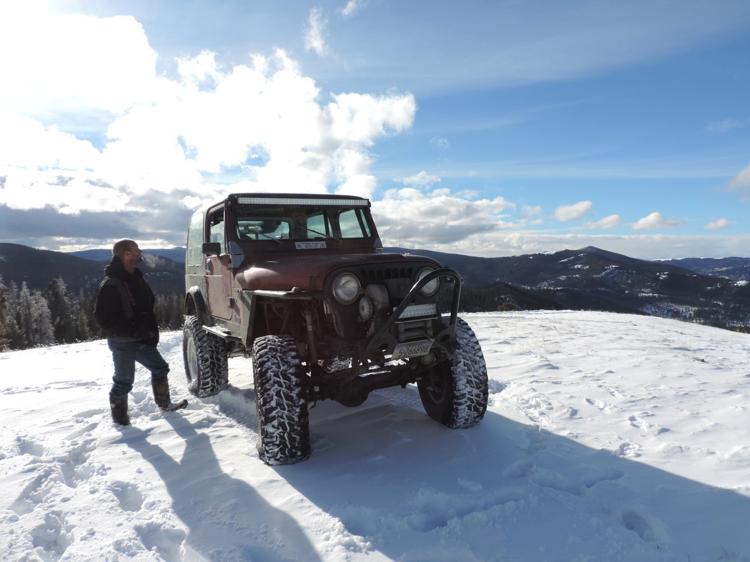 When it comes to learning about modifying a vehicle for the next level of four-wheeling, club members recommended coming to one of the monthly meetings which are advertised on Facebook. While vehicle choice comes down to personal preference, just about everyone in the club has experience and knowledge to offer.