From chronic wasting disease to Trump's visits, here are the IR's biggest stories of 2018
Here are the 10 biggest local stories of 2018, as selected by the Independent Record staff. 
Biggest stories of 2018: Despite Trump's unprecedented visits, Montana splits ticket in November midterms
In an unsuccessful attempt to secure Montana's first fully Republican congressional delegation in over a century, President Donald Trump made history in the lead-up to last month's House and Senate elections by visiting the state more frequently than any other sitting president.
The President spoke at four Montana rallies, drawing thousands of attendees in Great Falls, Billings, Missoula and Bozeman between July and November. Trump's final appearance bested Harry Truman's mark of three visits to the Last Best Place between 1948 and 1952.
Vice President Mike Pence visited the state three times, giving his final speech at Glacier Park International Airport in Kalispell the day before the election. Donald Trump Jr. spoke in Billings and Bozeman before embarking on the two-day, eight-stop Montana Victory Tour, which brought him through East Helena on Oct. 26.
Out-of-state Republicans would follow in their support: Sen. Cory Gardner of Colorado spoke in three cities Oct. 23, while Sen. Lindsay Graham of South Carolina appeared at a Halloween night rally at the state GOP office in Bozeman.
Democratic former state lawmaker Kathleen Williams was challenging incumbent Republican Rep. Greg Gianforte for Montana's lone House seat, which has been GOP property since 1997. By Election Day, Gianforte had not yet reached a year and a half in the House since defeating musician and former Montana Arts Council member Rob Quist in the 2017 special election.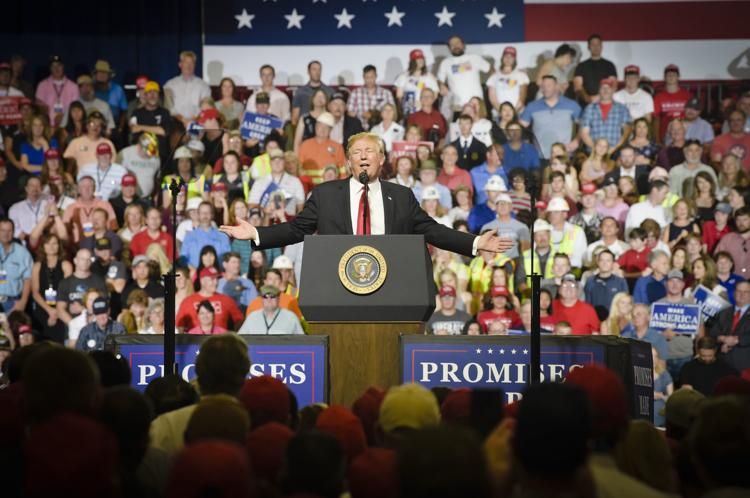 On his Oct. 18 visit to Missoula, Trump favorably referenced Gianforte's infamous assault on reporter Ben Jacobs of The Guardian the day before the 2017 special election.
"Greg is smart. And by the way, never wrestle him," Trump said. "You understand? Never. Any guy that can do a body slam, he's my kinda (guy)." Trump then mimed a body slam.
In the Senate, Republican state auditor Matt Rosendale sought to replace two-term Democrat Sen. Jon Tester. Trump minced no words in his disdain for the incumbent, noting Tester's opposition to the March nomination of White House doctor Ronny Jackson to lead the Department of Veterans Affairs.
Tester surfaced allegations of unprofessional conduct against Jackson in April, which led to the withdrawal of Jackson's nomination and prompted Trump to tweet that Tester should resign.
"(Tester) might be a nice guy, except he tried to destroy Admiral Ronny Jackson, who was the most clean-cut, wonderful person you've ever met," Trump said Nov. 3 in Bozeman. "He tried to destroy him. And I've never forgotten. And it's honestly one of the reasons I've been here so much."
Despite his withdrawal, Jackson denied the allegations. 
Trump was not the only person to grab headlines at the rallies, however.
Billings high school student Tyler Linfesty gained social media fame at Trump's Sept. 6 rally, when the 17-year-old was removed from the gallery behind the podium at Rimrock Auto Arena. Linfesty, who became widely known as "Plaid Shirt Guy," could be seen just above the President's right shoulder on the rally's television broadcast and made what the Billings Gazette described as "puzzled facial expressions" throughout the first 50 minutes of Trump's speech.
On the right side of his titular shirt, Linfesty wore a sticker adorned with a red rose, a symbol of the Democratic Socialists of America.
"Each time I see one of these rallies, you know, I see people behind Donald Trump clapping and cheering and being super enthusiastic," Linfesty said in a CNN interview the next day. "And I've always wondered myself, you know, 'Are those people really being genuine?' So when I got back there I knew that I was gonna be genuine. I was gonna give my actual reaction to the things he said."
To that end, Linfesty clapped when Trump spoke against NAFTA and claimed the 2016 Democratic presidential primary was tilted against Sen. Bernie Sanders, but shook his head at several statements and visibly said "Have you?" when Trump claimed to have gained "a lot of support."
On election night, Gianforte claimed victory with 51 percent of the vote. However, Trump's aggressive campaigning came up short of unseating Tester.
Rosendale held a 4,000-vote lead as Nov. 6 became Nov. 7, but ultimately conceded after late results from Missoula and Gallatin counties gave the incumbent an insurmountable lead. Tester carried only 13 of 56 counties but prevailed on wide margins of victory in urban areas: 37 percentage points in Missoula County and 45 in Butte-Silver Bow.
Gianforte's hold saved little face as the Democrats gained 40 seats to take control of the House for the 116th Congress. The blue gain could still climb to 41 seats as Republican Mark Harris's victory in North Carolina's 9th district is yet to be certified amid allegations of fraud.
Similar to Gianforte, Tester's victory only halted the Democrats' bleeding in the Senate as the GOP flipped seats in Indiana, Florida, Missouri and North Dakota to retain control.
CORRECTION: A previous version of this story did not clarify the state in which Mark Harris ran for a House seat.
Biggest stories of 2018: Helena homicide cases rise this year
In a city that averages one murder per year, Helena had two murder-suicides and a negligent homicide case within city limits and a double homicide right outside of town in 2018. 
In March, David and Charla Taylor were found dead in their Helena Valley home with multiple blunt and sharp force injuries.
Their son Kaleb, along with Kyle Alexander Hamm and Journey Ryder John Wienke, were all charged with deliberate homicide in connection with their deaths. Kaleb has pleaded guilty to the killings, and the other two men are awaiting trial. 
In July, authorities believe Richard Ferris shot and killed Olivia Serrano before fatally shooting himself at a home on the east side of town.
Ferris had two prior charges of partner or family member assault on his record. In one case, Ferris was accused of slapping his partner, causing her nose to bleed. When confronted by police, he allegedly "refused to obey lawful commands to stop by a police officer," caused "reasonable apprehension of bodily injury by attempting to punch an officer" and "created a hazardous condition for police officers during arrest by wrestling with police officers on ice."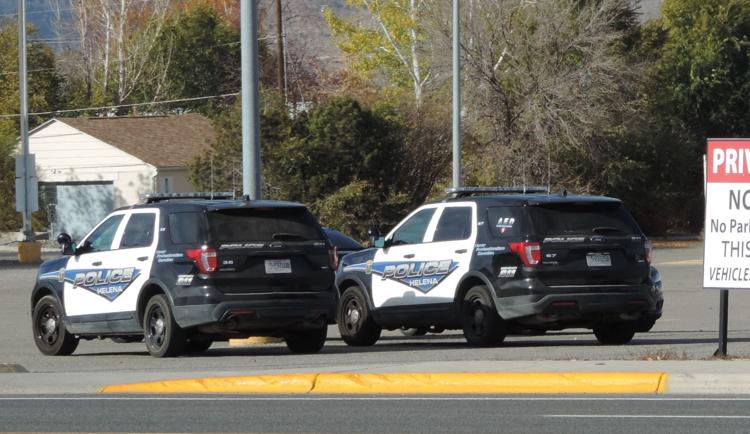 In October, Dr. Eugene "Buzz" Walton was fatally shot with a hunting rifle in the parking lot of Helena's old Kmart store.
Gregg Trude of Helena is awaiting trial on charges of negligent homicide and tampering with evidence in connection with Walton's death. The Independent Record has filed a request for the police report that led to the charges against Trude and is currently awaiting a response. 
Earlier this month, police believe Russell Roman shot and killed his estranged wife, Rebekah White-Roman, during a child's birthday party at a home on Helena's Westside.
Authorities believe the man was at the party for a short time before he ordered some of the people to leave and then drew a handgun. The other people ran from the home, and the man followed his wife into the front yard and shot her before fatally shooting himself.
Biggest stories of 2018: Helena Valley residents spent weeks fighting back floodwaters
After Ten Mile Creek crested its banks in late April, many Helena Valley residents spent the next several weeks fighting back the torrential floodwaters threatening their homes.
The flooding arrived without much warning, as warmer temperatures combined with massive snowpack in the high country to produce a deluge in several Helena Valley neighborhoods.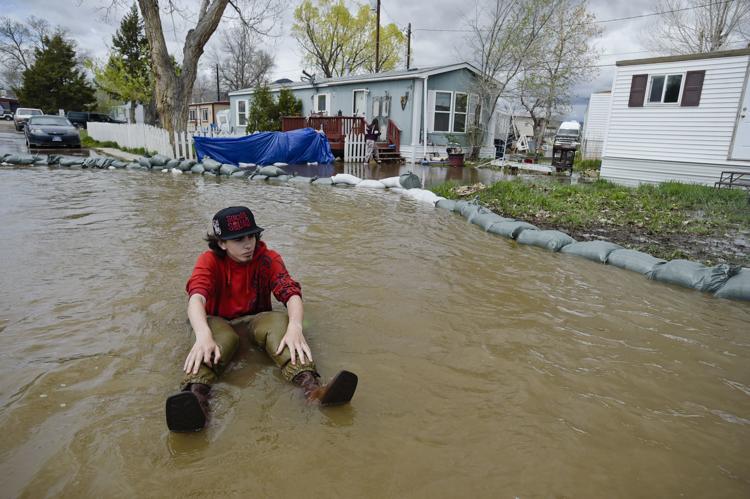 The flooding sent hundreds of volunteers springing into action, as they helped affected residents fill and stack thousands of sandbags around their properties. They were not able to keep up with the rapidly rising floodwaters in many areas, however, and oftentimes it seemed that every time they closed one breach another one would emerge.
Some residents' frustrations quickly turned to anger a couple of weeks after the flooding started, when Lewis and Clark County officials stopped providing free sandbags because of budget concerns. But a team of volunteers led by the Salvation Army picked up where the county left off, soliciting sandbag donations and providing them to as many affected residents as possible.
While the Helena Campground and RV Park on Montana Avenue took much of the brunt of the flooding, Rossiter Elementary School closed several weeks before the school year ended because of the water partially surrounding the building.
A similar scene played out in Lincoln in mid-May, when an army of volunteers was fighting back floodwaters that blew out roads and spilled over virtually every stream and creek around the town.
Another round of flooding hit Augusta in June, closing all highways leading to the town and postponing the Augusta American Legion Rodeo that usually brings in significant revenue for the town. That flood caused an estimated $700,000 in damage to infrastructure, according to county officials.
Because of the federal funding hiatus, the Federal Emergency Management Agency was not able to provide information this week about the number of claims filed through the National Flood Insurance Program.
Biggest stories of 2018: Former Helena teacher charged with raping student awaits trial
A former Helena teacher is awaiting trial after being charged earlier this year with the statutory rape of one of her high school students.
Authorities were first alerted to the situation by Capital High School Principal Brett Zanto, who told a school resource officer that Rene Elena Carter and the student were caught on video engaging in inappropriate physical contact in a stairwell on June 8, 2015. The offices of the city and county attorneys reviewed the information, but officials said the footage did not appear to show any sexual contact between the two.
After further investigation by the Helena Police Department, however, Carter was charged with sexual intercourse without consent in January 2018.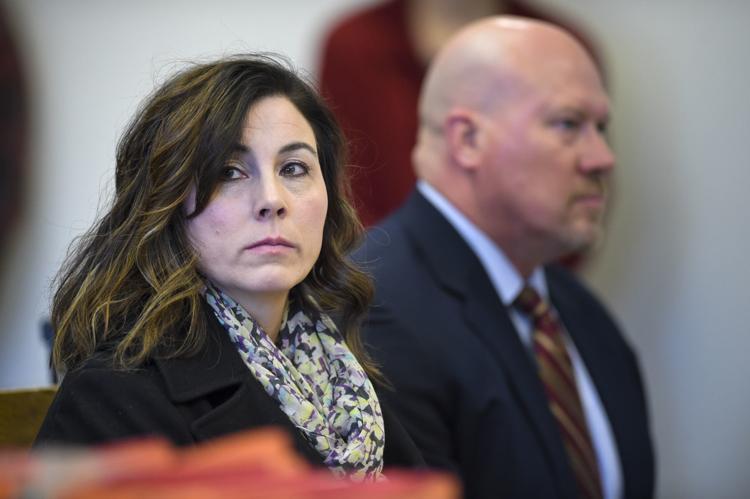 According to court records, the student told authorities he and Carter had sex about 25 times, including in her classroom at Capital High School.
The student also said their sexual relationship started in 2015 when he was 17 years old. Montana law allows those 16 and older to consent to sexual activity, but the student was legally incapable of giving consent for other reasons, which the Independent Record has chosen to withhold to avoid identifying the alleged victim.
Carter automatically entered a not-guilty plea in February, which is standard during arraignment. She is being defended by Helena lawyer Palmer Hoovestal.
The mandatory minimum sentence if convicted of sexual intercourse without consent is two years, with a maximum possible sentence of 100 years.
After being delayed several times, Carter's trial is now slated for April 8, 2019. 
Biggest stories of 2018: State budget cuts blamed for Helena Industries' closure
State budget cuts were blamed for this year's closure of Helena Industries, a nonprofit organization served hundreds of Montanans with developmental disabilities.
The 49-year-old organization employed more than 60 people and provided career and workforce training services to more than 900 across the state. 
Helena Industries' workforce programs included work with textiles and wood products, a Helena thrift store, janitorial services and electronics recycling. It had case management offices in Bozeman, Great Falls, Butte and Anaconda.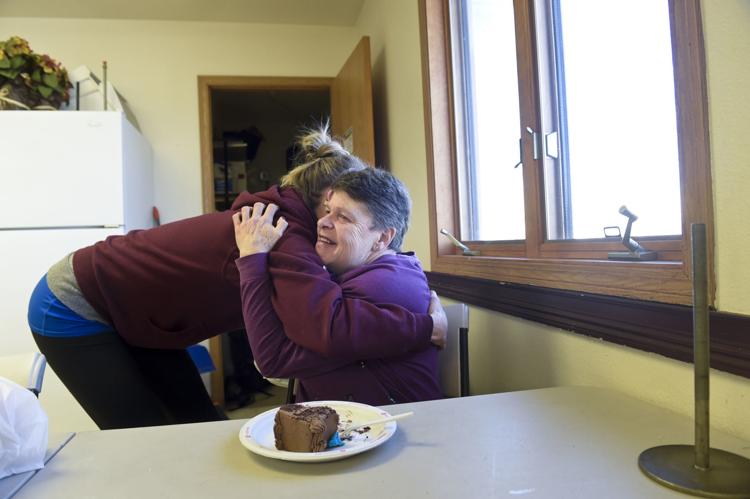 However, staff members received letters in April notifying them that they would be laid off the following week.
In a letter to the Independent Record, Helena Industries' board chairman Andrew Utick said the organization had been financially struggling for years, but state budget cuts were the last straw. The state not only terminated the organization's contract to provide case management services, he said, but it also made further cuts to the Medicaid reimbursement rate.
"Without case management, the company simply did not have the financial resources to continue to provide services to the State of Montana at a loss," Utick's letter said. "Therefore, Helena Industries has, with deep regret, been forced to file for Chapter 7 bankruptcy."
The organization's clients were transferred to the state, which some feared would further aggravate the state's budget woes.
The closure of Helena Industries also resulted in a greater strain on other community-based programs for disabled people, such as West Mont and AWARE.
Biggest stories of 2018: Jury clears officer in East Helena shooting death
What started as a welfare check ended with a man's death in an officer-involved shooting Feb. 1 in East Helena.
The Lewis and Clark County Sheriff's Office was dispatched to an East Helena home just before midnight after a caller reported that 26-year-old Taylor Schnortz had been cutting himself and was suicidal. When officers arrived, Schnortz was holding a gun and refused to put it down.
The woman who called 911 said Schnortz was suffering a psychotic break, and officers refused to leave the scene because of the danger to her and others in the area.
Officers instead negotiated with Schnortz for about an hour and a half, eventually convincing him to trade his gun for a phone so he could speak with his father. But deputy Andrew Blythe shot Schnortz eight times with an AR-15 rifle before that could happen, as the man came around a corner holding a .44 caliber pistol at his hip.
Schnortz died at the scene. A toxicology report found both alcohol and THC in his system.
A fellow officer said Blythe had been crying and was severely emotionally distressed immediately after the shooting.
Blythe was removed from active duty for several weeks, but returned to full duty about three weeks later following a use-of-force review completed by the sheriff's office. A six-person jury also found the officer's use of force to be justified during a coroner's inquest in August.
Biggest stories of 2018: East Helena is getting a high school
Though East Helena High School won't have its own building for more than a year, its first classes are slated to begin this fall. 
A high school in East Helena has been in the works for decades, but it didn't become a possibility until the 2017 Legislature passed a new law that allows elementary districts with enrollment of more than 1,000 students to consider expanding into high school districts.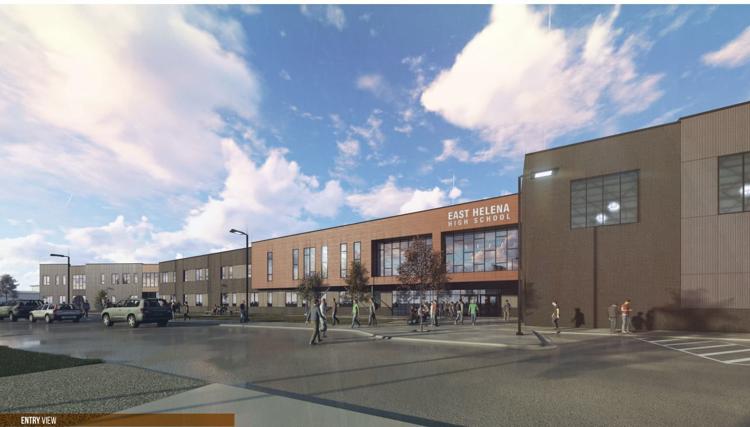 In May, East Helena voters approved a $29.5 million bond to expand their school district and build a new high school. The school will be built to accommodate about 600 students, who will be transferred from the Helena school district to East Helena one grade at a time.
In July, voters approved the $207,444 purchase of a 35-acre portion of Dartman Field to house the new school building, which is slated to be completed by August 2020. However, East Helena officials plan to begin offering freshman classes in an unused wing of East Valley Middle School as early as Aug. 28, 2019.
Of this year's 139 eighth graders at East Valley Middle School, officials expect 100-125 to start high school in East Helena and the rest to enroll at Helena High School next year.
For the 2019-20 school year, the school district hopes to hire a principal or vice principal, counselor, social studies teacher, English teacher, science teacher, math teacher, special education teacher and physical education teacher. Officials also plan to hire coaches for football, soccer, cross country, softball, wrestling, tennis, basketball, swimming and track, along with teachers for other extracurricular activities depending on student interest.
East Helena's mascot will be the Vigilante, and its colors will be navy blue and silver.
Biggest stories of 2018: Bullock wins conservation easement case before Montana Supreme Court
A conservation easement that started with a family looking to expand and secure their ranch and the state looking for hunting access and wildlife habitat ended with two of Montana's top elected officials before the Montana Supreme Court.
The 15,000-acre, $6.1 million Horse Creek Conservation Easement near Wibaux started nearly two years ago. The Stenson family and Montana Fish, Wildlife & Parks negotiated and agreed to terms, and the process proceeded as numerous easements had before, first to a vote of the Montana Fish and Wildlife Commission and then to the Montana State Board of Land Commissioners.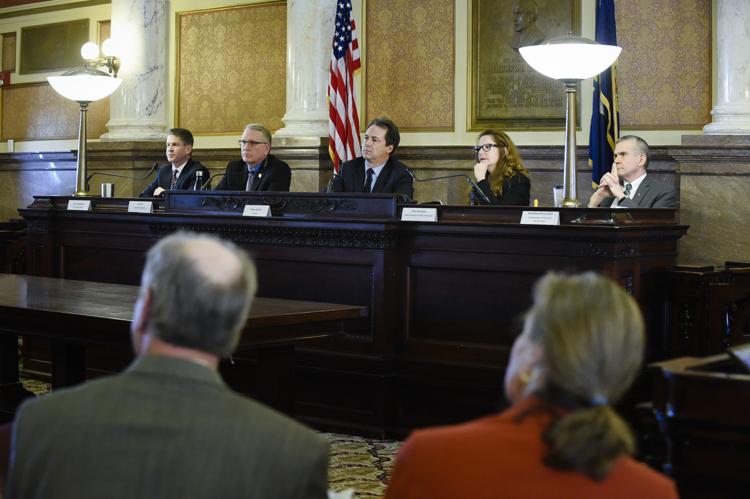 As Horse Creek moved forward, the mineral rights holders also came forward with concerns that the easement could discourage their ability to develop. When it came before the Land Board, rather than taking action Republicans Secretary of State Corey Stapleton, Superintendent of Public Instruction Elsie Arntzen and state Auditor Matt Rosendale voted to delay. Fellow Republican Attorney General Tim Fox and Democratic Gov. Steve Bullock voted to proceed, with Fox calling debate over mineral rights a "red herring."
Rather than bringing Horse Creek back before the board, Bullock, who oversees executive agencies such as FWP, used a narrow reading of the statute to conclude the Land Board has no legal authority over state easements. While "land acquisitions" via purchase require Land Board approval, the law does not specifically mention easements under the requirement, meaning they only need a vote of the Fish and Wildlife Commission, he decided. The state then closed on the easement without board approval.
The bold move was celebrated by conservation and access advocates, but criticized by his fellow board members and Republican lawmakers, who saw it as a power grab. Bullock defended the decision as legally sound and necessary to give landowners interested in easements a predictable process.
Supporters of Bullock's decision also saw it as important in preserving the viability of Habitat Montana, a program that takes a portion of hunting license dollars to purchase easements and land for access. The program has come under fire in recent years from those concerned about expanding state land ownership, but is hailed by advocates as a critical public access tool.
In response to Bullock's decision, Senate President Scott Sales, R-Bozeman, requested that Fox issue an attorney general's opinion. The opinion, which carries the weight of the law unless overturned by a court, would analyze the legal role of Land Board oversight over easements, essentially testing whether the governor's decision did or did not comply with the law.
The attorney general's office looked at limited case law and Montana statutes, as well as legislative history and the long-standing practice of FWP bringing easements to the board. In October, Fox issued his opinion, concluding that the legal term "land acquisition" included easements. The opinion meant FWP could not finalize easements without Land Board approval, and in an interview Fox said he believed Bullock had "unilaterally ignored" the law when he circumvented the board.
Shortly after the opinion Bullock filed a lawsuit against Fox, taking his case directly to the Montana Supreme Court. The court would be asked to answer the same legal question in review of the attorney general's opinion: does land acquisition include easements, or as Bullock's attorney Raph Graybill argued, how can land acquisition include easements if the state does not take possession of the land.
On Dec. 14, the court in a 6-1 decision sided with Bullock.
"I deeply appreciate the court taking this up quickly, and am hopeful we can now get back to allowing the Habitat Montana program to serve our state, as it has for decades," the governor said in part.
Biggest stories of 2018: Massive snowpack goes downstream before record dry spell
Coming out of a record-expensive 2017 wildfire season, the early dump of September mountain snow was welcomed across Montana. And the snow kept dumping and dumping and dumping.
As winter turned to the spring of 2018, the mountains were buried in a bountiful snowpack, officials and recreationists looked forward to solid stream and river flows, and Montanans hoped for a summer absent the smoke that plagued the state a year earlier.
All that snow needed a place to go, and warmer May temperatures along with some rain created swollen streams and flooding in the Helena Valley and across the region.
Then the water stopped and the early melt quickly dissipated those mountain snow reserves.
"The 14.18 inches actually makes this the 12th wettest for water year, we did have a lot of snow," meteorologist Jane Fogleman, with the National Weather Service, said in early August. "But of course, the thing is a lot of it melted so rapidly that a lot of grasses and plants and fuels didn't have a chance to absorb it as much."
July 1 to Aug. 15 was the driest for that six-week period on record for the capital city, registering only one-hundredth of an inch of precipitation.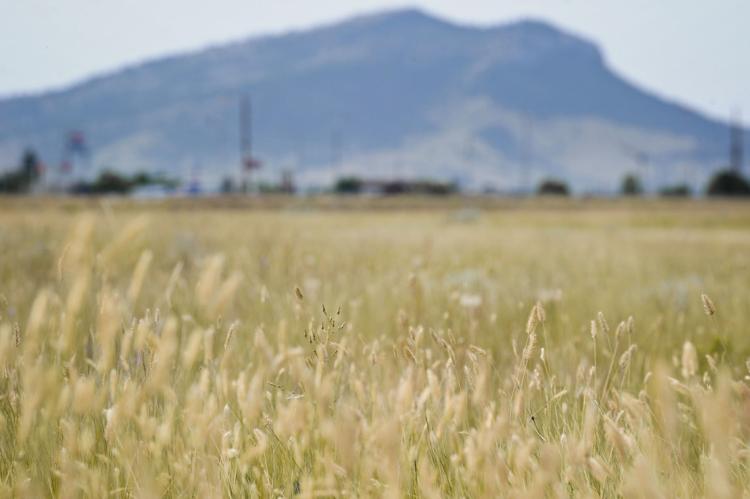 The National Weather Service in Great Falls also recorded lower than average July precipitation in several parts of central and southwest Montana, including the 10th driest for Bozeman, the seventh driest in Great Falls and the second driest in Dillon. Many areas across the state saw less than a quarter inch for the month.
Vegetation growth bolstered by early season moisture quickly dried out, threatening to bring Montana into another late summer of wildfire. But those fears largely failed to materialize at least in the greater Helena area. Smaller fires would bring a pre-evacuation warning northwest of Helena and close the Beartooth Wildlife Management Area to the north, but the duration of those fires ranged from days to a couple of weeks rather than months.
The Howe Ridge fire in Glacier National Park will likely stand as the most remembered fire of 2018. The 14,500-acre blaze scorched the landscape above Lake McDonald, burned several historic cabins and caused the evacuation of Lake McDonald Lodge.
Biggest stories of 2018: Chronic wasting disease threatens Montana's big game
Although first detected in the state last year, the potential impacts of chronic wasting disease on big game herds and the future of hunting in Montana escalated this year as the number of animals testing positive continues to grow.
Chronic wasting disease, or CWD as it's commonly called, is a fatal and incurable neurological disease that affects deer, elk moose and caribou. Transmitted from animal to animal, it may take decades to gain a foothold but once it does, biologists have documented major herd declines among both mule and whitetail deer.
While a danger to humans has not been shown, health officials do not advise eating a CWD-infected animal and recommend that hunters have their big game animals tested if harvested from a CWD-positive area.
State wildlife officials had suspected CWD would come to Montana as in recent years it crept closer in neighboring states and provinces. Then in 2017, Montana Fish, Wildlife & Parks detected three diseased deer – two south of Billings and one from the Hi-Line – taken during hunting season. Hunts and testing of road-killed animals followed, leading to another 11 positive tests.
Going into the 2018 big game hunting season knowing the disease was out there, officials continued the testing program. To date, another 26 deer have tested positive for CWD with 21 from the Hi-Line and five from south of Billings.
As biologists learn more about the disease and how widespread it is in Montana, they are already taking steps to continue increased testing and looking at how hunting regulations can be adjusted to address it. Fortunately, CWD is slow moving, meaning officials have time. Carbon County for example has an estimated prevalence of 2 percent of deer infected with CWD. That's far from other states that see rates as high as 40 percent.
And Montana may be in a better position to keep CWD at lower rates than some other states. Biologists testified earlier this month that the state's tradition of mostly managing for hunter opportunity rather than older trophy animals is already believed to be the best strategy, particularly for mule deer which are perhaps the most susceptible to the disease. Having caught the disease early is also a major plus that gives the state more options.
"We think we can be successful keeping CWD where it is and not spreading widely in the state," John Vore, FWP big game management bureau chief, told the Montana Fish and Wildlife Commission.