After several Helena High School students visited France last spring, their French counterparts are now paying them a visit. 
Twelve students from Nemours, France, with teachers Antonie Clatot and Laurent Brulefert, are halfway through a 21-day trip to Helena and the surrounding area. This one-to-one exchange is an educational experience that allows the Helena students learning French and the French students learning English to experience one another's cultures.
The students from Nemours established the exchange with Susan Bartels' French class at Helena High more than a year ago. 
During their visit to Montana, students visited Yellowstone National Park, the Montana State University campus and Broadwater Hot Springs during the first week. The group members mentioned their visits to Old Faithful and the Chico Hot Springs as memorable moments from their trip so far.
Clatot said the students carved pumpkins and went camping over the weekend.
"The students have been in contact with each other for over a year," Clatot said. "In that time, they have exchanged letters and gifts, so getting to spend time together is good for them."
Despite visiting quintessentially American locales like Yellowstone, it was the smallest differences that made the biggest impact on the French students.
Paul Gougerot, a second-year student, remarked that the biggest surprise to him was the "clean design and layout of roads and streets" in Montana. It is very different from the narrow old streets of France, many of which have existed for hundreds of years.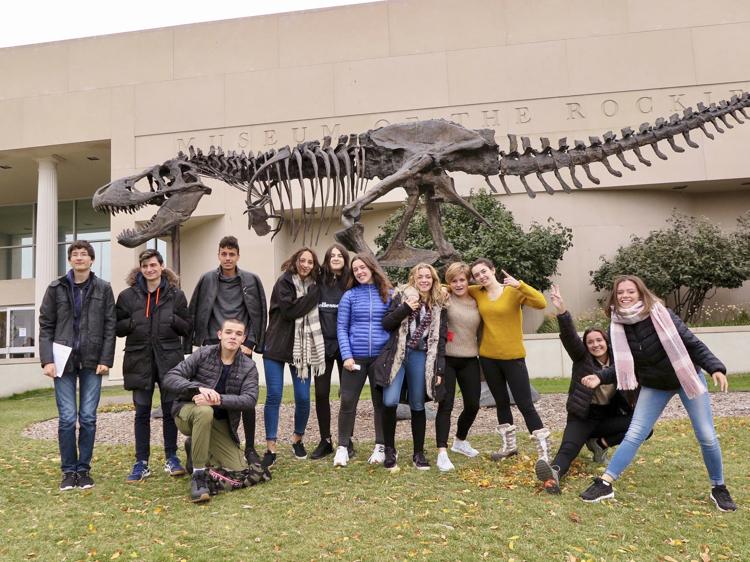 Rebecca Lecoustey, a third-year student, said she was surprised at "how different school is here." She said classes are bigger and the schedule is strange. In France, a small class of students will stick together throughout an entire day. They will spend an entire day learning one subject such as English on Monday and chemistry on Tuesday. French high school also covers the last three years of education instead of four.
Both students said they really enjoyed Yellowstone and camping. Gougerot said he enjoyed learning about the various animals in Yellowstone. Lecoustey and Gougerot said they had learned a lot about American culture during the visit by actually participating in activities here. 
The students visited the state Capitol building and met with Lt. Gov. Mike Cooney. The group also planned a trip to Scarywood Haunted nights in Athol, Idaho, for a little Halloween fun. Halloween is a holiday not traditionally celebrated in France.
Clatot said they are going to try and keep the exchange going as long as they possibly can. The French students may not be able to come next fall due to funding, but even with a possible lapse would like to continue the exchange afterward.
"It's a great experience," Clatot said. "It's a different culture that the students get to experience. The reason we did this exchange was to establish that one-to-one experience."
In the spring of 2018, 10 students from Helena High visited the French students in Nemours. Fifteen plan to travel to Nemours in the spring of 2019.