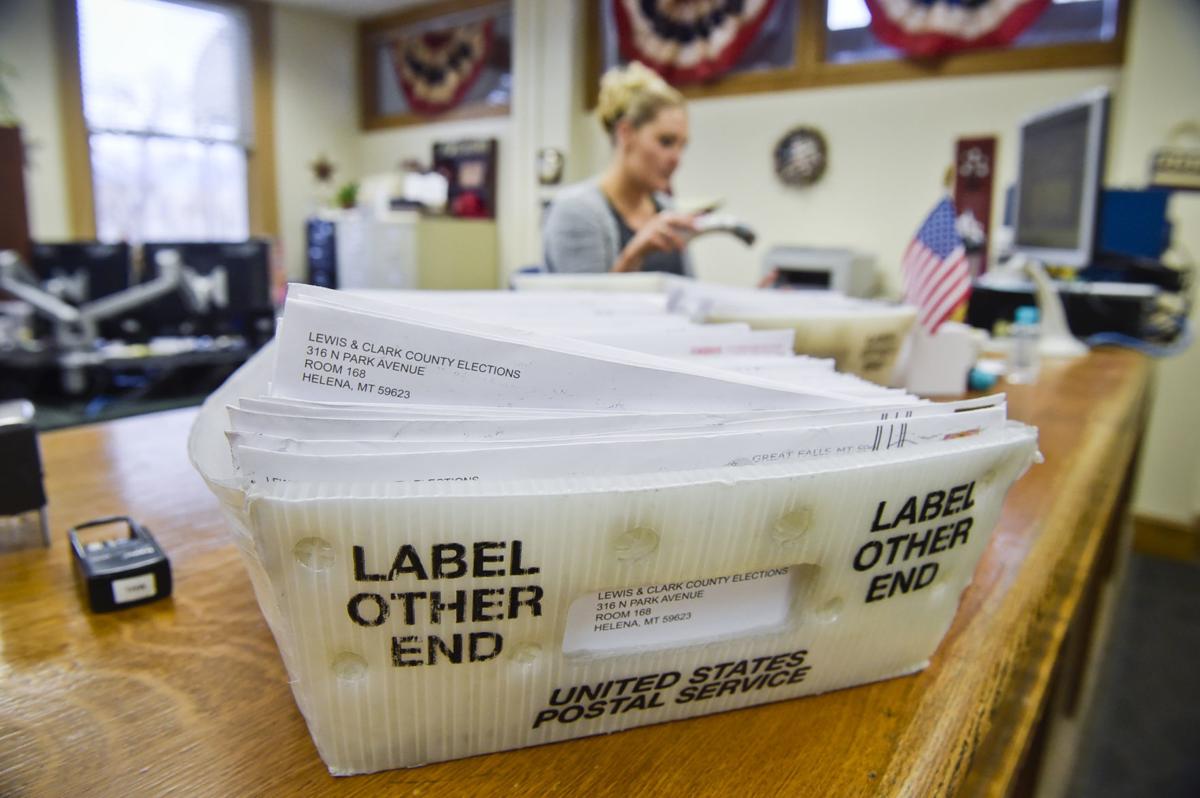 Late last week, District Court Judge Donald Harris issued a preliminary injunction saying ballots received by Monday, June 8, will be counted in the primary election. Previously under state law, voters had to ensure their ballots were received at local elections offices by 8 p.m. on election day. That's Tuesday, June 2, this primary.
Mail in some parts of Montana can take up to five business days to make its way from a voter to the elections office, which Harris wrote can confuse people who are used to income tax filings or property taxes payments that are allowed to be postmarked on the due date. Voters may also assume mail will be delivered to a location in their town in a day or two, which isn't always the case because of centralized processing centers.
"The court finds that this misunderstanding and confusion disproportionately burdens first-time voters, persons with less education and persons who have historically relied on ballot collection services," Harris wrote. " … During the current 2020 election cycle, the combined effects of the BIPA (Ballot Interference Protection Act) and receipt deadline will cause thousands of Montanans to not vote or will result in their votes being not counted."
Harris' order Friday also put a stop to the enforcement of BIPA, which caps the number of ballots one person can drop off for others at six. Another Billings judge also halted the enforcement of BIPA this election following a separate court challenge saying it disproportionately harmed Native American voters on reservations; a hearing in that order is set for May 29.
Fox is asking for a stay on Harris' order, halting the change in deadline, and for issue to go straight to the Montana Supreme Court for a decision, under a provision that dates back to the days of the Copper Kings.
"A stay is needed given the injunction's adverse impact on Montana voters and election administrators, including probable public confusion, in light of the fast-approaching June 2 primary election," Fox wrote in the filing Friday. " … The election is in just 11 days, and the public interest weighs in favor of obtaining a final ruling as soon as possible."
The lawsuit was brought by the Montana Democratic Party, party chair Robyn Driscoll and the Democratic Senatorial Campaign Committee. On Sunday, Driscoll said the judge's order should stand.
"There is no good reason why Montanans should have their otherwise valid ballot thrown out because it takes too long to arrive in the mail," Driscoll said in an emailed statement. "The court's careful preliminary ruling will prevent Montanans across the state from being arbitrarily disenfranchised by this rule."
Those voters, Fox argued, were told their ballots had to be mailed with enough time to arrive at their local elections office by June 2. Ballots mailed to Montanans included that guidance.
"… The injunction creates inequality between voters who have mailed their ballots in early in compliance with the deadline who might otherwise have waited, and those who waited and are now able to submit on Election Day," Fox wrote.
Fox also argued that the state Legislature, not the courts, has the right to amend voting requirements, and that the court "created legislation" by extending the ballot deadline.
" … this court's order addresses a political question reserved for the Legislature and applies disparately to different categories of voters," Fox wrote.
In the brief, the attorney general argued that changing the deadline would interfere with other linked election laws, such as the state canvassing deadline and post-election audits. The order will also cause other confusion, Fox said, such the timelines for elections administrators to notify voters if there's a deficiency in their ballot.
"Montana's entire statutory scheme is focused on counting votes as soon as the polls close, and an important part of fostering voter trust in the system is providing results in an expedient manner," Fox wrote.
Get local news delivered to your inbox!
Subscribe to our Daily Headlines newsletter.