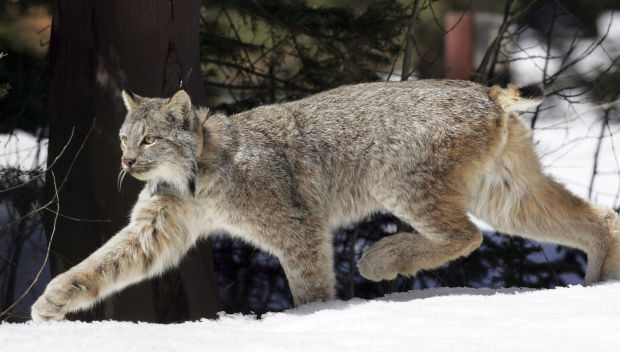 An objector to a proposed timber project near Lincoln told the Forest Service Monday that the project would be "devastating to wildlife" and that "scare tactics" are being used to generate support.
Sara Jane Johnson, director of the Native Ecosystems Council and former Forest Service wildlife biologist, told Forest Service officials at an objection meeting that logging as proposed in the Stonewall Vegetation Project would eliminate habitat for the threatened Canada lynx. The Forest Service failed to develop a programmatic biological opinion on the cat's critical habitat as required by case law, she said.
"It is lynx critical habitat, and we're talking about destroying 6,000 acres of lynx habitat for 50 years," Johnson said. "It's just another extermination project for the lynx."
Johnson is one of two objectors for the project. The other, executive director for Alliance for the Wild Rockies Mike Garrity, was on vacation and did not call in.
Garrity's written objection questions the projects' effects on species listed under the Endangered Species Act, including grizzly bears, lynx and bull trout, calling for continued analysis.
The project, located about four miles north and west of Lincoln in heavily beetled-killed forests, includes commercial logging on nearly 1,400 acres and precommercial thinning on nearly 900 acres. Prescribed burning is slated for about 3,600 acres within the Bear Marshall Scapegoat Swan and Lincoln Gulch inventoried roadless areas.
Implementation of the project requires a site-specific forest plan amendment dealing with big game hiding cover, which violates federal court decisions, Johnson said.
A recent district court decision says that a site-specific amendment must deal with a unique aspect of the area, rather than consistent conditions across the forest, she said. The project will also conflict with travel planning in the area, providing two management plans which is also a violation under an appellate court ruling, she added.
The project came through a recommendation from the Lincoln Forest Restoration Committee convened in 2008 to develop projects on the Lincoln Ranger District. The purpose and need for the Stonewall Vegetation Project includes reducing fuels, restoring aspen, modifying fire behavior for community protection and reestablishing fire on the landscape.
Committee co-chair Gary Burnett spoke at the objection meeting, saying that the project had already been modified over lynx concerns and that the committee is also focused on fire danger and other forest species.
"It's good lynx habitat now and how do you maintain that into the future," he said, adding that a landscape level look is needed for lynx and the diversity of species.
After six years, the committee's interest is to see if the project can move forward, Burnett said, as they have serious concerns about fire danger.
Several Lincoln-area residents spoke in favor of the project and disagreed with Johnson's wildlife concerns.
Johnson responded to the concerns over fire, citing research countering the need for logging to alleviate fire danger.
"I do my work based on science, and there's plenty of good science that says you don't have to cut a forest down to protect people from fire," she said. Home protection takes about 100-150 feet of clearing around a home, she added.
Research also shows a drop in fire danger in beetle-killed trees compared to oil-rich green trees, calling the message a "scare tactic" to generate support for logging. Beetle-killed trees provide habitat for different bird species but still support the same diversity, she said. Cutting dead trees to improve wildlife habitat is "illogical" she said.
"Pine beetles have gone through forests for millions of years -- it's a natural process," she said. "That's what pine beetles do is restore."
Deputy Regional Forester Dave Schmid is the reviewing officer for the Forest Service. Schmid will develop written responses to the objections and any instructions to the Helena National Forest before the project could move forward, he said.