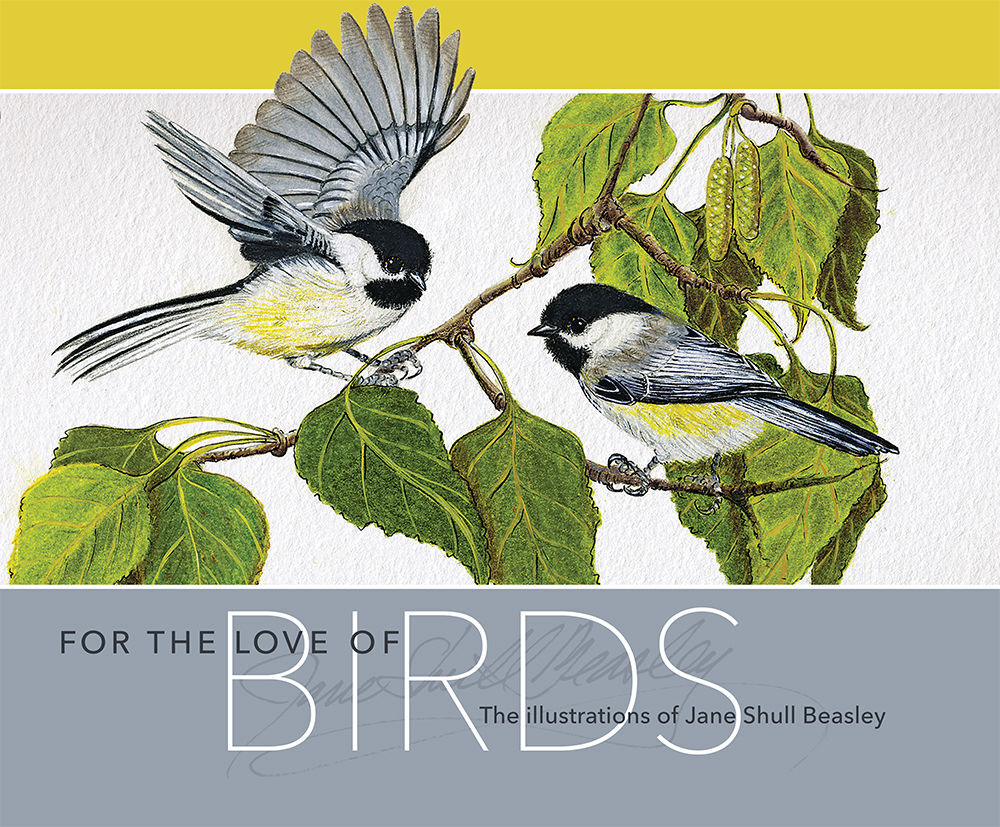 Avian artist, aviator and avid birdwatcher.
These are just a few of the words that describe who Jane Shull Beasley was.
Also, radio personality, model and businesswoman.
And add to that, an adventurous spirit with an amazing zest for life and the natural world.
"For the love of birds" was a guiding principle for much of her life.
So, it's fitting that her new book is so titled. 

The beautifully illustrated book, published posthumously, abounds with vibrant bird drawings she made with colored pencils over the years.
Each bird has a brief bio telling the bird's size, food preference, whether it visits bird feeders, where it nests, a description of the eggs and whether the male and female differ in appearance.
There's also a "Janeism" of helpful info.
For the Dark-eyed Junco, Beasley advised, "look for their pink beak and feet."
For nuthatches: "A nuthatch moves down the tree head first."
A favorite of this writer is her thoughts on the 3-inch Rufous Hummingbird, who she labeled "the feistiest hummingbird in North America": "he is the cad of the bird world, multiple mates, doesn't help raise the young."

"She did the bulk of the drawings in her early 80s," said her daughter and business partner Sandy Shull, who compiled the book and got it printed.
At first, the book was meant primarily for family and Birds & Beasleys customers, she said but soon, there was a larger circle of enthusiasts.
It started as an idea Shull had at the end of August and transformed into a printed book by December, thanks to Sweetgrass Books and the help of folks who loved Jane.
Readers will find Beasley didn't confine her birding interests just to Montana, although they're the major focus.
There are such charming interlopers as road runners and puffins and even the Mourning Cloak butterfly.
Beasley's love of birds began very early when her father taught her to identify and respect them, said Shull. "She always loved nature."
"My grandfather was kind of like a horse whisperer," said Shull. Jane would "tell stories that chickadees would land on his hat. He loved animals."
"As a little girl, she always drew."
In grade school, she'd be pulled out of her class whenever the school needed a mural.
Her early life was spent first in Ypsilanti, Michigan, and El Paso, Texas, before moving with her family to a ranch near Salmon, Idaho, when she was 12.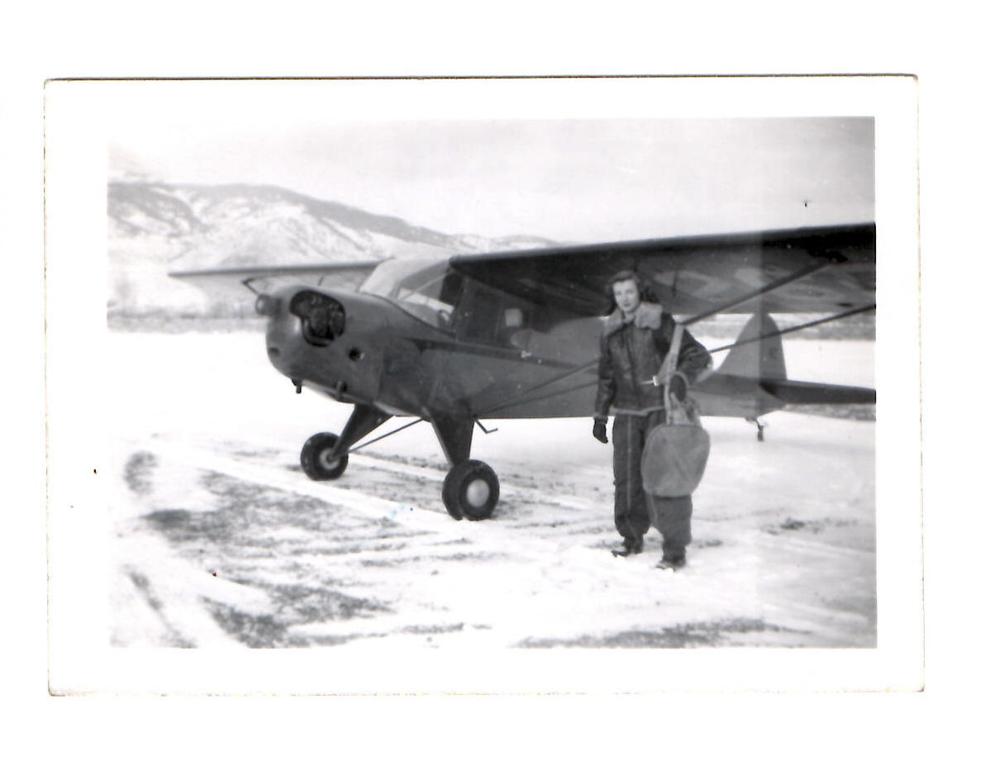 At age 15, she took up flying, passing the flight tests but was still too young to earn a pilot license.
"I started flying with the birds," she wrote in some notes.  There were few planes around her but "lots of feathered friends," including Canada geese and bald eagles.
It still mystifies Shull, who said her mother's family didn't have much money at that time, how her mother could afford to fly.
Beasley also delved into art, studying commercial art at the University of Idaho in Moscow and designed window displays for David's Department Store there, where she also modeled clothes for their ads.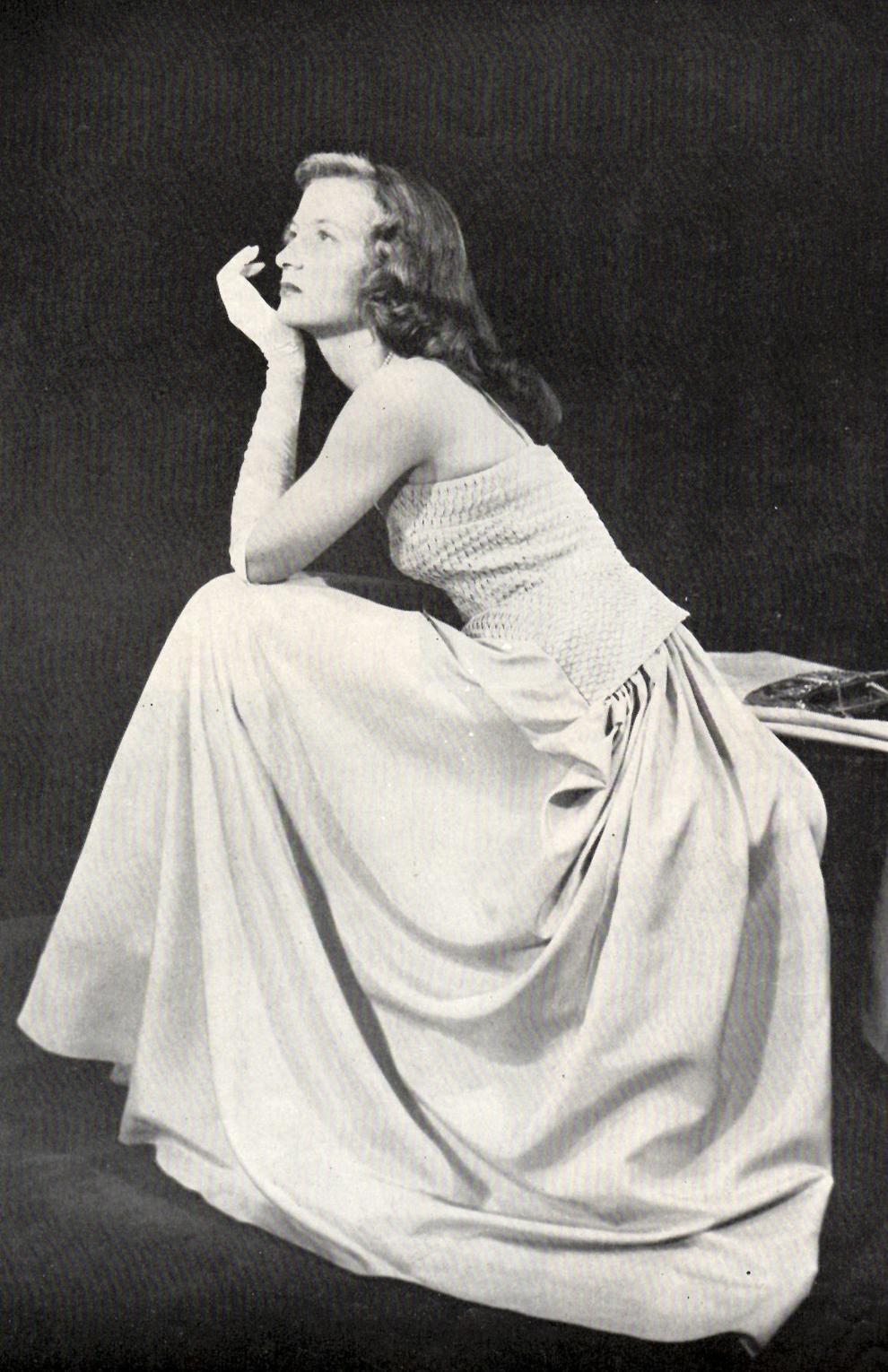 She met her first husband Bill Shull at the university and moved with him to Boston, where he attended medical school and she studied costume design at Emerson. While there, she got to work on a production with composer and conductor Leonard Bernstein before he became famous.
Jane and Bill moved to Great Falls in 1954. Following their divorce in 1966, Jane moved to Missoula with her four young children, supporting them on her income as an artist.
At that time, she was known for her clay sculptures, said Shull. "She supported us four kids for seven years."
While living in Missoula, she eventually crossed paths with her future husband Ray Beasley. They happened to sit next to each other in church.
But oddly enough, they had actually been in the same kindergarten in El Paso but didn't know each other, and had both lived in Salmon, Idaho, but never crossed paths there.
They both loved to fly, and both had careers that dealt with textiles, said Shull -- Ray as a textile designer working for the Forest Service, and Beasley, as an artist and costume designer.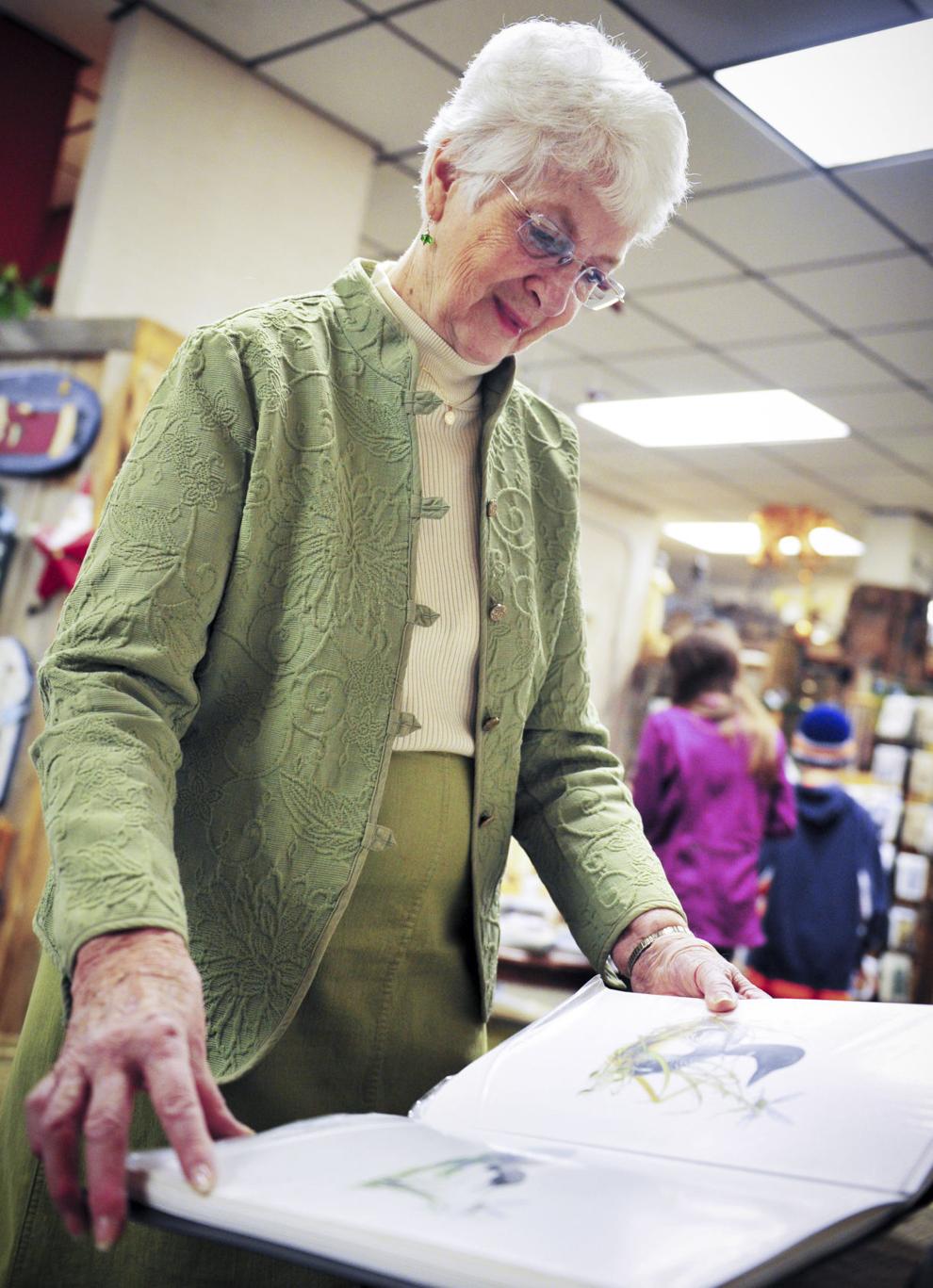 Their meeting was one of those magical, serendipitous happenings sprinkled throughout Jane's life that wove through her conversations and storytelling.
"It was meant to be," said Shull.
"She was magical. She would captivate people with her enthusiasm."
Shull recalled that when they were growing up in a single-parent household, they didn't have much money so they couldn't go on vacations.
One day, Jane announced, "Well, I bought a raft and that's what we're going to do.
"We went rafting before it was trendy."
Jane took the same approach to skiing. "Just do it."
"She was adventurous," said Shull. "She made it fun. She was really courageous, nothing bothered her."
She even turned grocery shopping into a fun adventure, said Shull.
She'd rip the grocery list into four parts and give one piece to each child, telling them to go pick out the right size packages and to remember the prices so they could add everything up before they got to the checkout.
Speaking of adventure, Beasley was willing to take risks.
She started Birds & Beasleys with Ray when she was 63.
It started in a small shop on Park Avenue in 1993 and outgrew its space 19 years later, moving to its current home on the Walking Mall.
A "bucket brigade" of 170 people moved the store by passing merchandise from hand to hand in one long human chain.
An avid birdwatcher, Beasley shared her love for all things feathered during a weekly 10-minute radio spot on KMTX at 8:50 a.m. every Thursday morning for 19 years.
Former radio announcer Paul Stark recalled that Jane's program, "Backyard Birding in Montana," had "a really good response."
"It was a very well received program."
A lot of this was because of Jane's personality.
"She was a very genuine, compassionate person," he said. "She just had a very keen interest in life and in relationships."
"It's so cool that she made an impression on so many people," said Shull.
The store did a lot of programs for kids.
"She was just magical that way. She made every kid excited."
"I think she would have been thrilled about the book," said Shull. "It was just a cool way to compile all her drawings."
"I think it's fantastic," said biologist and photographer Bob Martinka, who provided Jane with photos of birds as models for her drawings. "They did a really good job on the layout. It's not just pictures, you have a little bit of information about each of the birds. It's very well done."
Beasley was quite knowledgeable about birds, he said.
"She was a very enthusiastic person. The radio program she had ... she introduced a lot of people ... to learn more and care more about birds."
Originally, Beasley started on the drawings, envisioning publishing a western bird field guide that would pair her drawings with color photos taken by Martinka, said Shull.
Beasley died in July 2019 at age 89.
Last year, Last Chance Audubon worked with Montana Fish, Wildlife and Parks to dedicate a popular birding trail at Spring Meadow Lake in Beasley's honor.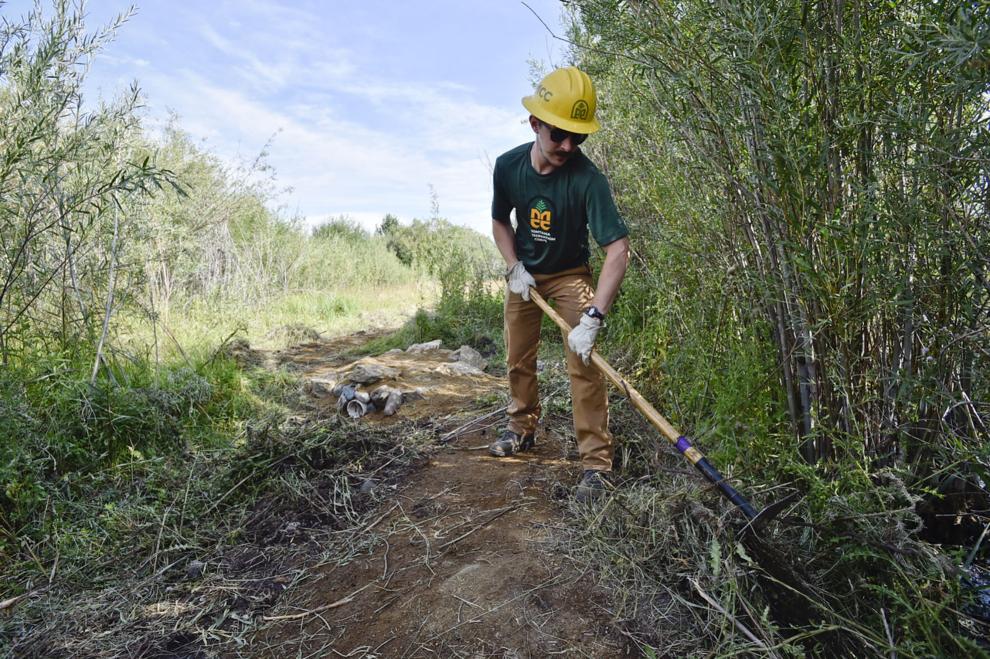 Designed by Bruce Capdeville of Real World Design, and self-published by Sweetgrass Books, the 80-page book is available at Birds & Beasleys, book stores and museum stores for $24.95.