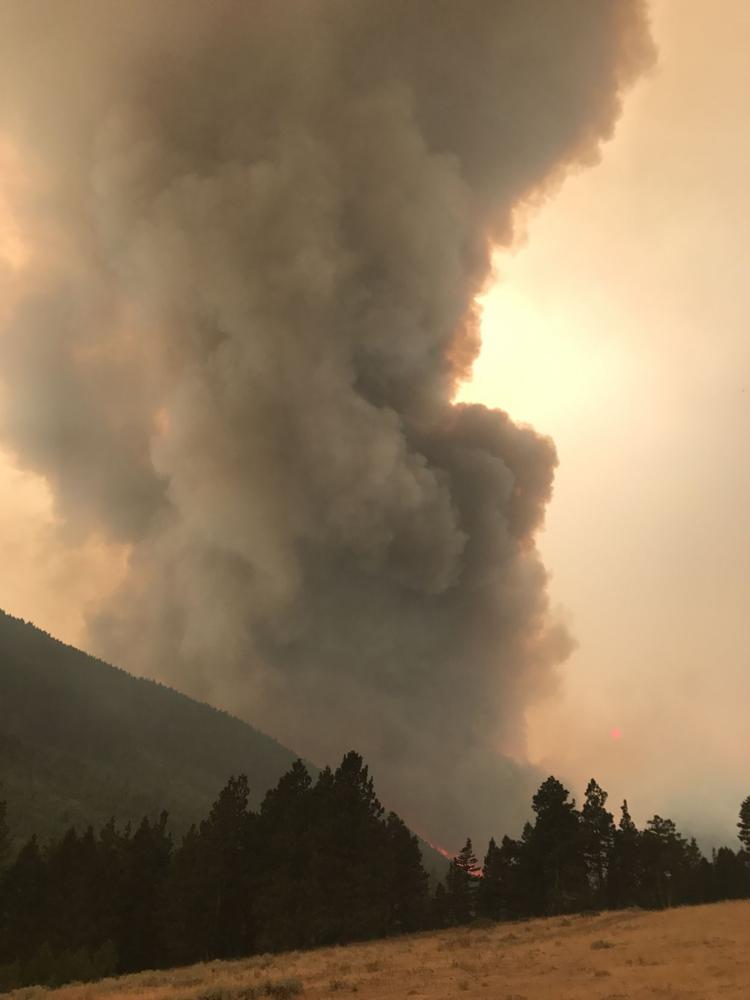 The mandatory evacuations of 13 residences and ranches northeast of Lincoln remain in place as the nearby wildfire continues to grow. The Alice Creek fire claimed more than 5,000 acres as of Monday. 
Authorities anticipated the wildfire, about 16 miles northeast of Lincoln, would make another run Sunday night, and it did. Over the weekend, the blaze went from 700 to 5,266 acres. It is burning near the Continental Divide. Due to inaccessible terrain and standing dead trees, firefighters are using retardant and water to slow the fire's growth.
The weather is exacerbating the situation. A Red Flag warning for extreme fire conditions with 30 mph winds took effect at midnight Monday. 
A mandatory evacuation order issued for residents of the Elk Meadows Subdivision Saturday night remains in place. Fire officials said about five of the residences are permanent homes. Other area residents southeast of the fire are on pre-evacuation notices. 
Pre-evacuation notices have been issued for the ranches on Road 434/435 and residences off of Highway 200 between the Elk Meadows Subdivision up to mile-marker 102.
Residents with questions on the evacuations are urged to call the sheriff's office at 447-8293. Red Cross has a shelter set up at First Assembly of God Church in Helena on Dodge Avenue.
Sheriff's deputies are staffing roads blocks located at Elk Meadows driveway, the intersection of Highways 200 and 434 and the intersection of Flat Creek Road and Highway 434 to prevent unnecessary traffic from entering the fire area.
Crews continue to work keeping the fire north of the Alice Creek trailhead and did structure protection on the east edge of the blaze. Resources on the fire have included two very large air tankers, two single engine air tankers and six helicopters. 
Due to the fire activity, an area closure is in place that affects multiple trails and roads. A trail reroute is established for hikers along the Continental Divide National Scenic Trail. A map of the area closure is posted at: https://inciweb.nwcg.gov/incident/article/5410/39087/.
On Saturday, the fire was reported to be about 750 acres. Lightning sparked the blaze on July 22. The wildfire is listed as zero percent contained.