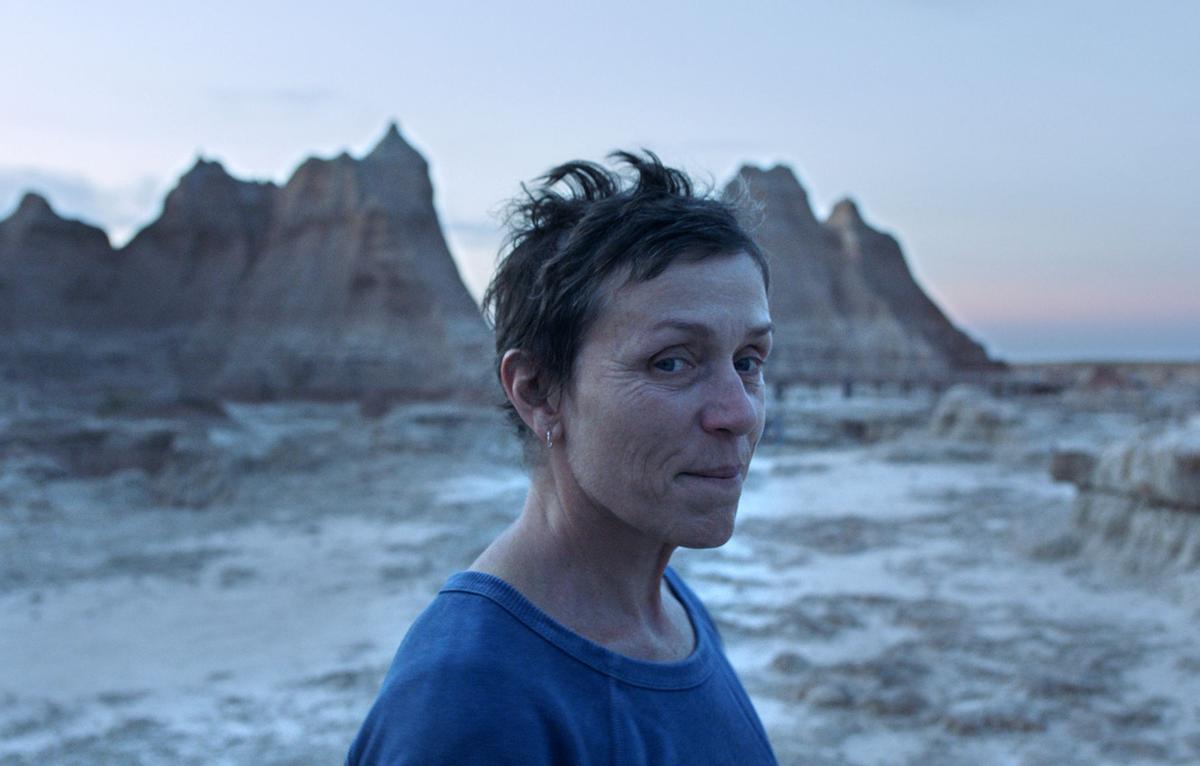 Nomadland
At the Myrna Loy, and Hulu online
(R)
Set in 2011, "Nomadland" captures life on the margins of America with love and honesty. The time is pre-COVID, but the jobless despair feels a lot like Masked America, circa 2020.
"I'm not homeless, I'm just houseless," says Fran, who lost her job, her husband and her hope in rapid-fire succession. So, she hits the road, without a destination.
Fran will connect with the disconnected, across the fruited plains.
The people she meets at van parks don't feel like actors playing a role.
Gay plays gay. Patricia plays Patricia. Linda plays Linda.
In the full cast list of about 50, virtually everyone is playing themselves. These houseless souls became Frances McDormand's co-stars – and a few of them have accompanied Frances to screenings at festivals and openings.
The exceptions: Frances McDormand plays Fern, and David Strathairn plays Dave – but even he kept his own first name.
Non-actors aren't always comfortable and natural while being filmed, but in "Nomadland" they all seem very much at ease. The reason, I'm sure, is that McDormand is an unpretentious soul with no aura of condescension or specialness.
Frances McDormand's genuineness powers "Nomadland."
These "transient seniors" live marginal lives in van parks and transient spaces across rural America.
Journalist Jessica Bruder wrote about some these nomads in her 2018 book, "Nomadland," which profiled people in vans and RVs whose wheels were their only home. Some had lost everything in the recession of 2008. Their homes gone, they started driving – destination to be determined later.
Some were perpetually traveling, others found long-term communities.
A few of the people central to Bruder's book are featured in the movie.
But Director Chloe Zhao traveled the country looking for more people on the margin to encourage them to tell their stories and wove her own script around them. Many didn't know who McDormand was, and, frankly, didn't care.
Zhao's advance crew would find people, shoot footage and take it back to Zhao who would then craft the next week's shoot around the discoveries.
What holds this precarious adventure together, of course, is McDormand, who plays a woman who started over from zero at 61.
Somebody tells her of a van park where people without much money can survive. So, she hits the road.
Along the way we visit the places where nomads work. Like packing boxes at an Amazon warehouse, shoveling vegetables at a sugar beet factory, preparing food as a line cook or washing bathrooms while serving as an RV campground host.
These are unglamorous jobs filled by people we seldom meet. "Nomadland" introduces them to us, with love.
Not surprisingly the film's best moments are small ones, since there is no classic narrative tow truck pulling us along.
When Fern needs work, she's told "It's a tough time right now. Have you considered retirement?"
"I need work. I like work!" replies Fern.
We hear stories of travelers, some in ill health. One is giving away things she won't need where she's going next.
One lady recounts the story of a man who had a sailboat, but died without taking it to the lake.
"I started my healing journey two years ago," she says. "Because I didn't want to leave my sailboat in the driveway."
When you live day to day in your Ford Econoline van, and you break a plate, you don't buy a new plate. Fern sits down and glues it back together, piece by painstaking piece.
The New Year is celebrated with a couple sparklers. Van facility? A 7-gallon bucket.
We hear wisdom from the nomads.
"My dad told me that what's remembered lives on," says one. "But I've been remembering too much lately."
Every day a van pulls in and a few pull out.
"No goodbyes," says one. "We just say we'll see you down the road."
The movie ends with an onscreen farewell.
"Dedicated to the ones who had to depart. I'll see you down the road."
"Nomadland" is the best film of 2020. It's a film in the spirit of Richard Linklater's "Boyhood," which also followed real people for 12 years through ordinary lives.
If there's justice, "Nomadland" will win Best Picture, Zhao will win Best Director and McDormand will win Best Actress.
Can we really hope for such glory from a film showcasing 50 non-actors? Sure, why not.
And, in case you are wondering if Fern finds fulfillment on the road? Moments, yes. But our last view of Fran is the backend of her Econoline Van trucking down another highway, bucket at the ready.