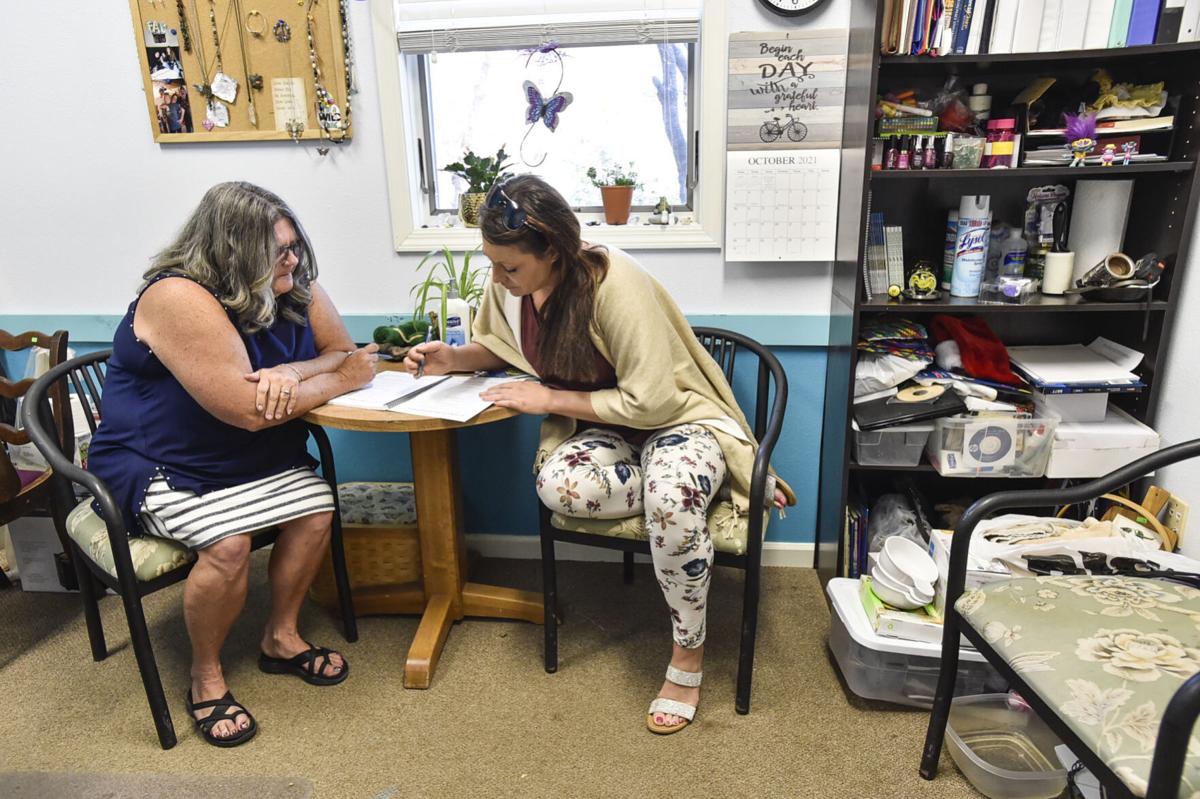 Ashley Moniz had fallen on hard times.
The father of her child died of a heart attack in front of her very eyes after they had just moved to Helena. She said his family prevented her from retrieving her belongings, leaving her without a Social Security card or driver's license.
"I had nothing but a baby when I came here," the 35-year-old Moniz said Wednesday as she sat in the offices of Family Promise. "These ladies saved my life."
She is now participating in a new program offered by Family Promise that focuses on homelessness prevention and diversion. Moniz now has a part-time job with UPS that she said pays her $19 an hour and an apartment. And she now has her Social Security card and ID.
Family Promise, which helps homeless families through temporary shelter, food and essential services, launched the new program in May. The goal is to stabilize at-risk families before they become homeless and halt the surge at the outset, officials said. A recent count of the homeless population by the Point in Time survey found there were 96 unsheltered people and more than 200 sheltered people in Lewis and Clark and Broadwater counties. The year before, there were 57 unsheltered and 139 sheltered, United Way officials said.
Executive Director Renee Bauer said the new program, which includes a $12,700 grant from the Gianforte Family Foundation, a program started by the governor and his family, has helped 30 families so far.
Also helping with the funding are the national Family Promise organization, and individual donors.
Bauer said they are working with seven other families now with issues such as mediation with landlords, finances and budgeting.
She said it focuses on helping those close to being evicted.
"The world is better off when we help keep shelter rather than re-shelter them," she said.
Programs are tailored to each family. This includes landlord mediation, financial literacy, child care, employment training, and help with rental assistance.
Kimberly Woods was hired in May as an assistant advocate to help the families. She said right now she is helping four families, but wishes she could take in 40.
Woods said she has helped people sleeping in vehicles.
She said the program has helped Moniz to make "good choices."
Family Promise expects to serve 60 families in 2021 through the pilot program, keeping at-risk families in permanent housing rather than transitioning them through shelters. The organization will provide ongoing support to ensure families have the skills and tools to succeed in independent living, officials said in a news release.
Woods is also working with partner agencies such as Good Samaritan, the Y, Friendship Home and God's Love.
Bauer has high praise for Woods.
"She is our godsend," Bauer said. "She knows every program, service and every means to maneuver that entire world. She is very talented at helping folks."
She added if a needy family needs a bed for a new place, "Kimberly can make two phone calls and have it for you in 10 minutes."
Bauer said what is most rewarding is that you see an instant impact for what you do.
She said you see people go from being homeless to being stable.
Bauer adds that Family Promise is somewhat limited as to what it can do.
"If we had more space and more resources, we would do more," she said. 
Catherine Koenen, executive director of the Gianforte Family Foundation, said their goal is to see all Montana children and families flourish.
"Adequate housing is a vital component toward this vision, and we're thankful for Family Promise and their efforts to help families with children maintain stability during tough times," she said in a news release.
The foundation has given away $88 million since it was founded in 2004.
Assistant editor Phil Drake can be reached at 406-231-9021.