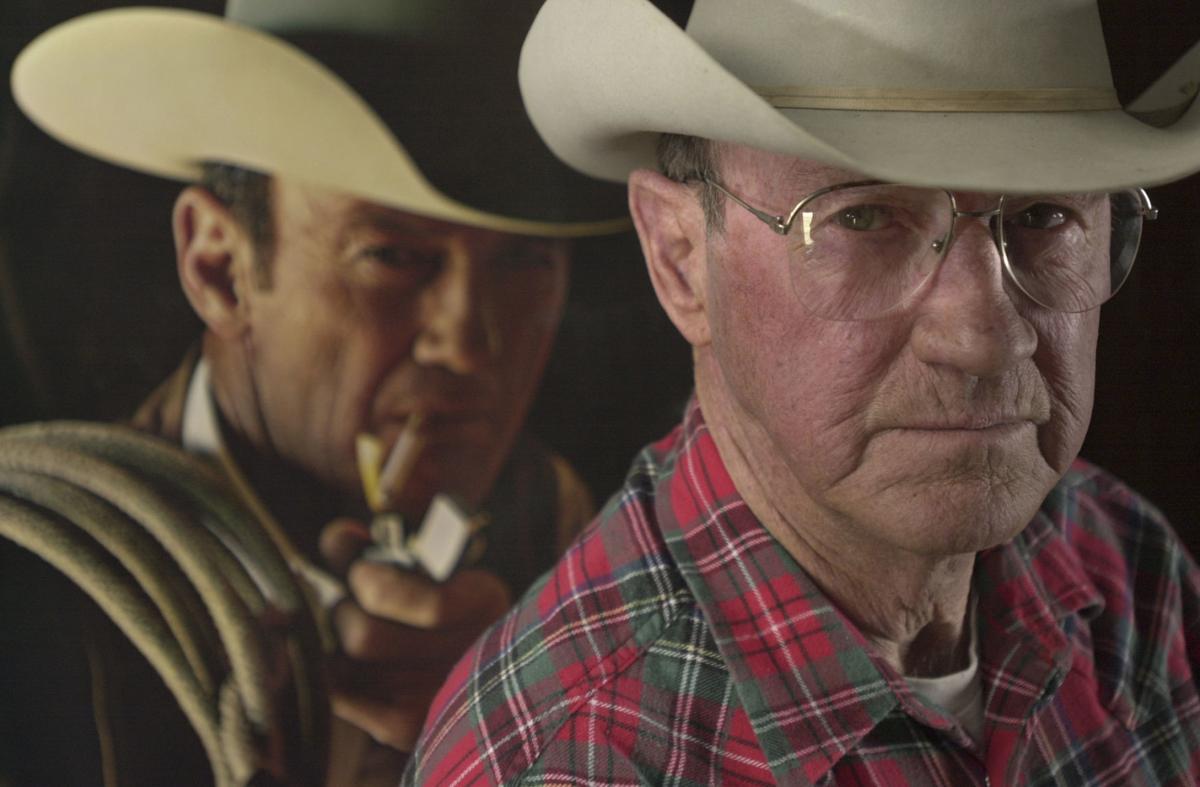 In 1974, Herf Ingersoll was working the annual Augusta Rodeo when photographer Jim Braddy asked him about getting into the event. Braddy worked for Chicago's Leo Burnett Agency and was out West scouting for a new "Marlboro Man."
After the rodeo, Ingersoll, who operated a family ranch between Wolf Creek and Lincoln, was having dinner at Bowman's Corner when Braddy again approached him.
Braddy explained who he was and what he wanted, according to a 2002 article in The Missoulian titled "Montana's Marlboro Man." The next day Ingersoll led Braddy to a barn, Braddy snapped several frames of Ingersoll and left.
Two weeks later Wilmer "Herf" Ingersoll received a phone call, and the 44-year old cattle rancher had a new nickname: the Marlboro Man.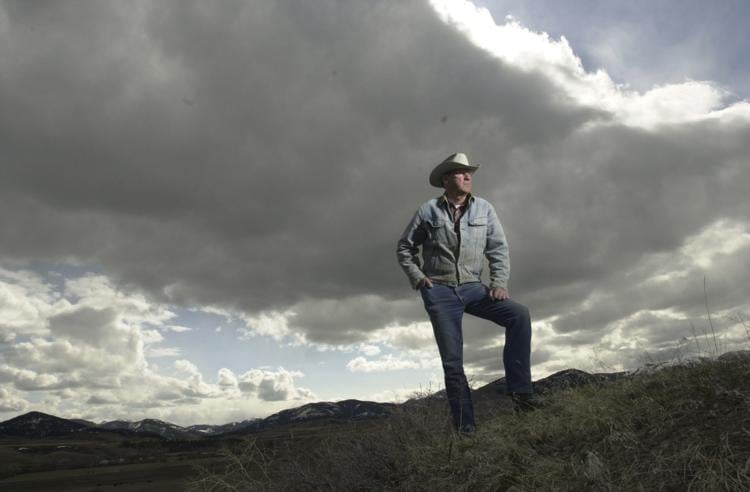 Marlboro Country
The Marlboro Man ads ran from the 1950s until 1998. Originally different types of macho men were used – lean, rugged outdoorsmen, Navy officers, pilots and, yes, cattle ranchers – before the cowboy became the staple of the cigarette brand in the mid-1960s.
The cowboy represented an antithesis to a complex and frustrating world – a man whose environment was simplistic and relatively pressure-free. Marlboro's television advertisements in the '60s reflected the idea of freedom in wide-open spaces … including scenes of cowboys leading their herds through dusty canyons of Marlboro Country, or charging off to rein in a stray colt.
The cowboy image was strong enough to survive the 1971 television ban on tobacco advertising.
Instead of riding off into the sunset, the image turned up in print ads and on billboards all over the country, related an NPR story.
As one of those Marlboro Men, from 1974-81 Ingersoll's rugged, handsome mug was featured on billboards worldwide, and in-between the covers of Time, Newsweek, Sports Illustrated and dozens of other magazines.
But he never stopped being a cowboy.
"I've been working with cows ever since 1950," Ingersoll, 90, related in a phone call from the Ingersoll Ranch northwest of Wolf Creek. "So for most of that time I've smelled like cattle manure."
Montana pioneers
Herf's parents were Sam and Alice (Stow) Ingersoll. Sam (1889-1955) was born in the Midwest, and came to Montana at age 4 with his parents in 1893. Alice (1898-2000) was born at her parent's home in what was then known as Stearns, near Wolf Creek.
Herf's maternal grandfather, Francis Marion Stow, arrived in Montana with his family around the 1880s, and married Mary (Ostle) Stow in 1900.
The Stow Ranch was known far and wide for its wonderful people, employment opportunities, and a pavilion used for musical events, auctions, dances and socializing, Alice's obituary stated, after her death at 98 years of age.
Heavyweight boxing champion Jack Dempsey came to the Stow Ranch to train for his 1923 title bout with Tommy Gibbons in Shelby.
Sam Ingersoll served overseas with the 11th Marines during the final year of World War I, and married Alice Stow in 1923. He ranched in the Dearborn Country – "5-6 miles from where I live," Herf said – until 1932, before moving to the Helena Valley.
Herf's uncle, Rufus Ingersoll, was a noted calf roper, according to his obituary in the Helena Independent, appearing in rodeos throughout the U.S. and Canada. At one point he was unofficially rated world champion roper, the obit stated.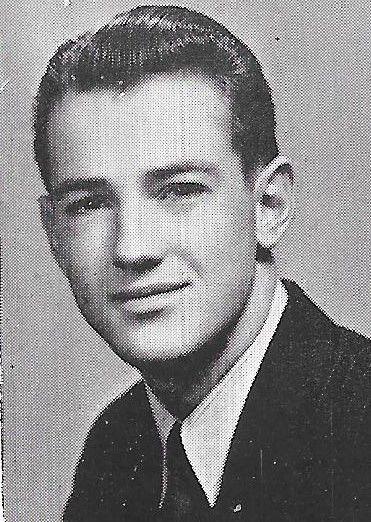 Bryant School, Helena High
Wilmer Ingersoll was born in 1930, into a family of two sisters and one brother. At an early age his older brother gave him the nickname that would last a lifetime.
"My older brother Milt started calling me 'Her' when I was little, and then 'Hereford,' after the breed of cows, for some reason," he recounted. "Pretty soon it was shortened to Herf, and I've been called that forever."
It was also his older brother who started him smoking, when they were growing up in the Valley. Herf was just 10 years old when they used cigarette paper and tobacco and smoked "roll-your-owns."
Among Ingersoll's youthful escapades was riding his bike over to Lake Helena, where he and a buddy would spear carp.
"Once I found a couple of Canada goose eggs there," he recounted. "I took 'em home, one of them hatched, it feathered out and I kept it as a pet. We had a couple dogs that would run out to the road barking whenever anybody stopped, and that goose would fly overhead out there with them."
Ingersoll attended Bryant School, catching the bus at The Shanty, where present-day Bob's Valley Market is located. The family lived in town later when he attended Helena High, graduating in 1949. A few of his best friends from those days were future brother-in-law Buzz Steinbach, Bob Wolstein, Dick Applegate, Fred Curtis, Bud Riddock and Wes Synness.
After high school, Herf went to work for his dad on the ranch. In 1951, he married one of the area's neighbors, Colleen Steinbach. Married for 69 years, two children, two grandchildren and three great-grandchildren later, the couple is still together, residing in the family ranch house.
Sharp-shooter
Prior to his fame as the Marlboro Man, Ingersoll gained quite a reputation as a state champion sharp-shooter.
At the 1963 State Muzzle Loading Rifle Shoot in Lewistown, Ingersoll fired a 44-1X and garnered the 100 bench, edging renowned Montana artist Shorty Shope for the title. In 1964, he won the Montana Muzzle Loading Rifle Association's Spring Shoot at the Rittel Ranch, scoring a 44-1X in the 100-yard bench division. Colleen placed runner-up in the women's division, with a 41-1X.
At the Beartooth Mountain Men's 1966 rendezvous and club championship, at the Roger's Pass Black Powder Range, he captured the 50-yard bench event with a score of 46-1X.
Montana's Marlboro Man
In the 2002 Missoulian, Ingersoll described his qualifications for the modeling job as being a smoker, "because otherwise you just didn't hold the cigarette right," and a horseman. And they wanted crow's feet around the eyes and a Dick Tracy chin.
His first experience was a weeklong shoot outside Fairplay, Colorado, south of Denver.
The typical shoot lasted seven to 10 days, with no days off, the Missoulian reported. All of Ingersoll's expenses were covered. The pay was $150 a day when he started, and was up to $300 a day (equivalent to $850 today with inflation) when he quit doing it seven years later.
"Modeling was strictly a moonlighting job. Typically, there were only a couple of week-to-10-day shoots per year. It was a nice break from ranching," Ingersoll said, "and that was good money back in those days."
The hours were long, starting at daybreak and ending at dusk, with a short break in mid-afternoon. He saw much of the American West, making several trips to Texas, Colorado, New Mexico and California, and a few of the sessions took place near his own ranch.
"One time I got a phone call at 7 a.m., by 7 that night I was in Albuquerque," describing his whirlwind modeling career. "I was just like horse crap -- all over the place."
By the time it was over, Ingersoll had been photographed by some of the most famous photographers in the world, including the legendary Walter Haas.
Quit smoking cold turkey
After his Marlboro Man days came to an end in 1981, Ingersoll went back to ranching his spread full-time, before turning over the reins to the next generation.
He smoked his last cigarette at the age of 68. In 1998, which also happened to be the final year of the Marlboro Man ads, ending a 60-year, pack-a-day habit.
A bout with pneumonia that landed him in a hospital convinced Ingersoll it was time to give it up, the Missoulian article stated. The longtime Montana rancher quit cold turkey, no nicotine patches or nicotine gum. That just prolongs it, he said.
Today, Ingersoll confessed he's been fortunate to have avoided lung cancer, considering the deadly disease has taken the lives of five other Marlboro Men.
"I just turned 90, and I feel very lucky to still be here, after all those years of smoking," he said.
Curt Synness can be reached at 594-2878 or by email at curt52synness@gmail.com. He's also on Twitter @curtsynness_IR.
Get local news delivered to your inbox!
Subscribe to our Daily Headlines newsletter.