After being closed for over a year, ExplorationWorks is set to reopen its doors to the public next weekend with limited admission capacity. 
ExplorationWorks closed shortly after the COVID-19 pandemic hit Montana 13 months ago in March 2020. The very nature of the children's science center is hands-on, according to marketing and visitor services director Kari Gagner, which made it difficult to continue operations safely.
"The first thing we did was figure out what we could do virtually for the community," said Kelly Posewitz, executive director.
This included lots of virtual science projects and activities to do at home while the ExplorationWorks building remained closed. Gagner said it gave the staff at the science center the opportunity to think outside the box.
In the summer of 2020, the staff started thinking about its yearly summer camp. According to Posewitz, families registered for that summer camp in February, before the pandemic had become widespread in the United States.
"There was really a huge demand and need for it," Posewitz said. "Kids just weren't socializing."
Posewitz said the isolation that resulted from the pandemic was hard on the kids served by ExplorationWorks, so they wanted to hold the summer camp in the safest way possible. Education director Sara Feilzer said they wound up with approximately 450 kids all summer long, and the camp was a success. 
As the summer came to an end, St. Peter's Health reached out to ExplorationWorks for help with child care. With most students only attending school two days a week, it was difficult for EMTs, nurses and other medical staff to find a place for their children while they worked.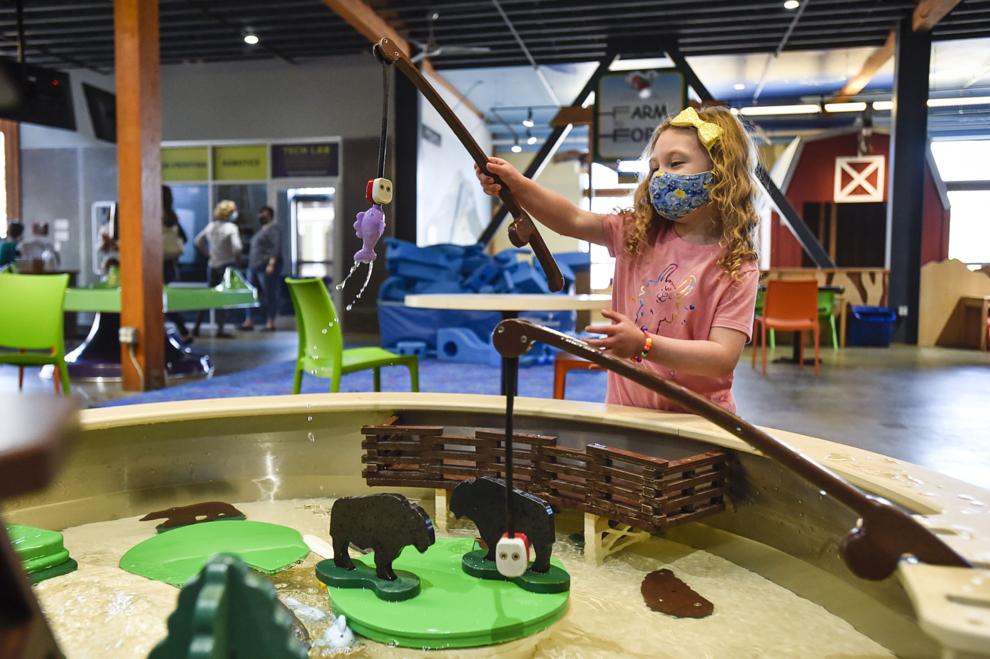 "So we quickly shifted and put that together in about one week," Posewitz said. "We wound up keeping about 20 kids five days per week. And we received some funding from the state for that, which helped with our revenue shortfall."
Posewitz said the first full week of April marked the last week of child care, as elementary students are set to return to class five days per week beginning this coming week. 
"It was really nice to have kids in the building doing science," Feilzer said. "Having that joyful presence in the building was nice."
The past year has informed a lot of decisions made by the staff moving forward to a full reopening. There are some new features and new exhibits at the ExplorationWorks building. There is a new tech lab where robotics and 3D printing can be done, a new front desk area, and and some new exhibits like the light harp.
The sound arch/light harp is an exhibit that emits lasers that when stroked by a finger, corresponds to a musical note. The harp itself has multiple different instrument settings and largely eliminates the touch element entirely, because visitors don't actually touch any physical thing while operating the device.
"We were kind of able to hit the reset button," said Gagner. "We had to think about what we have on the floor that can be sanitized easily."
As a result, ExplorationWorks is slightly less hands-on for now, but the things you can put your hands on are easy to clean between visits.
ExplorationWorks plans to have four 90 minute sessions available per day starting at 10 a.m., 12 p.m., 1 p.m. and 4 p.m. You can schedule a visit at explorationworks.org or by calling 1-406-457-1800. Pre-registration is required for these visits, there is a limit of 70 visitors per session and masks are required for everyone age 3 and older.
The grand reopening is set to take place on April 17. Saturdays will be dedicated to the "tinkerlabs" interactive science experiments, which are free with admission, and a new experiment is available each weekend. Thursdays and Fridays are the Early Explorers pre-school program days. This is also included in admission. ExplorationWorks is also doing a Spring Break Bingo Giveaway and a trivia night ahead of its reopening. 
ExplorationWorks has been hosting members-only previews on weekends beginning April 3, and Posewitz said the staff was "overwhelmed with emotions" when they opened their doors for the first time in over a year.