If only for a brief moment, Jack was back.
And the Senate was glad to see him.
Jackson "Jack" Racicot, a former Senate committee worker, returned to the Senate floor Monday to thank lawmakers for their support and to participate in an auction to raise funds to buy equipment for his rehabilitation.
He was left a quadriplegic after a Feb. 16, 2019, snowboarding accident at Great Divide, when he smashed his C5 vertebrae and was paralyzed from the neck down. It occurred a few weeks after the 2019 session started, but Racicot had left his mark at the Capitol.
The Senate auctioned off a couple of U.S. flags that had flown over the state Capitol. The auction was held by the Montana Auctioneers Association and was similar to one the Senate did for him a couple years ago that raised $3,100.
"We never forget our family here in the Senate and we want to support Mr. Racicot as much as we can," Senate President Mark Blasdel, R-Kalispell, said.
J.K. Kinsey, president of Montana Auctioneers Association, said they were happy to help out.
"I think it turned out very good," he said.
Racicot asked to speak to the chamber.
"For those of you who don't know what the Legislature was for me in 2019, it's a family. I was very honored and privileged to work up here in the halls with you all. I learned a lot in the short time I was here, as well," he said.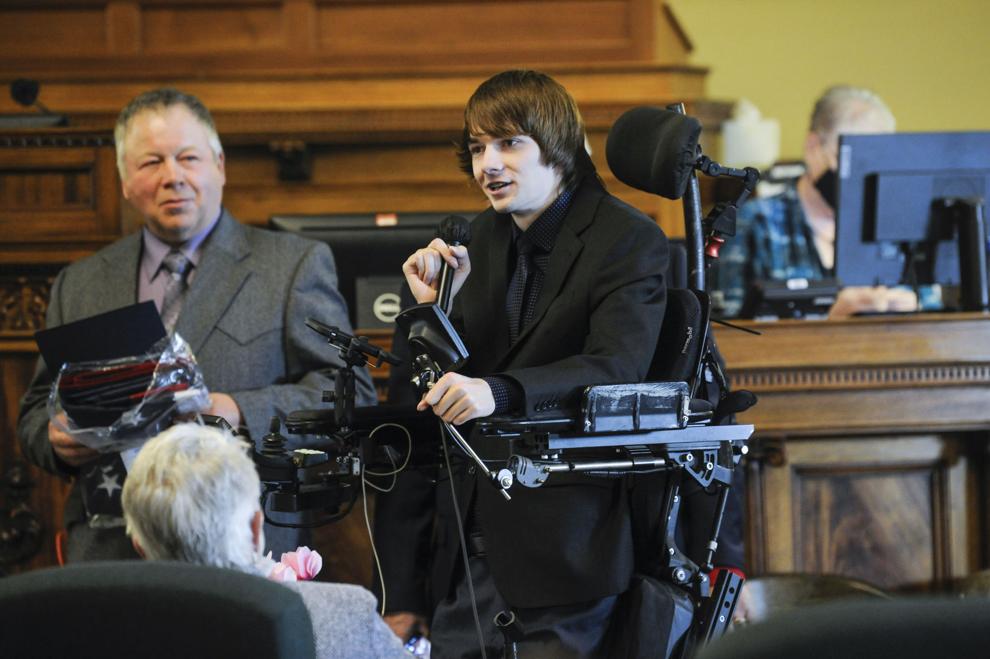 "You guys don't know what you have done for my family and I," he said, adding that the last two years have been quite challenging since the accident.
"I just want you to know I appreciate all the things that you guys have done," he said.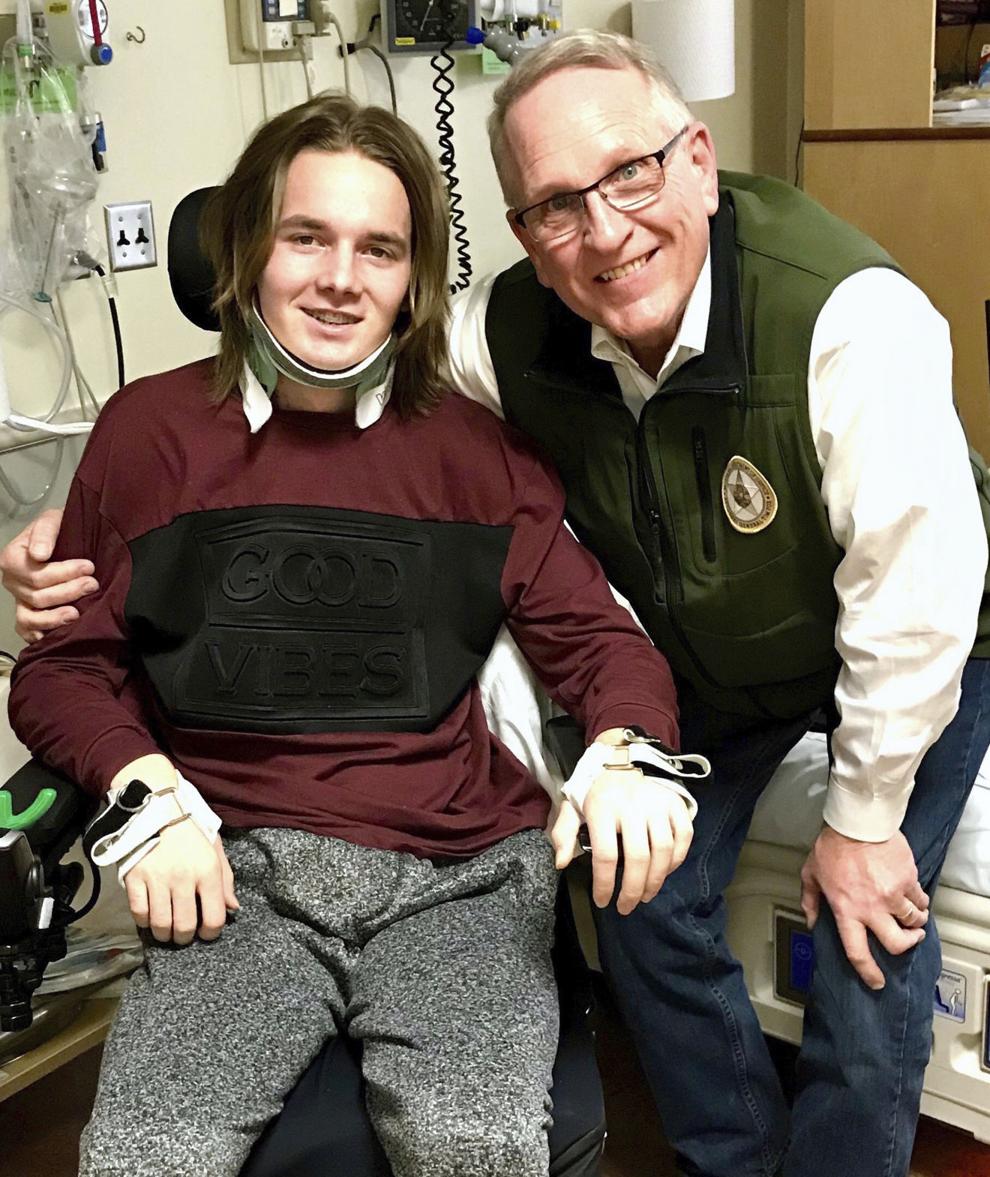 Racicot, who graduated from high school in Helena, having transferred shortly before graduation from Whitehall, said while in the Legislature he served as a secretary to the Senate Local Government and Agriculture committee under Sen. Brian Hoven, R-Great Falls and Sen. Mike Lang, R-Malta.
"I hope I am back up here one day with you all and … creating history," he said.
Hoven bought one of the flags for $2,300 and Sen. Greg Hertz, R-Polson, bought the other for $3,100.
Racicot, the 23-year-old nephew of former Gov. Marc Racicot, said he would put the funds toward the purchase of an FES bike, a stationary bike.
This provides computer-generated electrical pulses to be sent through surface electrodes to the leg muscles, according to christopherreeve.org. This causes contractions and small electrical pulses to paralyzed muscles to restore or improve their function. The bikes cost anywhere from $14,000-$20,000, Racicot said. He said there are no bikes at any of the rehabilitation facilities in Montana.
He was accompanied Monday by his mother, Jaelene Johnson, and they now live on a flower farm in Whitehall. He was also accompanied by his aunt Jan Bagley and caregiver Edie Yeargin.
"She is pretty awesome," he says of Yeargin.
He was able to visit with friend Marilyn Miller, who is secretary of the senate and a devoted friend who is in constant contact with the family.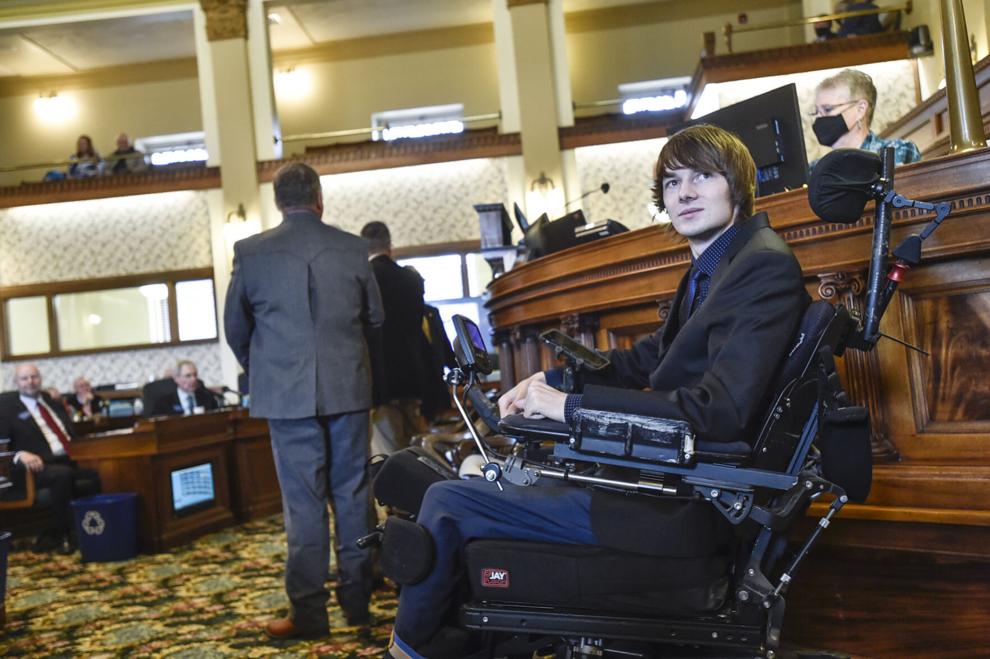 "Oh my gosh, I love this kid," she said as she talked to Racicot soon after the auction. "I've loved him since he came to my office."
"I can't hear you talk without crying," she said upon saying goodbye. "You ruined my makeup."
They spoke of his eventual return to the Senate workforce. Racicot is also studying finance and cryptocurrency online.
Racicot said he is hopeful for the future.
"But I know the reality I am in," he said. "My chances for natural recovery are little to none."
Racicot is hopeful for some technological help.
He said he is amazed at what he has learned from his experience, saying he had no idea what some people went through.
"People say I am an inspiration," he said. "I don't feel that way. It was a card dealt to me, not chosen."
Assistant editor Phil Drake can be reached at 406-231-9021.