As the COVID-19 pandemic continues to take its toll on the nursing profession, Carroll College and Helena College are doubling down on their nursing programs in an effort to meet the need for qualified professionals.
Additional stress, longer hours and overflowing emergency rooms are among the many issues plaguing the nursing profession across the country amid the pandemic. Many older nurses took early retirement and others became too stressed and burned out to continue as a result, and the shortage of nurses has increased the demand on nursing schools to add more professionals to the workforce. 
Colleges and universities across Montana and the country have faced their own set of challenges. Many would like to expand but are forced to turn away prospective nursing students due to the limited size of their programs. Others faced a lapse in enrollment during the pandemic.
And while the two nursing schools in Helena are not immune to issues like these, both Helena College and Carroll College are working to grow and improve their nursing programs to meet the increasing demand.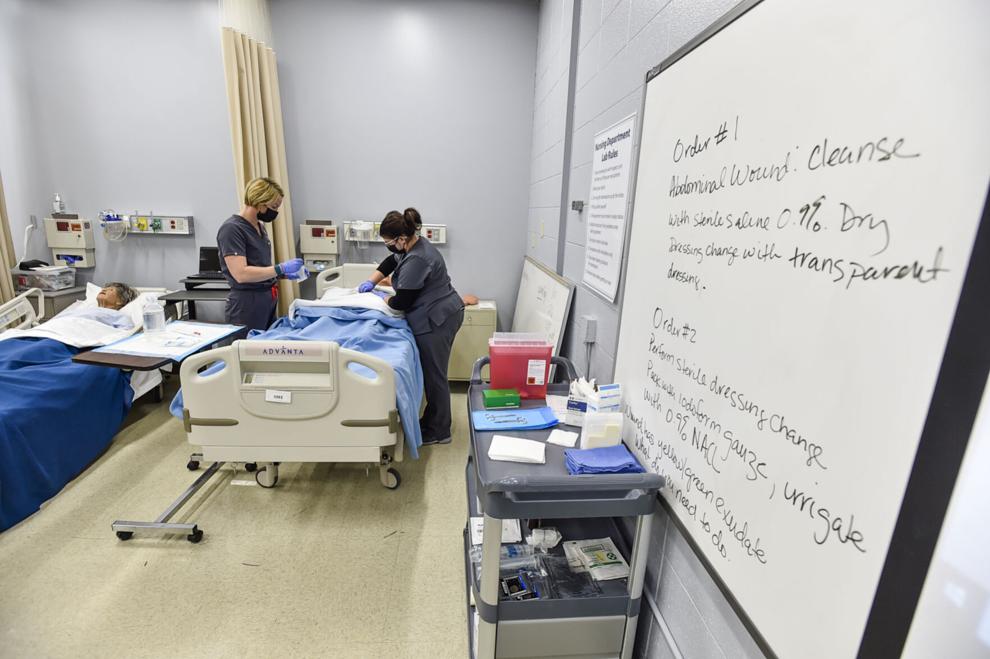 Helena College
Helena College takes in approximately 16 RN students per semester for an approximate total of 64 at any given time. The college recently received approval from the Montana Board of Nursing to up that number to 20 new students per semester beginning in the spring, according to Dean Sandy Bauman.
The college also offers a less popular LPN, or licensed practical nurse, program. The LPN program doesn't fill up every year, and according to director of marketing and communication Donna Breitbart, fewer than eight applicants qualified for the program in the last two years. However, Helena College expects to take on more LPN students through a new partnership that will enable them to learn remotely from Bitterroot College in Hamilton. 
"With the expansion to Hamilton, we expand our prospective pool of students and we are excited to see what those application numbers look like this November," Breitbart said.
The RN program fills up every single year, according to Bauman and Breitbart, even during 2020 when enrollment at many colleges declined significantly. Breitbart said nursing was one of Helena College's first programs and has a reputation that speaks for itself. Despite this, the college still actively advertises the program and works to proactively educate the community about the opportunities it presents.
"Because it is so popular, it is a very competitive application process," Bauman said. "Applicants are graded through the application process. A variety of things add points to the score and that is how we determine who we accept."
Helena College's RN program gets a mix of pre-nursing students and graduates of other programs. Bauman said she believes the program's versatility and value contribute to its popularity. Bauman said graduates of the program can either go directly into the workforce, or they can go on to one of Helena College's four-year partners to pursue their bachelor's of science in nursing.
"The tuition at Helena College is one of the lowest in the state. That combined with small class sizes, strong relationships with our local health care community and a stellar employment rate after graduations make our RN program both attractive and competitive," Breitbart said. "Graduates of the RN program also have options after graduation. Once they pass their NCLEX, they can go right into the workforce, or they can choose to continue their education and apply to a BSN program. We have articulation agreements with Montana Tech, MSU Billings and Western Governors University, where our graduates can apply and begin a bachelor program to continue their nursing education work as an RN while completing their BSN."
Ciarra Rickman graduated from the program in 2015, and said she chose Helena College because it not only had low tuition prices but a 100% pass rate for the NCLEX.
"The nursing educators were very knowledgeable and had decades of experience with hands-on nursing," Rickman said. "I had nothing but great experiences through the nursing program whether it was in the classroom or in a clinical setting. When I completed the program I felt confident as a new nurse and was eager to get my career started."
A 2020 graduate, Courtney Radke, shared similar feelings about the nursing instruction she received at Helena College. Radke was coming out of the program just as the COVID-19 pandemic was starting, and she credits the dedication, resiliency, courage and understanding of her instructors for preparing her to enter such a chaotic field.
"Each instructor cared about me as an individual and worked tirelessly to ensure my education was successful," Radke said. "The education I received through Helena College helped prepare me for my future as a nurse."
According to current students Lane Peasley and Sophia Webb, the affordability, flexibility and reputation of the program are what attracted them to Helena College.
"Nursing school is an expensive, challenging and time-consuming commitment. The amount of effort required to have a competitive application to nursing school makes selecting the correct program quite important," Peasley said. "Helena College has been affordable, straightforward in its expectations of all courses and incredibly helpful in doing everything to push me to excel quickly."
According to Webb, the program not only had a strong reputation but was also "significantly more affordable than other schools in Montana."
Despite the success of the program, and the recent expansion, Helena College isn't done trying to grow this program.
"Eventually we want to grow it even more," Bauman said. "We are actively looking for space and funding for a number of things, including further expanding the nursing program."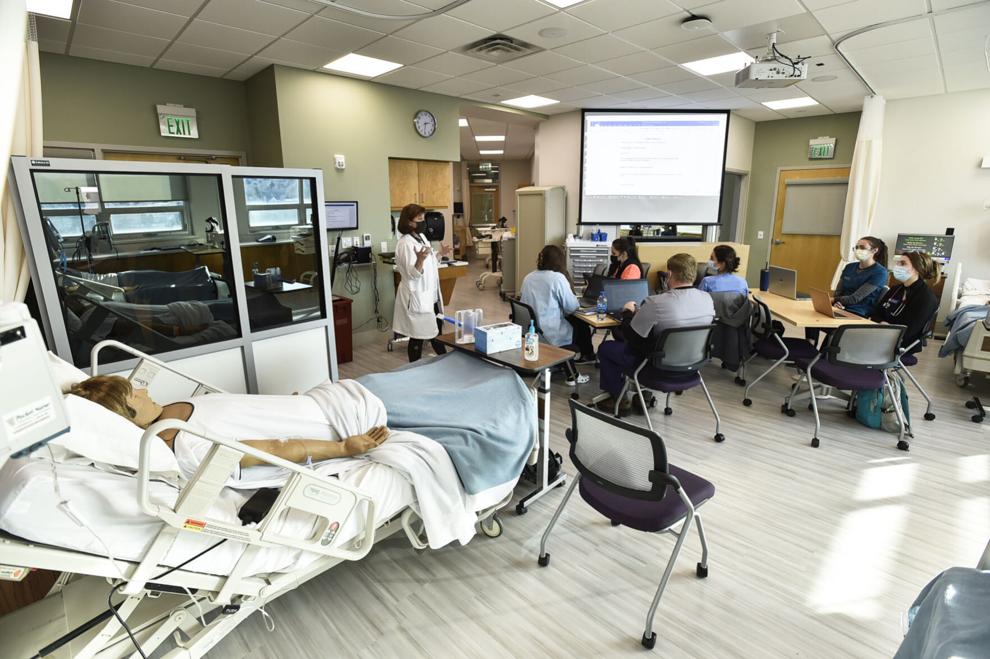 Carroll College
Carroll College wasn't hit as hard as some other universities across Montana and the United States during the COVID-19 pandemic. Associate professor and director of the nursing program Lauren Swant said that during the fall of 2020, the college did experience a decline in enrollment for its bachelor's of science in nursing program. However, the college bounced back fairly quickly and hit its enrollment cap of 48 students per semester in 2021. The school has a total capacity of 164 students across all nursing programs.
Throughout the pandemic, Carroll not only invested $2.1 million into remodeling Simperman Hall into a state-of-the-art nursing facility but also launched an accelerated nursing program that allows those who already have a bachelor's degree to receive their nursing degree in less time. 
"We took this facility down to the studs. We really tried to make it as state-of-the-art as possible as far as what people need to teach nursing," said Carroll President John Cech, during a tour of the building.
The remodel took nearly two years, with the majority of construction done during the COVID-19 pandemic. A proposal was first submitted in 2018 and the E.L. Wiegand foundation donated $1 million to the renovations in 2019. Cech noted the investment wouldn't have happened without the foundation's contribution. The renovation saw a completely updated simulation lab with top-of-the-line equipment and mannequins of different ages and types for students to learn on. The remodel funded new furnishings and revamped classrooms as well as an observation deck for the sim lab in the building.
"It really provides us the ability to simulate so many various medical situations via simulation," Swant said. "This really helps with situations you can't create in a hospital setting for learning."
The simulation lab technology isn't new and has existed in nursing since the late '90s, according to Swant. However, she said it was only available in top universities until about 10 years ago. The observation lab helps as professors can watch students through a one-way mirror and observe how they react to situations on their own. Swant said there is nothing the mannequins can't replicate.
"It lets them process through the errors they might make on their own," Swant said. "It can be things as simple as their own body language. Things they don't correct on their own can be addressed by a professor. We want them to do it right all the time, not just when they're under observation."
According to Swant, this includes everything from not only the practical application of medicine to interpersonal attitudes when treating patients. Swant said she thinks this facility really sells prospective students on Carroll as their university of choice.
"This program's reputation really stands on its own. It's the second oldest and second largest program in the state," Cech said. "Most hospital CEOs I've met said they would hire as many Carroll nursing graduates as they could. I think the college as a whole speaks for itself."
Since Carroll does not share this facility with any other organization, there is also open lab time available to all students, which Swant said is a big selling point for many.
The accelerated nursing program took on its first cohort last summer. While it didn't fill up the first time around, Carroll is anticipating a full cohort by the application deadline in March. The goal is to have a full cohort of 20 accelerated nursing students.
"The idea with this program was to be part of the solution to the workforce problem in Montana," Cech said. "I think we stand toe-to-toe with any program in the United States. We have a stellar reputation with employers and higher NCLEX pass rates, which isn't easy to do with a class of 48."
Cech and Swant both believe the dip in 2020 was solely due to the pandemic. Cech said the school saw a lot of hesitation when it came to enrollment, as there was uncertainty as to whether or not classes would primarily be online.
"Once we were able to confidently march forward it helped everything rebound," Cech said. "I've said it many times before but we haven't been remote since May 2020."
Swant said that in their five-year evaluations, former students often cite the faculty as a major factor to their success. They tend to grow a relationship with those faculty members, and often there are tight-knit relationships throughout the program, Swant said.
Currently, Carroll is close to being fully staffed and hasn't experienced as much turnover as many other facilities. Swant said Carroll is currently hiring for two nursing staff positions.
"Across the board, I think many nurses don't go into academics for the money. They want to teach. A lot of their goals are to improve the system from the inside," Swant said. "Many of the faculty are practitioners when they aren't teaching."
Swant said a shortage of faculty is playing a major role in the overall nursing shortage. She said many faculty are aging out of the workforce in the next few years.
"We are lucky that the family/culture here is that the faculty all really like each other and want to stay," Swant said. "A lot of the feedback we've gotten is that the culture helps students feel more prepared as they graduate."
Class of 2019 graduate Madison Robischon said the opportunity to work as a nurse will always be her proudest accomplishment, and she has Carroll's program to thank for that. 
"The program gave me a strong foundation in the science of nursing, but most of all it instilled the elusive art of nursing as well," Robischon said. "My experience with knowledgeable professors, complex simulation labs and in-depth clinic experiences allowed me to feel more confident while always remembering to treat the whole person with love and empathy when they need it the most."
Another graduate, Reece Quade of the 2019 class, said every school can prepare you to pass the NCLEX, but Carroll prepared him for real-life scenarios whether in-person, at the hospital or in the sim lab.
"There have been multiple occasions when clinical professionals at different hospitals throughout the state have commented on how much they love working with Carroll nurses and how well prepared they are over other nursing programs," Quade said. "Those comments alone speak volumes. Real-life nursing is tough, but with my education at Carroll the transition was easy. I never felt scared to take on any situation."
New nursing students Lane Buus, Courteney Boyle and Cara White all shared similar thoughts on how much the new facility is impacting their learning experience. White said that given the current COVID pandemic restricting clinical hours, the sim lab is helping keep them in practice. Boyle said it's helping her and her fellow students not only practice their practical skills, but their critical thinking skills.
"Part of being a nurse is looking at the whole person and caring for them in a holistic way," Boyle said. "Not only are we taught this, but we practice this both in the lab and out in our clinical rotations."
Buus said he believes the sim lab is the perfect fit for Carroll's program. He described Carroll's program as "holistic" in that it approaches taking care of all aspects of the human.
"This hand-on experience allows us to make mistakes and learn from those mistakes while still treating the situation as if it were a real scenario," Buus said.
According to Cech, none of the investment into the nursing program would be possible without the college's clinical partners in the community. St. Peter's Health, the Office of Veterans Affairs, Shodair Children's Hospital, Indian Health Alliance and Benefis all help Carroll's students by providing opportunities for clinical rotations.
Cech said Carroll is not done investing in the nursing program yet. There are still ongoing plans to continue discussing the possibility for an on-campus clinic with St. Peter's Health. Cech said he expects more conversations about this prospect to occur next spring.