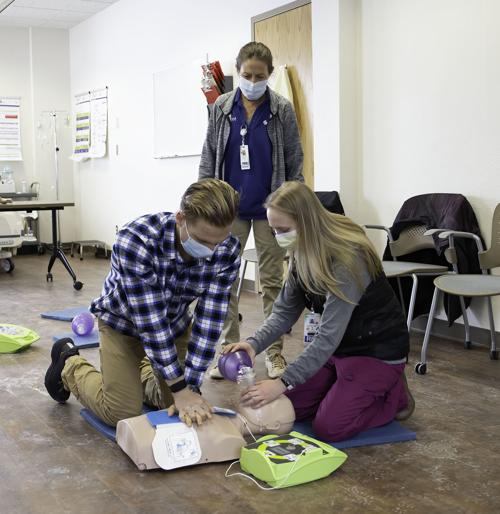 East Valley Middle School para-educator Linda Kuntz said she died at work on Dec. 3 at age 47. 
"I wasn't expecting to die that day," she said in a statement provided by St. Peter's Health. "I had no symptoms or issues that would make me think my health would take a turn for the worse, that my life was in danger."
According to the Helena hospital, Kuntz was brought back to life by chest compressions conducted by her coworkers and the use of an Automatic Electronic Defibrillator at the school. An AED is a device that can deliver an electrical shock to help the heart reestablish an effective rhythm. 
Dec. 3 was a typical day at EVMS before a student came running toward two staff members, who followed the student back to the classroom. There they found a teacher on the phone connecting with emergency services and Kuntz lying on the floor, unresponsive.
"Time speeds up and slows down at the same time," said a counselor who was one of the first to enter the classroom. "People said I was calm, but I was panicking."
The counselor, who recently took a CPR/AED class taught by St. Peter's Health employee and American Heart Association Instructor Rick Layng at the EVMS library, immediately jumped into action.
The counselor checked Kuntz to see if she was breathing and felt for a pulse. Her face was turning blue, and there was no pulse and no breathing, so the counselor initiated CPR. 
"I remembered: 30 compressions, two breaths," said the counselor, who started CPR while another team member ran down the hall to grab an AED.
"I realized breaths weren't going in, and then remembered I needed to tip her head back, just like we had done with the dummies in class," he said. "After tipping her head back, I could tell they were going in."
Everyone involved in the effort emphasized the teamwork that went into saving Kuntz's life.
After delivering one shock with the AED, East Helena School District nurse Kaylee Baeth and the East Helena Police Department showed up, followed by a St. Peter's Health ambulance, taking over the care and compressions.
Kuntz was transported to the hospital, still unconscious.
One day later, the EVMS team heard directly from Kuntz from the hospital. She said their efforts saved her life. 
"I would not have been with my family for Christmas, I would not have seen my oldest (son) go off to college, and I would not be planning to go on a high school graduation trip with my youngest (daughter)," she said. "I encourage and implore for organizations to have AEDs at work with personnel trained to use them. Who knows, the life they save may be yours."
Today, Linda is on the path to recovery.
"I plan on making the most of the rest of my life, which I plan as being as long as possible," she said. "I do not take any day for granted."
The team at EVMS credited their success to their training, access to the AED, and their students. The team, which included Baeth, school counselors and other staff, debriefed with the students, offering support following the experience. The students were amazing, they said. 
One of the EVMS responders has been teaching CPR for over 30 years, first learning the life-saving procedure as a young Boy Scout. He and others involved in the effort encouraged everyone to get trained. 
"I am 100% sure that without the combination of CPR and AED I wouldn't be alive today," Kuntz said. 
St. Peter's Health recently donated two AEDs to the new and expanding East Helena High School thanks to funding from Wells Fargo.