Through a NorthWestern Energy grant, organizers purchased 19 trees to transplant throughout the grounds as well as near the Liberty House, where veterans and families stay while visiting the VA.
"The No. 1 mistake people make is planting a tree too deep," Hiel said. "We hear a lot of comments about the wind, and you need to plant trees deep. No, because trees need oxygen."
Tree planting has been slow so far this year not because it is too early, but because much of the ground in the Helena area remains too wet, he said.
And the trees on the VA grounds have another issue not uncommon to many plantings around Helena: deer. Plantenberg showed the students a tree that would need to be removed after a rutting mule deer buck scraped his antlers and tore away the bark. To protect the new trees, they would install cages to keep deer at bay.
Leslie Holz, environmental program manager for the VA, said the size of the grounds requires constant upkeep by two employees in addition to a program that employs veterans as part of their rehabilitation.
"Being such an old campus, it's a really big task with only two groundskeepers," she said. "We've been losing a lot of our older trees, cottonwoods dying and even some of the elms … this is a great opportunity to diversify the trees across our campus."
The crew had 19 trees to plant Monday, including maples, elms and hackberries, and plenty of eager Cottonwood students that jumped in to move dirt.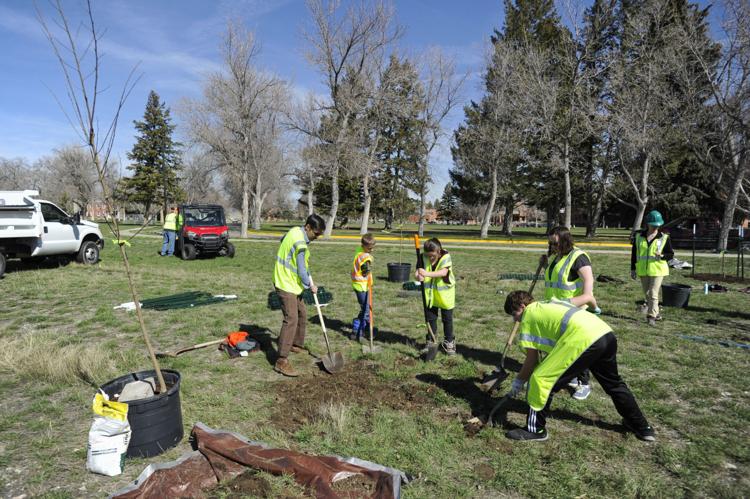 Christopher Taleff, the school's co-director, said the event provided students the chance for some community-based learning.
"We try to be open to the idea that learning is happening everywhere — being aware that today is Earth Day — that they're able to connect with people like Mike (Heil) in the community and learn from them," he said. "We also have some kids interested in farming and certainly some kids with parents in the military and kids with grandparents that are veterans."
Monday's event was an offshoot of the "Saluting Branches" program, in which arborists volunteer their time to come to Fort Harrison and the VA grounds to prune trees each year in the fall.