Brett Lloyd said he felt a little rusty Tuesday getting back to a task that absorbed his time a few months earlier.
But once things got going, he said it was smooth sailing.
The Lewis and Clark County Fairgrounds served Tuesday as a grim reminder of the pandemic that is still gripping the country as dozens of vehicles lined up carrying people getting their third booster shot of the Pfizer COVID-19 vaccine.
The booster shots were offered as a surge of the coronavirus known as the delta variant has surfaced.
Lloyd, the emergency preparedness coordinator for Lewis and Clark Public Health, led a small army of nurses and volunteers who kept a long line of vehicles going through the fairgrounds' exhibition hall, which served the same purpose months earlier for first and second doses.
Among those getting the shot were Michael, 79, and Norene, 73, Lynch of Helena.
"We believe in the vaccine," Michael Lynch said.
Steve Horne, 66, drove in to get his booster shot as well.
"You can't be too careful out there," he said. "Delta is here."
Tuesday's mass vaccination was the first since June, Lloyd said, adding he expected about 1,000 free shots to be administered during the appointment-only clinic that ran from 8 a.m. to 6 p.m. He said it would make for the single-biggest day of shots administered.
"It feels like we've been here forever," he said, "but actually we have had a couple months off."
He said 75 clinics were done in the area last winter and spring, adding that people from at least 40 counties had come to the fairgrounds. 
On Tuesday, the first dose of the vaccine was offered for people 12 and older, the second dose for anyone who received their first Pfizer dose at least 21 days earlier, and the booster shot was made available to folks who got their second dose of the Pfizer vaccine at least six months earlier or met other criteria. The shots were free. 
Lloyd said other clinics were planned at the fairgrounds Oct. 5 and 13, Nov. 16 and Dec. 14.
Doses of Moderna or the Johnson & Johnson vaccines are not available at this time at the fairgrounds. People who received those vaccines are not eligible for these clinics.
Lloyd said the clinics were put on through a combined effort of PureView Health Center, St. Peter's Health and Lewis and Clark Public Health.
He said this was the first mass clinic for people to get the booster shot, noting that people who received the first two doses of the vaccine were now qualified for that shot. He estimated there were now 9,000 people over 65 in Lewis and Clark County who were eligible and that number would grow.
Lloyd praised the volunteers and nurses, saying more than 400 people had stepped forward to help.
He said while he appreciated the people who showed up to get shots, he really appreciated the volunteers willing to donate their time, adding Lewis and Clark County has had some of the best success in recruiting help.
He also praised Elkhorn COAD (Community Organizations Active in Disaster) for their help in providing food for volunteers.
Lewis and Clark County reported 46 new COVID-19 cases Tuesday. The county has had 9,050 confirmed reports and 8,367 recoveries from the respiratory illness. The county reports that 583 cases remain active and 13 people are hospitalized.
There are 304 breakthrough cases, which are confirmed COVID-19 cases at least two weeks after completing both doses of the vaccine. 
Jan Magee, a registered nurse, worked the line at the fairgrounds Tuesday. A co-worker complimented her on the homemade chocolate chip cookies she had brought in to share. Magee, who marked on a paper table cloth the number of shots she had given so far during the day, said she has retired three times.
"It's very needed and very rewarding and it's what we nurses do," she said of helping with doses.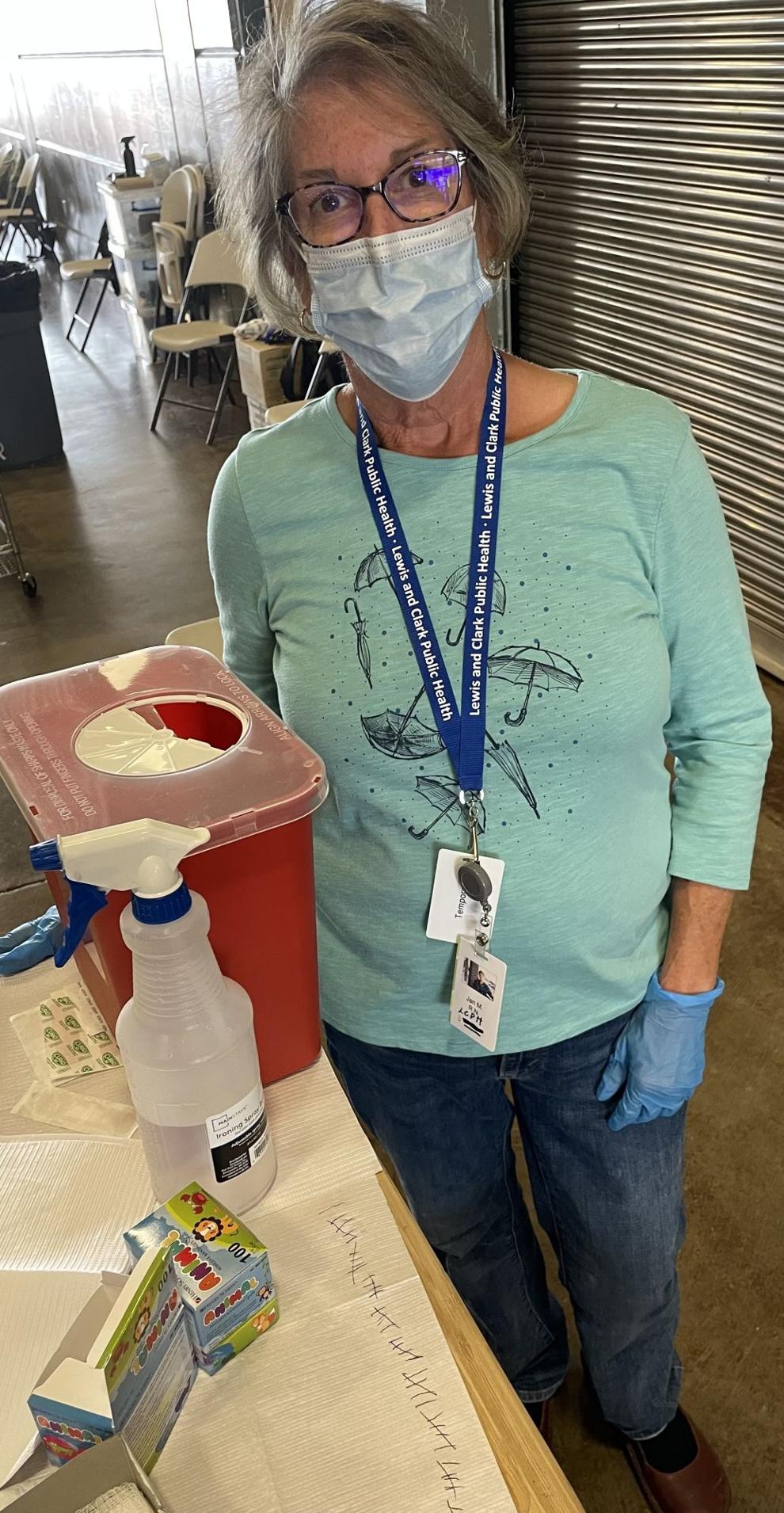 And Magee readily explains her failed attempts at retiring.
"When you're a nurse it's hard to give it up."
Assistant editor Phil Drake can be reached at 406-231-9021.