Deyanira Villalta, director of the college's canine center, said 16 of the dogs are from the advanced canine training class and soon will be going to their adoptive forever homes. Four of the dogs are part of the specialized canine training and were spoken for by the beginning of their training.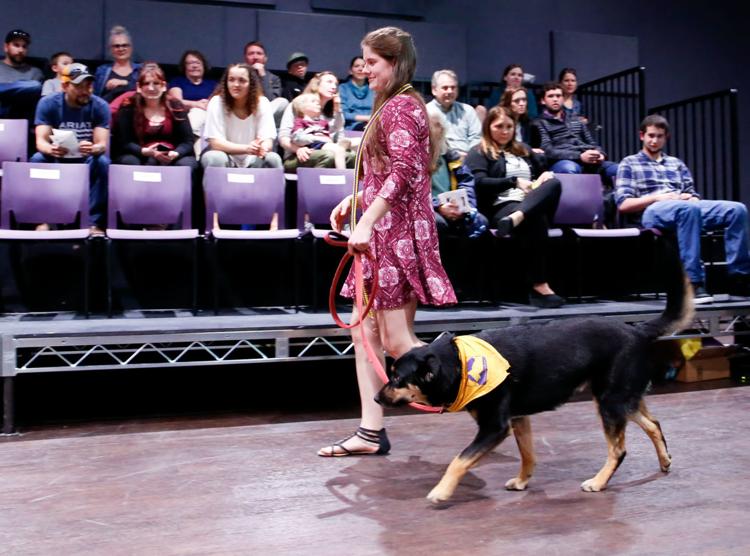 The final dog is Major, who was co-raised by two students as part of an independent study. Major is what Villalta calls a "rare gem," two students, Ali Hance and Madie Sanford, trained Major in specific tasks, making him a service dog. Major is going to a veteran who has post-traumatic stress disorder.
Advanced canine training dogs are trained by anthrozoology juniors, which is the first year students can train a dog. These dogs are raised by and live with the students for about nine months before doggy graduation. Villalta said there is a full foster agreement in place with the shelters, who allow the students to care for the dogs. 
This class came from the Beaverhead County and Lewis and Clark Humane Societies. 
"When the students first get the dogs, they work on obedience training to shape the dog's behavior," Villalta said.
The students work toward making the dogs Canine Good Citizens, a certification the dogs can receive. However, it isn't necessary for the dog to obtain the certification, it's simply a goal. Villalta made it clear that the dogs are not the ones being graded, the students are. 
The dogs eventually go down either a service or working path, where they are taught more specialized skills. 
Villalta said a common misconception is that the anthrozoology department trains service animals. These dogs are not trained with the skills necessary to become a service dog. They are trained for about nine months, while service dogs typically go through two to three years of training. There are rare gems like Major, but they are few and far between, Villalta said. 
These canines make excellent companions. There is no guarantee they won't have a few quirks, but they will have had a good bit of training. 
These dogs are received as puppies and are trained with their forever home in mind from the very beginning. Villalta said there are even students who have expressed interest in raising cattle dogs, which is something the program may do in the future. 
All advanced canine training program dogs are put up for adoption at www.carroll.edu/anthrozoology/adoptable-dogs. Applications are reviewed by the student who chooses a home for their training partner. Adoptions are then finalized by the shelter with an adoption fee. 
Villalta said the goal each year is to have all of the dogs adopted by graduation. They have met this goal for several years.
Editor's Note: This story has been updated to clarify that students work toward making the dogs Canine Good Citizens, and that only advanced canine training program dogs are put up for adoption. In addition, the spelling of Deyanira Villalta's name has been corrected.