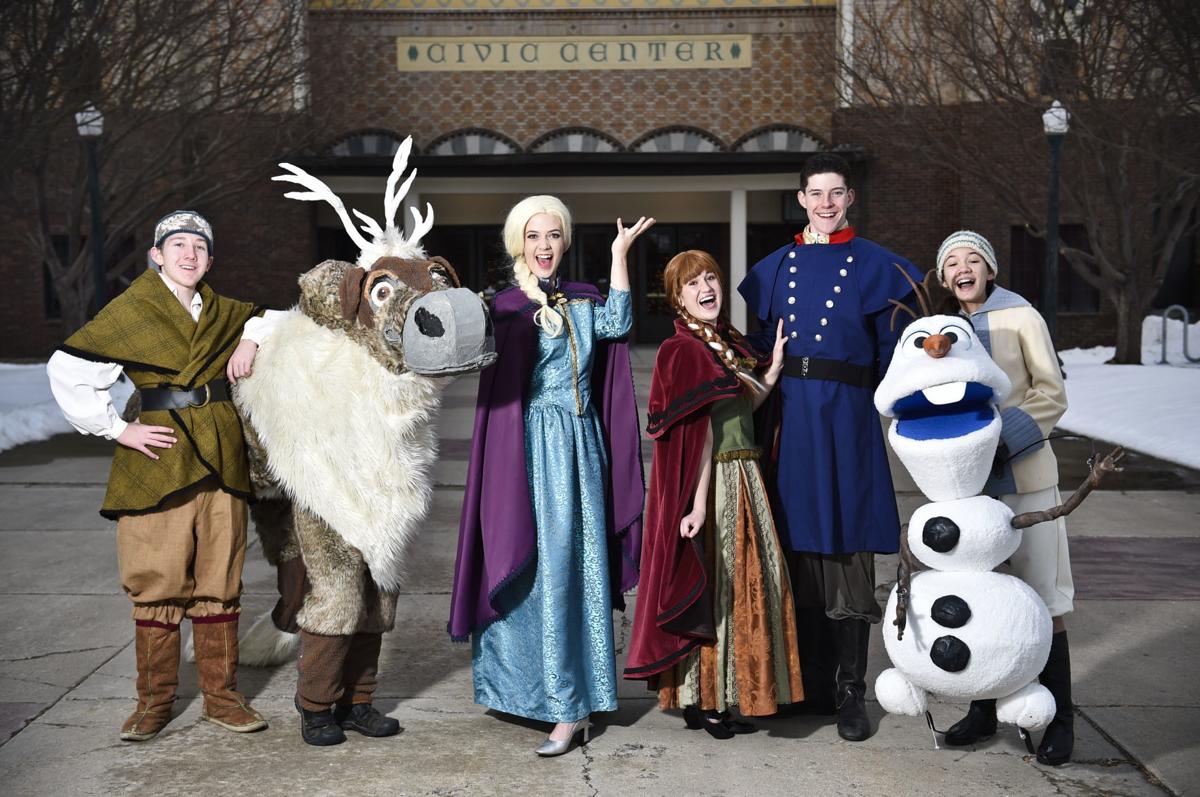 A witty snowman that loves warm hugs.
And two princesses on a death-defying adventure -- one of whom possesses dangerous powers.
Disney's musical "FROZEN, JR." takes to the stage at 7:30 tonight, at the Helena Civic Center, 340 Neill Ave.
Yes, the Helena Civic Center!
"For the first time in forever" Grandstreet Theatre launches its popular holiday show at a much larger venue -- the civic center.
And "for the first time in forever," even procrastinators may be able to score tickets.
As Helena theater veterans are well aware, Grandstreet's Christmas shows at cozy, little Grandstreet Theatre sell out fast.
Sometimes, even before the paint is dry on the Grandstreet sign announcing the show.
This writer can report with some confidence, that throughout the land, there are a number -- a very large number, indeed -- of young "FROZEN" fans who are smitten with princesses Anna and Elsa.
In fact, this year's cast abounds with them.
When asked what's special about this year's show -- these actors' first breathless words are, "Well, it's 'FROZEN'!"
It seems that everyone of a certain age loves "FROZEN" and can sing the songs and has the dolls, and has memorized the lines and might even own princess costumes.
"Who doesn't want to see a snowman come to life?" asks director Marianne Adams with a sparkle of joy in her eye as she speaks about the show.
Grandstreet Theatre's Olaf, who pretty much charms everyone he meets, is the creation of Ryne Sorensen, a Nebraska native who moved to Helena …
In addition to the "naive and charming and witty" snowman Olaf, there are some other wonderful characters, she said.
"There's a reindeer -- Sven -- who only talks to his buddy Kristoff, and Kristoff talks back, but no one else can hear unless you speak reindeer.
"The sisters -- Elsa and Anna -- are obviously at the forefront of the story," she said.
"During the course of the musical, we get to watch them grow up, and one has magical powers."
While the power creates mystery, it also creates a whole lot of havoc and angst.
"After Elsa comes of age and is crowned queen of Arendelle, things quickly go awry when Elsa's magical powers get out of control," said Adams.
Adams really likes this Disney musical, she said, "when you think it's going in one direction, it goes in a different one.
"There's a lot of good messages about staying true to who you are and believing in yourself and doing the right thing."
And without giving too much of the plot away -- "There's a love story and a grand adventure for all."
"You should come and decide who the villain is," Adams said.
"The music in the show is great," she added. Unlike many musicals, "there isn't an ooky song in this show."
"The movie has a lot of integrity," she said. "It does some great things for women. It's a really good story. No woman has to be rescued by anybody but themselves."
You have free articles remaining.
And then there's Elsa's powerful anthem, "Let It Go."
"The full-length musical is still running on Broadway," said Adams, so it's unusual for Disney to release the production rights for "FROZEN JR."
And, as most children (and their parents) are aware, the sequel, "FROZEN 2," just hit theaters, and young fans seem as enthralled as ever with the saga of Queen Elsa and Princess Anna.
To pull off this extravaganza in real life takes a cast of over 100 and an army of costumers who've been kept very, very busy for weeks.
From villagers to "hidden folk" to snowflakes -- to princesses -- there are a lot of fun and fanciful costumes.
And, for those who look closely at the snowflakes, they'll see "one of the best uses of white plastic hangers ever," promised Adams.
One of the biggest challenges has been rehearsing this really big show in the Seventh Avenue Gym, before they could all move into the civic center this week for final rehearsals.
Adams, who is assisted by music director Jodi Mattson and choreographer Martha Sprague, is really proud of the depth of her talent pool.
Her whole cast is under 18 years old.
"I'm definitely having fun with the play," said Robert Stimpson, a Helena High School freshman who plays Sven the Reindeer.
Sven is "very excitable and happy," he said. "He's an amazing character to play. He's very fun."
"I think this is going to be one of the better Christmas plays they've done since I've been here," said Stimpson.
Another HHS freshman, Kyli May, is the persona and operator of Olaf, the adorable snowman puppet.
"Olaf is this really fun, bubbly guy that Elsa makes after running away from Arendelle.
"He's really kind of a clueless guy, and he's very funny," she said.
"He's along for the journey with Anna to bring back summer and travels with Sven the Reindeer and Kristoff.
"One of the big things is Olaf is a puppet I've never worked with before.
"He's 3 or 4 feet tall and he's attached to me" with a harness.
She controls Olaf's movements with her hands and feet.
Her right hand moves the mouth, and her left hand controls both arms.
"It's really fun," she said.
What does she like about the play?
"Well, it is 'FROZEN,' which me and all my friends have grown up with it -- singing songs from it and watching it.
"We also have amazing singers and actors in our cast.
"I feel like it would be so much fun to watch.
"There's a lot of fun songs and some new songs.
"And the costumes are really, really cool."
Performances run Dec. 11-15, with shows Wednesday-Friday at 7:30 p.m.; Saturday at 10:30 a.m., 2:30 p.m. and 7:30 p.m.; and Sunday at 2:30 p.m. and 7:30 p.m.
Tickets are $15 with a facility fee and are available at Grandstreet's Box Office. Call 447-1574 (afternoons), or order anytime online at www.GrandstreetTheatre.com.