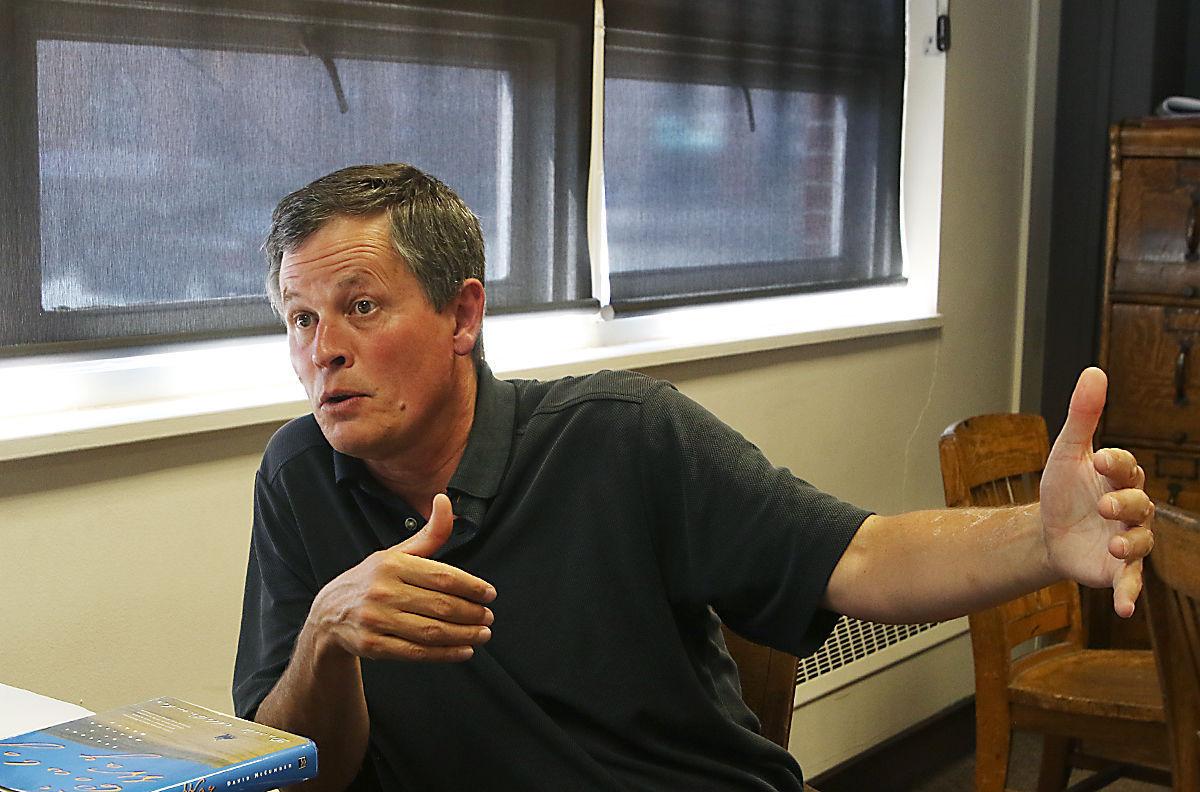 Government and law enforcement officials gathered at Sen. Steve Daines' Helena office Thursday to brief the senator on Montana's abundance of cheap, common drugs and overstretched staffs.
"Federal level, state level, local leaders all agree on one thing, and that is meth and opioids are a scourge right now in the state of Montana," Daines said. "This has to be addressed."
The discussion included Daines and representatives from various agencies, including the Montana Attorney General's Office, Lewis and Clark County Commission, Montana Highway Patrol and Montana National Guard.
Before commencing, Daines thanked the gathered officials for their work on what he called the "front lines in this fight."
Though conversation revolved around trends in drug trafficking and use statewide, including Montana's preference of meth over heroin, some officials spoke of problems unique to Lewis and Clark County.
"We're trying to get our arms around it," said Lewis and Clark County Commissioner Jim McCormick, who touted the county's pre-trial services program and efforts to reduce recidivism. "It's very, very encouraging to know, senator, what's happening at the federal level and the work that you're doing, and what the president is doing to address these situations, because we can't do it alone."
Daines joined a vast majority of the Senate in voting to pass the Support for Patients and Communities Act, which makes several provisions to address opioid abuse and became law on Oct. 24.
While discussing meth in Lewis and Clark, Layla Eichler shocked the room when she described how early meth consumers in the area begin using. Eichler works as a court coordinator for the First Judicial District Treatment Court, a "court-supervised, comprehensive treatment program for non-violent offenders" serving Broadwater and Lewis and Clark counties. 
The average Treatment Court participant, Eichler said, is in their late 20s or 30s when they begin the intake process. Meth is the most common starter choice, and is first used at an average age of 13 in Lewis and Clark County.
"So that's our schools," Eichler said. "Whether it's their peers, or their dysfunctional family, parents shooting them up, not wanting to do it alone; that's what's coming out of our county."
Gathered law enforcement officers from the Drug Enforcement Administration, U.S. Border Patrol and other agencies told Daines of recent trends in state drug use and how increasing caseloads can quickly stretch resources thin.
In 2012, the Montana Highway Patrol made 58 felony drug arrests, of which 15 were for meth. In 2017, those numbers jumped to 271 and 154, respectively. Only so much manpower, Chief Tom Butler noted, can be dedicated to drug interdiction. Day-to-day calls still remain.
"We can't not answer the phone," Butler said.
Jeff Kushner, drug court coordinator for the Montana Supreme Court, criticized the loosening of marijuana laws in U.S. states and called the federal focus on opiates "demoralizing" given Montana's problems with meth use.
A July report from the Forensic Science Division of the Montana Department of Justice revealed that the presence of meth in controlled substance cases increased 415 percent statewide between 2011 and 2017. Last week, the federal Department of Justice awarded the Montana Highway Patrol a grant of nearly $1 million to fight meth trafficking.
On the topic of marijuana, Kushner said the increasingly legal drug has become more dangerous as TAC (total active cannabinoids) levels have climbed, making it more potent.
Kushner also spoke of the difficulty of obtaining federal grant money for drug courts and the necessity of consistent funding, particularly for courts on reservations.
"We're relying on somebody inside the Beltway sitting at a desk in (Department of Justice) to make awards for drug courts in the state of Montana," Kushner said. "Is there anything sillier than that?"
Daines told Kushner he wanted to follow up on the grant money conundrum and the off-label use of naltrexone, a drug used to handle alcohol and opioid cravings, for meth addiction.
Kushner said he has known a Havre psychiatric nurse to use naltrexone successfully on recovering meth users. However, he has been unable to convince the National Institute on Drug Abuse to carry out necessary studies to make meth addiction an on-label treatment for the drug.
"We will elevate this to the highest levels," Daines said.
Get local news delivered to your inbox!
Subscribe to our Daily Headlines newsletter.