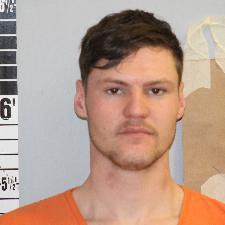 A 21-year-old Helena man was charged with attempted deliberate homicide after allegedly firing several shots at his ex-girlfriend during a party Saturday night. 
A Lewis and Clark County sheriff's deputy contacted the victim by phone around 9 a.m. Sunday. The woman told the deputy she was at a bonfire party in the area of Little Sheep Creek that night when her ex-boyfriend Matthew James Bolan arrived with another woman.
The woman said Bolan was upset by seeing her and told her "If you start anything, I will kill you," according to the deputy's affidavit.
According to the victim's statement to the deputy, shortly after the initial confrontation, Bolan "became upset again and retrieved a black, semiautomatic handgun from his truck" and "pointed the handgun directly at her chest."
The woman said she was scared and ran to seek cover behind a nearby vehicle as Bolan fired several times in her direction.
She told the deputy she knew Bolan was firing at her because she saw "dust as bullets hit the ground near her feet," according to the affidavit.
A witness was able to wrestle the gun away from Bolan, at which point the woman fled the scene with a friend, she told the deputy.
The deputy met the victim at the location of the shooting later in the day Sunday. The deputy noted in the affidavit that five empty .40 caliber shell casings were found on the ground in the area where the victim had reported the shooting occurred.
The deputy then met with the witness, who confirmed Bolan had fired the handgun "while a large group of people were nearby."
The witness said he was able to get the gun away from Bolan, removed the magazine, secured the handgun in a safe location and emptied the unfired cartridges into the passenger side door panel of Bolan's pickup truck.
The witness also said he later returned the handgun to Bolan's father.
The deputy then met with Bolan, who denied attending the party as well as firing his father's handgun toward partygoers.
The deputy then located seven unfired .40 caliber cartridges in the passenger side door panel of Bolan's truck as well as an empty .40 caliber handgun magazine in the passenger seat.
Bolan's father voluntarily produced the handgun to the deputy when asked and said he kept the firearm in a bedroom closet that Bolan could access.
Bolan was arrested just before 3 p.m. Sunday and booked into Lewis and Clark County Detention Center. He has been charged with one felony count of attempted deliberate homicide.
All charged are presumed innocent until proven guilty.
Sign up for our Crime & Courts newsletter
Get the latest in local public safety news with this weekly email.