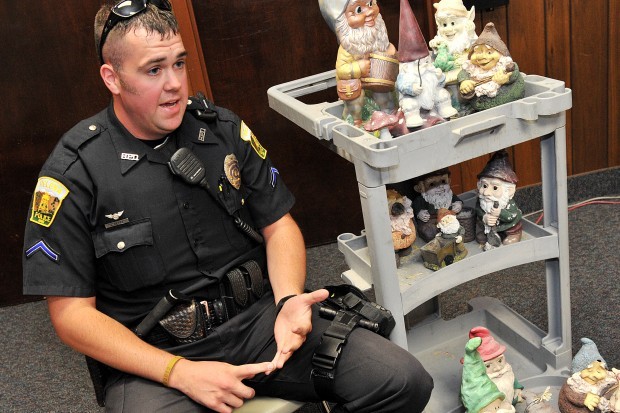 Police are once again looking for the rightful owners of a gaggle of garden gnomes.
The creatures vary in sizes and materials and were part of what is believed to be an end-of-the-year prank at Capital High School.
About 20 gnomes were affixed to several locations at the facility, including on the roof, at the end of May.
About eight of the dwarflike statues have already been returned to their homes from which they were stolen. Noal Petty, a school resource officer at Capital, is looking to locate the proper gardens of another 14 wayward gnomes.
"My goal is to get them to their rightful owners," Petty said, sitting next to a cartful of the lawn ornaments.
In addition, Petty is looking to the public for any information on who stole the gnomes and vandalized the school by attempting to glue them to the buildings.
Anyone who may be the owner of one or a few of the figures or has information on the thefts is urged to call Petty at 442-3233.
Just about a year ago, police found 10 gnomes on Mount Helena's 1906 Trail. 
The department was able to return most of those to their owners after a story of the incident ran in media outlets nationwide.