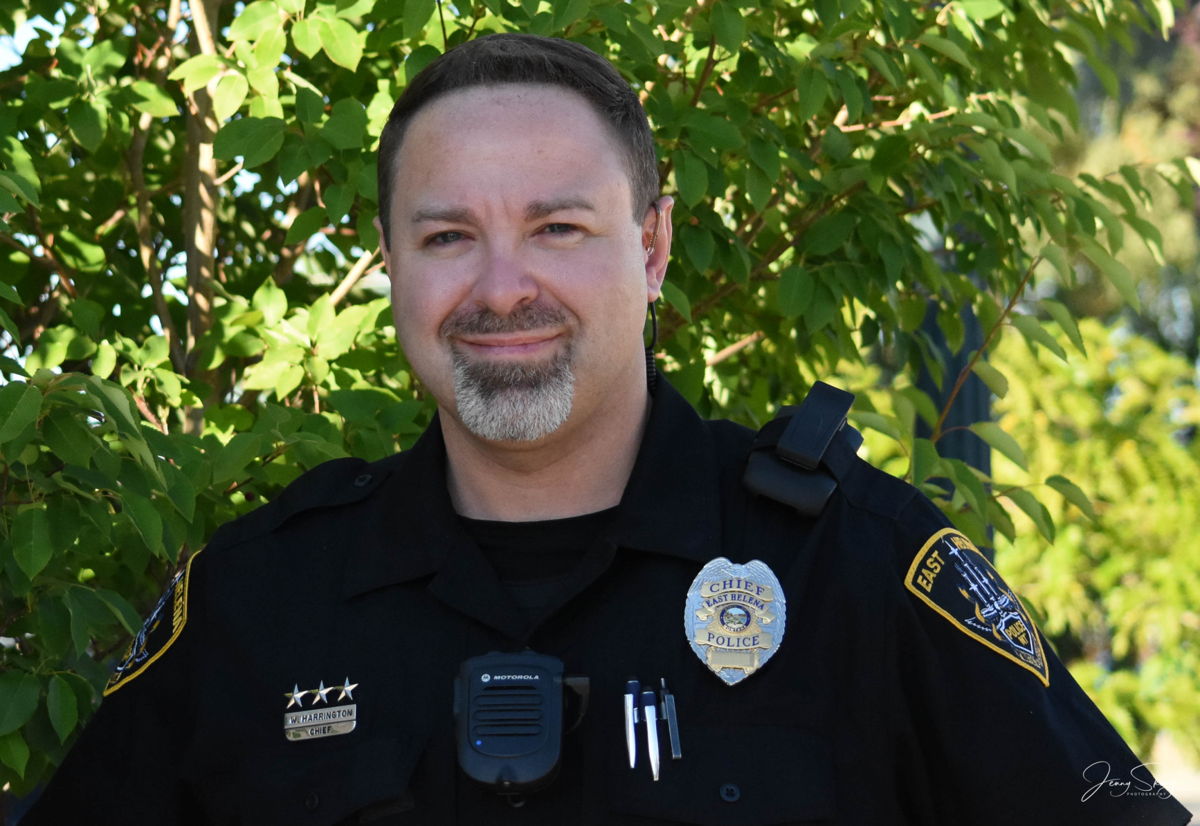 William Harrington resigned from his position as East Helena's police chief March 5 and is currently under criminal investigation over an allegation of sexual assault. 
"East Helena requested a criminal investigation from the Montana Department of Justice, Division of Criminal Investigation into an allegation of sexual assault by Chief Harrington. The criminal investigation is not yet complete and Mr. Harrington is presumed innocent," city officials said in a statement released Monday. 
City officials learned of the allegation Feb. 1 and placed Harrington on paid administrative leave Feb. 3, the same day they requested the criminal investigation. 
The Montana Public Safety Officer Standards and Training was notified of the allegation March 4. A hearing before that Montana Department of Justice bureau, which is responsible for certifying state law enforcement officers, has yet to be scheduled.
Harrington announced his resignation in a one-sentence email to East Helena Mayor James Schell, effective immediately. 
"I hereby resign from my position as an employee of the City of East Helena effective immediately," his letter reads. 
Contact information for Harrington could not be immediately found.
According to public documents obtained by the Independent Record, city leaders learned about the allegation when the Lewis and Clark County Sheriff's Office informed them that its Violence Against Women Act investigator Cpl. Greg Holmlund received a complaint from someone who reported they had been sexually assaulted by Harrington. 
East Helena hired Great Falls attorney Jordan Crosby to conduct the employment investigation concerning Harrington's workplace conduct. Crosby, who works for the law firm of Ugrin Alexander Zadick, P.C., will be paid $215 an hour for her work, not including paralegal assistance and additional fees, per the contract.
East Helena currently employs three full-time police officers and another is currently enrolled at the Montana Law Enforcement Academy. There is also one administrative assistant working in the department.
Schell said in a statement Monday the city is currently working with the Lewis and Clark County Sheriff's Office "to provide patrol and emergency response as needed. We greatly appreciate the Sheriff's assistance and the exceptional services of his department during this time."
"The City is committed to having a local police department its residents trust and respect," the mayor's statement reads. "As the city moves forward it will be working with the Sheriff's Office on a possible agreement to provide full-time staffing and leadership within the East Helena Police Department to augment and assist our officers until an acceptable replacement can be identified as the Chief of Police."
Harrington was promoted to police chief in April 2019. He replaced Mike Sanders, who resigned in December 2018 after four months as chief. Sanders replaced Dale Aschim, who resigned in December 2017 after 15 years with the police department.
Harrington had about 17 years of experience in law enforcement and spent the last 12 years with the East Helena Police Department, working his way up to deputy chief and then interim chief before being tapped to run the force.
Harrington has also worked for the Helena Police Department in the past. 
According to the East Helena's website, Harrington has acted as a firearms instructor and a police vehicle operations instructor. He also volunteered as an instructor at the Montana Law Enforcement Academy.
During his career in East Helena, Harrington served as a certified school resource officer, Drug Abuse Resistance Education officer, and a member of the local crisis intervention team.