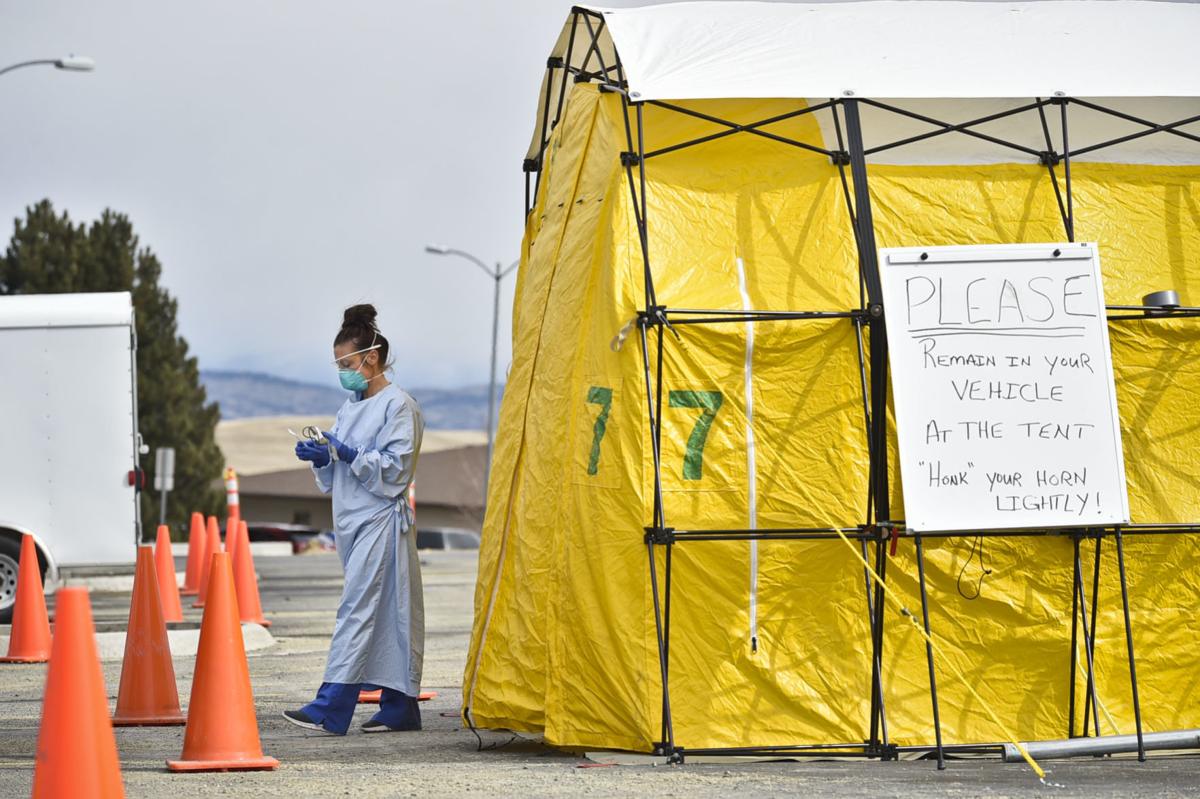 While officials in Lewis and Clark County have yet to cite or fine anyone for violating Gov. Steve Bullock's stay-at-home order, they have received 34 complaints and issued one written warning so far.
Since March 28, Montana has been under an order that generally prohibits nonessential travel and work, with some exceptions, to help limit the spread of COVID-19. On March 31, Lewis and Clark Public Health announced that it would enforce the order through a complaint-driven approach that includes a phone call, then a written warning, then a fine of $500 per day for repeat offenses.
The county health department received 34 complaints during the first week of enforcement, from March 31 to April 7. According to an email from spokeswoman Gayle Shirley, "one of our staff has followed up with a call to educate the business owner/manager on the governor's directives."
Shirley said one of those calls went to Helena's PetSmart store, which qualifies as an essential business but was asked to suspend a grooming operation that is out of compliance with the governor's order. Local police delivered a written warning from the health department after the business failed to comply, Shirley said.
"PetSmart did get an educational call first," she said.
PetSmart said in a statement Tuesday that it closed all of its grooming salons in Montana Monday night, and they will remain closed until further notice. 
During an online meeting of the Helena City Commission on Monday, interim City Manager Melinda Reed said she is continuing to see some concerning behavior. 
"We do have some concerns about people gathering in groups at some of the parks, particularly the dog park, the skate park and the tennis courts, and we ask the residents of Helena to please follow social distancing guidelines and allow us to keep these parks open and keep everybody safe," she said. 
Helena City Commissioner Emily Dean echoed those concerns. 
"The community should be very conscious about where they are recreating and social distancing appropriately," she said. "I'd hate to see us have to close those, but we have to keep people safe. If folks can't social distance appropriately, the city will have to take measures, and I do really encourage everyone to step up and make sure that you are following the appropriate guidelines when you are enjoying the skate park, the dog park and the tennis courts."
During a press conference Tuesday, Bullock said he appreciates that local law enforcement has taken a thoughtful approach to enforcing his order but hopes people will voluntarily comply. 
"What I'd recommend is Montanans never allow it to get to a point where local law enforcement would need to intervene," he said. " ... At the end of the day, this is about us taking care of neighbors, not necessarily local law enforcement needing to interject on them. So from that perspective, I'd encourage every Montanan to follow the social distancing guidelines and the directive."
To report a violation, call Lewis and Clark Public Health at 457-8900.
Shirley said the health department, the Helena Police Department, the Lewis and Clark County Sheriff's Office and the county attorney's office are developing a form that will outline the corrective action that must be taken by any businesses that are found to be out of compliance with the governor's directive. 
Lewis and Clark County Sheriff Leo Dutton estimated about 80% of the local population has been complying with the governor's order, but said "there's 20% out there that have a little trouble following the rules."
"I can see some restlessness, as expected," he said. "People can only be cooped up so long."
Helena Police Chief Steve Hagen said the total number of calls to local dispatchers has been down about 30% as more people stay in their homes.
"Our accidents and traffic stops are down due to less traffic. Most of the other calls are holding steady for us," Hagen said in an email. "Some days it appears there has been an uptick in domestics, but I can't say there has been until we have more time/data."
Dutton said his officers have masks available to use at their discretion and were directed to wear them any time they enter a residence. He said the community donated many of the masks, along with several gallons of hand sanitizer.
"Hopefully we get a heads-up if someone has a concern that they may be a COVID-19 patient," he said.
Helena police officers have been minimizing in-person contact with the public and began wearing cloth masks when responding to calls and while working in the office on Tuesday, Hagen said.
"Almost all of the cloth masks we are wearing came from donation. We have enough we are also able to provide them to other city staff that continue to work as essential employees," he said in an email. "We are making it a little fun. I have a custom made Green Bay Packer mask."
In East Helena, Police Chief William Harrington said his officers are trying to conserve personal protective equipment but are using it any time they believe there is an increased potential to be exposed to COVID-19. In regards to the community's compliance with the health orders, he said, "we haven't had any issues at all."
"We had one complaint that was unfounded since the public health officer's directive and subsequent governor's directive," he said. 
Dutton said he appreciates all of the first responders, medical workers, truckers and other essential workers who are "keeping the country moving and not able to shelter at home."
"It's a real commitment to the American spirit," he said.
Concerned about COVID-19?
Sign up now to get the most recent coronavirus headlines and other important local and national news sent to your email inbox daily.