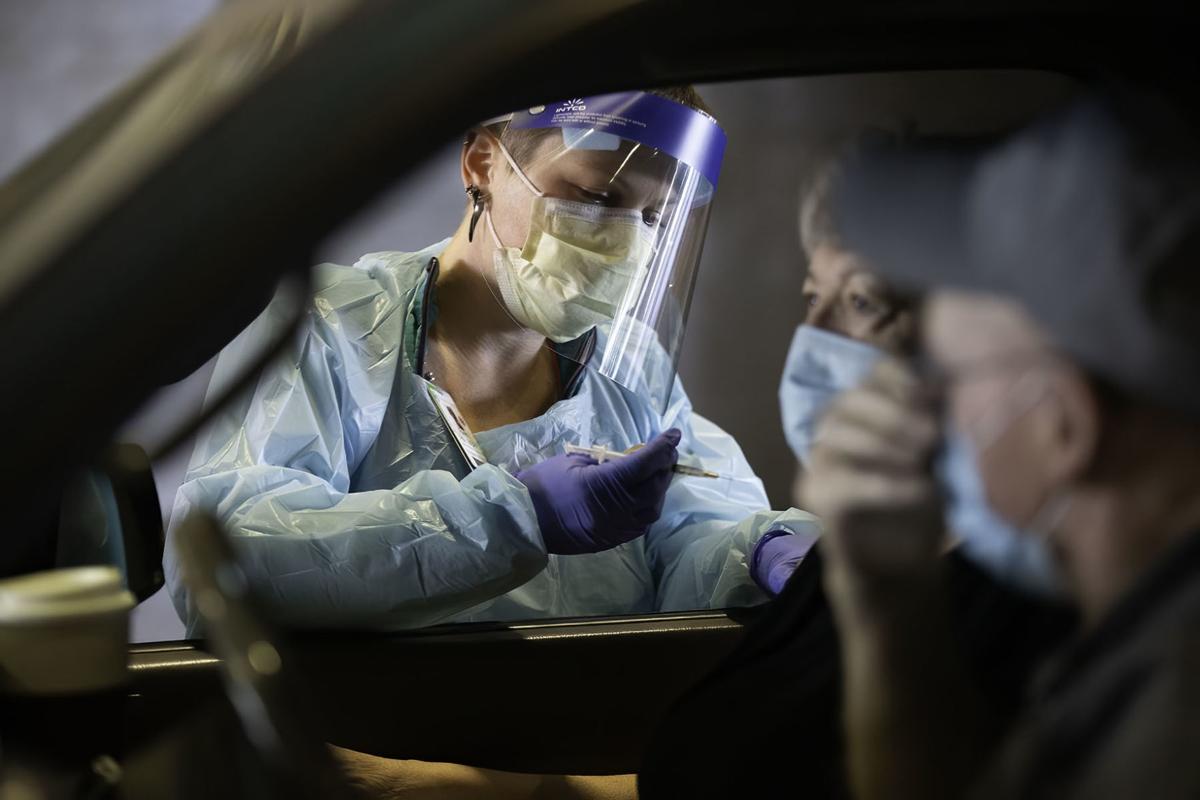 First-dose Pfizer COVID-19 vaccinations for Lewis and Clark County residents in all tiers of Phase 1b will begin with two clinics next week.
Those in Phase 1b include American Indians or other people of color age 16 and older regardless of medical condition; residents age 16-69 with high-risk medical conditions; and any residents age 70 and older. These clinics are available only to Lewis and Clark County residents, and pre-registration is required. Individuals eligible for Phase 1b must supply ID for proof of age and residency.
All Phase 1b clinics are also open to individuals included in Phase 1a, which includes health care workers. Those in Phase 1a have other specific requirements for vaccination. This information is available on the local COVID-19 Hub at www.helenamontanamaps.org/LCPHCovid19HUB/.
Lewis and Clark Public Health follows guidance from Montana DPHHS, which defines high-risk medical conditions as serious heart conditions such as heart failure, coronary artery disease or cardiomyopathies, cancer, chronic kidney disease (CKD), chronic obstructive pulmonary disease (COPD), immunocompromised state from solid organ transplant, Down syndrome, sickle cell disease, Type 1 and Type 2 diabetes and severe obesity (those with a body mass index equal or greater than 40 kilograms/m2).
Two first-dose drive-thru clinics will be held on Tuesday, Feb. 23, and Wednesday, Feb. 24, from 1 p.m. to 6 p.m. daily. All first-dose clinics are held at the Lewis and Clark County fairgrounds. A minimum of 450 vaccinations will be administered on each day Tuesday and Wednesday.
Residents must secure a free appointment to one of the events and supply a photo ID for proof of age showing their date of birth and an address in Lewis and Clark County. If the photo ID provided does not have an address, such as a U.S. Passport, individuals can present a utility bill, phone bill, or another document with a Lewis and Clark County address.
Individuals who cannot supply proof of age and residency will give up their appointment time and be turned away. The registration site for the clinics is hosted on Waitwhile. A link to secure an appointment at any of the clinics can only be found on the COVID-19 Hub at www.helenamontanamaps.org/LCPHCovid19HUB/, or on Lewis and Clark Public Health's website at www.lccountymt.gov/health.html and look for the "COVID-19 Hub" link on the main page.
Registration for all clinics will begin at 9 a.m. on Friday, Feb. 19, and end when appointment times are exhausted.
Rocky Mountain Development Council Area IV Agency on Aging has volunteered to provide a call center at 406-447-1680 for those who have access barriers to the online ticketing system. The call center will run beginning Friday from 9 a.m. to 1 p.m. This phone line is not for the general public, but is for those eligible for Phase 1b with accessibility issues.
COVID-19 symptoms may appear two to 14 days after exposure to the virus and include fever or chills, cough, shortness of breath or difficulty breathing, fatigue, muscle or body aches, headache, new loss of taste or smell, sore throat, congestion or runny nose, nausea, vomiting or diarrhea. Also, be aware of emergency warning signs of severe COVID-19 disease. Individuals showing any of the following signs or symptoms should seek emergency medical care at once: trouble breathing, persistent pressure or pain in the chest, new confusion, inability to wake or stay awake, or bluish lips or face coloring.
Lewis and Clark Public Health continues to urge people to practice physical distancing, wear a face covering, avoid large gatherings, wash hands and sanitize surfaces.
For more information, call Lewis and Clark Public Health at 457-8900.