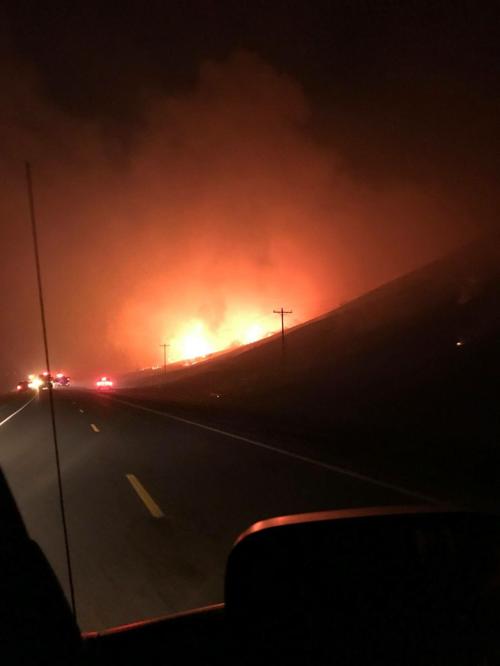 Broadwater County Sheriff Wynn Meehan said the pre-evacuation notice has been canceled for residents near a wildfire burning east of Townsend. 
Though the fire was still smoldering and smoking in places late Tuesday morning, he said, "I think it's done what it's going to do."
---
UPDATED 7:15 A.M. TUESDAY
Officials say a controlled burn sparked a wildfire that burned an additional 250-450 acres east of Townsend Monday night and Tuesday morning. 
No structures were burned, no injuries were reported, and Highway 12 has reopened, Broadwater County Disaster and Emergency Services said in a Facebook announcement. 
"Firefighters worked through the night," the announcement said. 
---
UPDATED 11:30 P.M. MONDAY
A pre-evacuation notice was issued for nearly two-dozen homes near Townsend after a controlled burn started a wildfire Monday evening. 
Officials said the fire was burning along the north side of Highway 12 about 6 miles east of Townsend. Broadwater County Sheriff Wynn Meehan said the fire was started by a farmer burning off wheat residue along Cottonwood Road, and several hundred acres had burned by about 10 p.m.
Though no known structures had been burned by that time, the pre-evacuation notice affected about nine homes to the east and 12 to the west of the fire. Officials were going door to door to notify the affected residents, and livestock were removed from the area. 
"We're probably a half a mile from the nearest residence," Broadwater County Disaster and Emergency Services Coordinator Mike Koehnke said. 
Highway 12 East was closed from mile marker 7 to 9 around 9:30 p.m. 
"We have lots of fire trucks on the highway, and it's best to just stay out of the area," Meehan said. 
Though the fire had not crossed Highway 12 as of about 10 p.m., Koehnke said "we're watching the embers blow across the highway."
"We're trying to keep it from jumping across the highway," he said.
The fire was burning in juniper bushes and grass, but no heavy timber. Officials said the behavior of the fire was unpredictable. 
"I think they have it anchored off on the north side, but with the constant wind switch, we have to worry about east and west," Meehan said Monday night. " ... We've got a couple roads that travel north off of 12 off the hillside, so hopefully if it gets in the area we can get it out as it approaches roadways."
Officials from the Townsend Volunteer Fire Department, Broadwater County Rural Volunteer Fire Department, Montana Department of Natural Resources and Conservation, U.S. Forest Service and Broadwater County Sheriff's Office responded to the scene. 
"There will be personnel out here all night monitoring this fire," Meehan said.
Get local news delivered to your inbox!
Subscribe to our Daily Headlines newsletter.