EVENTS
Nov. AARP driver safety class scheduled
AARP driver safety has a single class scheduled in Helena during November. Participants receive updates on the rules of the road and learn driving strategies to adapt to the effects of aging and to reduce chances of having a crash. The course was developed for participants age 50-plus, but is open to all ages. The course fee is $20 ($15 with AARP membership card). Auto insurance companies in Montana provide a multi-year discount to participants 55 years of age and older.
Friday, Nov. 15, at First Interstate Bank, 2021 N. Montana Ave., from noon until about 4:30 p.m.
Carroll to hold open house for prospective students
Carroll College will hold an open house beginning from 9 a.m. to 2:30 p.m. on Friday, Nov. 15. This event is a great way for prospective students to take it all in, see how our campus comes alive, and meet other students who are thinking about making Carroll their college home. Many students coming to this open house will be stepping onto the campus for the very first time, taking in the beauty of the surroundings and the graciousness of our people.
Join us for an interactive scholarship workshop, tours of campus with current students, lunch on campus, a current student panel and financial aid session for parents.
Contact admissions at 406-447-4384 to register.
ANNOUNCEMENTS
Driver license services available on Veterans Day
The Montana Motor Vehicle Division announced Helena's driver license office will be open on Veterans Day in an effort to offer additional options for customers to renew or replace Montana driver licenses.
Helena's office will be open on Monday, Nov. 11, from 9 a.m. to 4 p.m. No appointments are necessary on Veterans Day; all walk-in customers will be assisted on a first-come, first-served basis. The following services will be offered:
Driver license renewal or replacement
State ID cards
Real ID
Driver license transfers from out of state
Services involving testing will not be available.
For more information, contact Chris Delvaux, MVD driver services bureau chief, at 406-465-8804 or cdelvaux@mt.gov.
Forest Service offices closed Nov. 11
You have free articles remaining.
Helena-Lewis and Clark National Forest offices will be closed Monday, Nov. 11, in observance of Veterans Day. Regular office hours will resume Tuesday, Nov. 12.
Firewood permits and forest visitor maps can be purchased at a variety of community vendors in addition to Forest Service offices. Many of these vendors are open when Forest Service offices are closed for federal holidays. Permits and/or maps can be purchased at the following locations during their regular hours of operation:
Augusta: Allen's Manix Store
Elliston: Elliston Store*
Helena: South's Country Store*, Rock Hand Hardware*, Capital Sports and Western*
Lincoln: Grizzly Hardware*
Townsend: Townsend Hardware
White Sulphur Springs: Meagher County Sheriff's Department
*These locations sell forest visitor maps as well as firewood permits.
Town Pump donating $750K for food banks
The Town Pump Charitable Foundation is matching $750,000 in contributions during its 18th annual fundraising campaign for food banks across Montana, including Helena Food Share.
A record-setting 85 food banks are participating in the statewide "Be A Friend in Deed, Helping Those in Need" campaign this year. The campaign has raised about $33 million for Montana food banks in 17 years, including about $6.25 million in matching grants from the Town Pump Charitable Foundation. Organizers of the campaign, which runs through Nov. 30, hope to raise over $3 million for the food banks this year.
Locally, the Foundation is matching up to $40,000 on behalf of the Helena Food Share, and all funds raised in Helena and East Helena will remain in the Helena area.
The money is frequently used to purchase perishable food items such as milk, bread, fruit and vegetables. Also, the funds are often crucial in helping many food bank organizations simply stay open through payment of rent, utilities, and space for storage, refrigeration and freezing.
Donations for the campaign are being collected at Helena Town Pumps, Comfort Inn Suites, and Lucky Lil's, Montana Lil's and Magic Diamond casinos. Donations also can be made directly to Helena Food Share, P.O. Box 943, Helena, 59624.
Talking Saints bring home third place trophy
Four first-year Carroll College Talking Saints joined forces with one senior and the five of them won the third-place school sweepstakes award at the Whitworth University tournament held in Spokane, Washington, Oct. 26–27.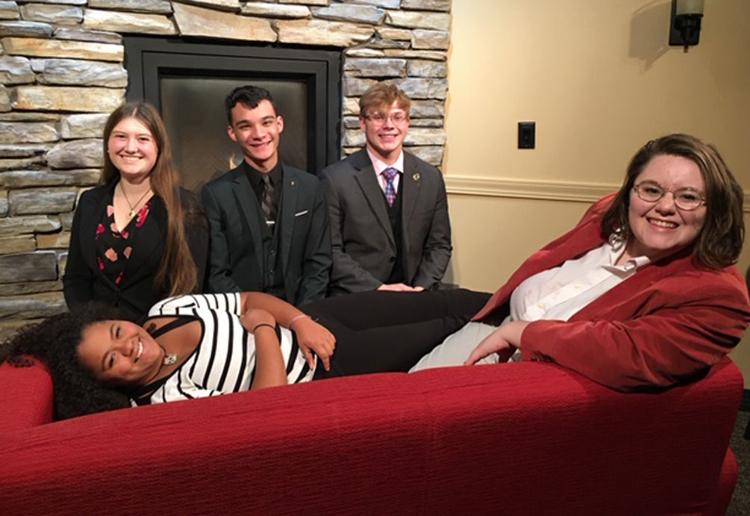 Senior Michael Fuller of Helena won four awards, including first in poetry, third in presidential address and fifth in prose. First-year Maria Hurd of Seattle, Washington, placed second in novice prose. First-year Tanner Geiss of Huntley placed second in novice impromptu. First-year Aislinn Deavel of Sheridan placed fifth in novice prose.
The Talking Saints went to Casper, Wyoming, on Nov. 1-2, before finishing the semester at the first regional championship tournament at Linfield College in McMinnville, Oregon, on Nov. 8-10.