Helena combat nurse receives American Legion's highest honor
Vietnam War combat nurse Diane Carlson Evans of Helena, received The American Legion's most prestigious award, the Distinguished Service Medal, on Tuesday, at the organization's 102nd National Convention in Phoenix.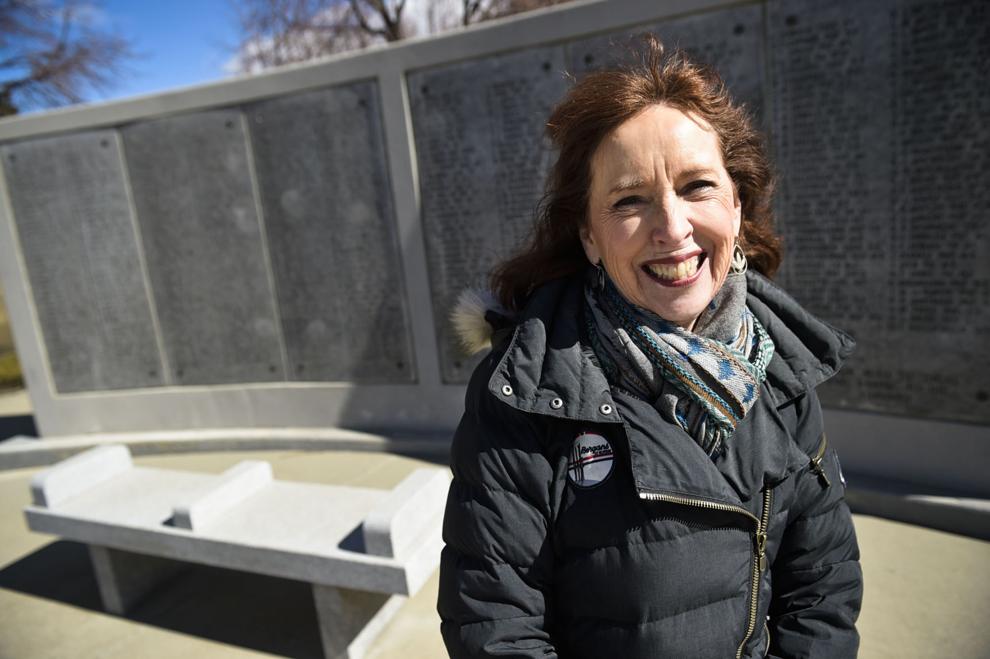 The recognition is based on her wartime service, leadership to create the Vietnam Women's Memorial in Washington, D.C. in 1993, and her continued advocacy for her Vietnam War veterans. Also in appreciation of Carlson Evans' 2020 autobiography, "Healing Wounds: A Vietnam War Combat Nurse's 10-Year Fight to Win Women a Place of Honor in Washington, D.C."
The life member of Helena American Legion Post 2 flipped the script in a ceremony meant to thank her for a life of achievements. "I believe this prestigious award says more about you than it says about me," Carlson Evans told the thousands gathered at the Phoenix Convention Center. "I see today as finally my opportunity to say thank you to The American Legion … I am here to thank you for what you did, not for what I did."
She recounted the importance of American Legion support – from her local post in Wisconsin at the time through a national resolution in 1985 – in advancing her vision to give wartime women a place of permanent honor in the nation's capital. The organization stood by the project through Veterans Day 1993, when it was dedicated.
Having served on The American Legion's 100th Anniversary Honorary Committee, she received the organization's national Patriot Award in 2018, as well.
As a recipient of the medal, Carlson Evans joins such figures in American history as Presidents John F. Kennedy and Ronald Reagan; Gen. John Pershing and Dwight Eisenhower; Sens. Robert and Elizabeth Dole; Dr. Jonas Salk; Babe Ruth, Bob Hope, Henry Kissinger and the dead and missing from the Vietnam War.
Community invited to ceremony honoring 9/11 victims
Rocky Mountain Development Council and AmeriCorps Seniors are inviting the community to gather during the first 9/11 Flag of Honor Across America Memorial meant to honor the lives lost 20 years ago.
Helena is one of 60 communities around the nation that will be participating in this 9/11 memorial. The 9/11 Flag of Honor, which includes the names of all 2,983 victims who lost their lives, will be displayed at the memorial.
On Saturday, Sept. 11, at 9:02 a.m. a memorial will take place on the Downtown Walking Mall behind Rocky's Neighborhood Center located on 200 S. Cruse Ave.
The memorial service will begin with Assistant Fire Chief Mike Chambers, who was on duty the morning of the attacks, sharing his experience. Then AmeriCorps Seniors volunteers will read 50 of the 2,983 names of victims of the attack followed by a moment of silence.
All are invited to stay for refreshments after the event to visit, share their story, and honor those who died.
Journalist to speak at church
White House journalist and religious news editor Dr. Anthony Harper with the InterMountain Christian News will speak about his behind the scenes investigative reporting experiences on Middle Eastern Affairs and Human Rights at 10:15 a.m. and 7 p.m. Saturday, Sept. 4, at Canyon Ferry Road Baptist Church, 3384 Canyon Ferry Road. Admission is free.
Harper serves as the lead White House investigative journalist and religious news editor regarding Middle Eastern affairs and human rights violations as well as Israel U.S. relations. Dr. Harper reports for talk radio and several news outlets of the Israel news service'Newsrael, InterMountain Christian News, PIJN News and Christian Newspaper Association.
Stepping On workshop upcoming at Helena Senior Center
Rocky's Area IV Agency on Aging presents "Stepping On," beginning Thursday, Sept. 9 from 1-3 p.m. in the Card Room of the Helena Senior Center.
Stepping On is a falls prevention workshop that meets for two hours a week for seven weeks. Trained leaders coach you to recognize your risk of falling and help you build the balance, strength and practical skills you need to avoid a fall.
You'll also meet with physical therapists, vision specialists, pharmacists and community experts who help you avoid fall hazards, make your home safer and make your body stronger. You'll regain the confidence to stay active in your community and do the things you want to do.
To register, call Michele Mathot at 406-441-3985. The class begins Thursday, Sept. 9 and will run for consecutive Thursdays, concluding on Thursday, Oct. 21.
4 Helenans honored for youth leadership
Lotus Porte-Moyel, Jacob Torgerson, Carlee Baker, and Riley Luna Ford, all of Helena, have been nominated for Forward Montana Foundation's 2021 25 Under 25 Award.
These young leaders work within the Helena community to promote political understanding, provide civic engagement opportunities among youth, and advocate for quality, affordable childcare.
They are a part of 25 Montanans under the age of 25 who will be honored at Forward Montana Foundation's annual Williams' Effect event in Bozeman, on Sept. 17.
For the last six years, Forward Montana Foundation has recognized the determination, innovation, and service of 25 young leaders across the state who are creating positive change in their communities.
Red Cross seeks blood donations
As fall approaches, the American Red Cross urges eligible donors to help end the ongoing critical need for blood and kick off the season with a blood donation. The Red Cross needs donors of all blood types to give now and help ensure lifesaving transfusions are on the sidelines for those who rely on them.
Appointments can be made by downloading the Red Cross Blood Donor App, visiting RedCrossBlood.org, calling 1-800-RED CROSS (1-800-733-2767) or enabling the Blood Donor Skill on any Alexa Echo device.
Sept. 7: 9:30 a.m.-3:30 p.m., Carroll College Campus Center, 1601 N. Benton Ave.
Sept. 8: 10 a.m.-4 p.m., Carroll College Campus Center, 1601 N. Benton Ave.
Sept. 9: 10 a.m.-3:30 p.m., Helena College, University of Montana, 1115 N. Roberts St.
Sept. 9: noon-6 p.m., South Hills Church of Christ, 2294 Deerfield Lane
Sept. 10: 9:30 a.m.-3 p.m., St. Peter's Medical Group, 2550 Broadway
Sept. 15: 9:30 a.m.-3:30 p.m., Capitol Building, 1301 E. 6th St.
Lewis and Clark County has board openings
Board of Adjustment: Seeking citizens for appointment to the County Board of Adjustment. The board consists of five members appointed by the Board of County Commissioners serving two-year terms. Applicants must reside or own property within the county (outside the city limits of Helena and East Helena) and be subject to Part 2 zoning regulations. The board acts on variances, conditional use permits, and appeals of decisions made by the zoning administrator regarding Part 2 zoning regulations.
Investment Committee: Seeking a citizen for appointment to the Investment Committee. The Investment Committee makes recommendations to the Board of County Commissioners with regard to investing the financial assets of all funds of Lewis and Clark County and all other participants in the County Investment Pool Program. The Investment Pool represents Lewis and Clark County, participating School Districts, and Special Districts in Lewis and Clark County. The governing bodies of each district elect participation by an interlocal agreement. This committee also makes recommendations to the BOCC regarding amendments to investment policy and procedures.
Lincoln Parks Board: Seeking a citizen to serve on the board. The purpose of the board is to advise the Board of County Commissioners and the City-County Parks Board on issues relating to the use, improvement, and general maintenance of the Lincoln Planning Area parks. The board consists of five members, with one member to be a member of both the City-County Parks Board and the Lincoln Parks Board. Terms are for three years.
Planning & Zoning Commission: Seeking citizens for appointment to the Planning & Zoning Commission whom resides within an existing citizen-initiated Special Zoning District within Lewis and Clark County (SZD# 24 & 45, SZD #49). This board shall perform issues dealing with zoning functions for the county. Serving three-year terms.
Transportation Coordinating Committee: Seeking a county resident as a non-voting member. The committee shall work closely with the city, county, and state to develop and keep current urban transportation planning, design and construction in the Helena area. The committee shall adopt and recommend implementation of long and short-range transportation programs for the Helena urban area. The committee shall transmit all reports and recommendations related to the continuing transportation planning for the urban area to the various agencies for final adoption and implementation. The TCC shall consist of the following: 2 City Commission members, 2 County Commission members, 1 Montana Highway Department Representative, 1 Federal Highway Administration Representative, 1 Helena Citizens Council, 1 Planning Board, 1 city staff contact, 2 county residents (1 a non-voting member) and 2 city residents (1 city a non-voting member). The citizen members of the TCC shall be appointed for terms of two-years. Meetings are the second Tuesday, every other month at 3 p.m.in the Commission Chambers, City-County Building.
Water Quality Protection District: Seeking a citizen for appointment to the Water Quality Protection District Board. The board consists of nine members appointed by the Board of County Commissioners serving staggered three-year terms beginning and ending July 1. The purpose of the board is to develop a local water quality program; administer the budget and employ personnel; contract individuals or agencies to develop and implement the program; receive gifts, grants or donations; administer local ordinances; apply for federal or state money; borrow and repay money for the water quality district; construct and maintain facilities that do not cost more than $5,000. Meetings are held monthly, the fourth Tuesday.
Weed Board: Seeking citizens for appointment to the Weed Board. The board consists of nine members appointed by the Board of County Commissioners serving staggered terms beginning and ending Dec. 31. The Board performs activities relating to weed management, administers, and manages its established criteria for the noxious weed program. Terms are three years. Meetings are held monthly, first Wednesday, 1 p.m., County Weed Building, Cooney Drive.
Applications are available at http://www.lccountymt.gov/bocc/boards.html or by calling 447-8304 and can be submitted to the Lewis and Clark County Commissioner's Office, 316 N. Park Avenue, Room 345, Helena, MT 59623.
 Student news
Emerson college student Charles Mainwaring, of Townsend, was honored with the Ryan Larsen Memorial Prize by Marlboro Institute for Liberal Arts & Interdisciplinary Studies in Boston. The awards ceremony took place at the end of the spring 2021 semester. Mainwaring is pursuing a degree in Self-Designed and is a member of the Emerson College Class of 2021.