Steel Woods concert moves to Lewis & Clark Tap Room
The Steel Woods concert originally scheduled for the Helena Civic Center June 18 has been relocated outside to Lewis & Clark Tap Room's Railroad Stage at 1535 Dodge Ave.
If you already had tickets for the Helena Civic Center venue, they will automatically be transferred to the Lewis & Clark Tap Room. If you have any questions or concerns, email heidi@lewisandclarkbrewing.com.
LWV sponsors voting rights rally at Capitol
The League of Women Voters of the Helena Area is sponsoring a Rally for Voting Rights in support of the For the People Act, noon, Monday, June 21, on the steps of the state Capitol in Helena.
Speakers will address voting rights and actions to take to protect these rights.
During the week of June 21-25, the US Senate will be voting on the For the People Act (S1), viewed by many as the most important legislation for the U.S. democracy since the Civil War. It has already been approved by the U.S. House of Representatives.
The LWV considers the U.S. democracy to be at a crisis point and sees the For the People Act as a tool to help remedy this crisis.
Participants are encouraged to bring signs.
Red Cross blood donation opportunities
The American Red Cross is experiencing a severe blood shortage as the number of trauma cases, organ transplants and elective surgeries rise – and deplete the nation's blood inventory. Donors of all blood types – especially type O and those giving platelets – are urged to make an appointment to give as soon as possible to prevent further impact to patients.
In most cases, those who have received a COVID-19 vaccine can donate. However, knowing the name of the manufacturer of the vaccine they received is important in determining donation eligibility.
Appointments can be made by downloading the Red Cross Blood Donor App, visiting RedCrossBlood.org, calling 1-800-RED CROSS (1-800-733-2767) or enabling the Blood Donor Skill on any Alexa Echo device.
Healthy volunteer donors are needed every day to help keep the blood flowing for hospitals and patients that rely on a readily available blood supply.
June 24: 9 a.m.-3:30 p.m., HARFC/JFHQ, HAFRC / JFHQ, 1956 Mt. Majo St.
June 29: 10 a.m.-3 p.m., V.A. Hospital, 3687 Veterans Drive
June 23: Noon- 6 p.m., TroyStrong blood drive at the Helena Donor Center, 3150 N. Montana, Suite B
June 24: Noon-6 p.m., Gold/Western Bar drive at the Helena Donor Center, 3150 N. Montana, Suite B
June 30: 9 a.m.-3:30 p.m., Department of Transportation, 2701 Prospect Ave.
June 30: 10 a.m.-3:30 p.m., Park Avenue Building drive at the Helena Donor Center, 3150 N. Montana Ave., Ste. B
Talking Saints amass year-end awards
Seven members of the Carroll College Talking Saints forensics team have been named to the Northwest Forensics Conference All Conference Teams, and the Carroll team picked up 12 additional NFC awards, in the year-end announcements.
The Talking Saints were named a Gold Medal program for the 31st consecutive year, and the squad received the Presidential Award as the top debate program in the region, and runner up in speech. Boise State, coached by Carroll alum Manda Hicks '97, also received Division I Gold Medal recognition.
Senior Josh Mansfield of Pocatello, Idaho, and sophomore Hellie Badaruddin of Missoula were named First Team All Conference. Earning second team recognition were senior Teigen Tremper of Whitefish, Montana, and sophomores Roisin O'Neill of Lake Oswego, Oregon, and Vinny Gallardo of Butte.
Two first-year Talking Saints were named Honorable Mention All Conference: Josephine Howlett of Bigfork, and Matt Glimm of Kalispell.
The conference announced the Best in the Northwest awards, honoring top competitors in each genre. In BP debate, only four were honored, all from Carroll: Mansfield, Badaruddin, O'Neill and Gallardo. Junior Eleanor Ferrone from Hastings, Nebraska, and David Lange of Ferndale, Washington, were second team in BP debate.
Teigen Tremper was named Best in the Northwest in Limited Preparation, for her year-long success in Impromptu Speaking. First-year Howlett placed fifth in the Rookie of the Year competition.
The NFC also announced that the fall forensics season will be largely online. Colleges are moving cautiously toward live tournament competition. The NFC hopes that spring semester 2022 will include live in-person competition. 
Nar-Anon family group meeting
The Helena Nar-Anon Family Group, a 12-step program for families and friends of addicts, meets Mondays and Thursdays, 5:30-6:30 p.m. in the Library of St. Paul's Methodist Church, 512 Logan.
The library is located on the lower level of the main church building. Please enter using the Cruise Avenue entrance. The group observes COVID-19 protocols required by the church.
Student news
Jesse L. Ruzicka graduated from University of Colorado/Boulder, May 21  with a PhD in chemistry. He is a 2009 graduate with honors of Helena High and a 2013 honors grad of MSU.
Thomas Wolff, of Helena, graduated with a Master of Science in Data Science and Analytics from Elmhurst University during the 2021 commencement weekend. A ceremony for graduate students was held on Friday, May 21.
Timothy Steele, of Helena, has been named to the dean's list at James Madison University in Harrisonburg, Virginia, for the spring 2021 semester. Students who earn dean's list honors must carry at least 12 graded credit hours and earn a GPA of between 3.5 and 3.899. Steele is majoring in computer information systems.
Two women receive Cyndi Forbes scholarships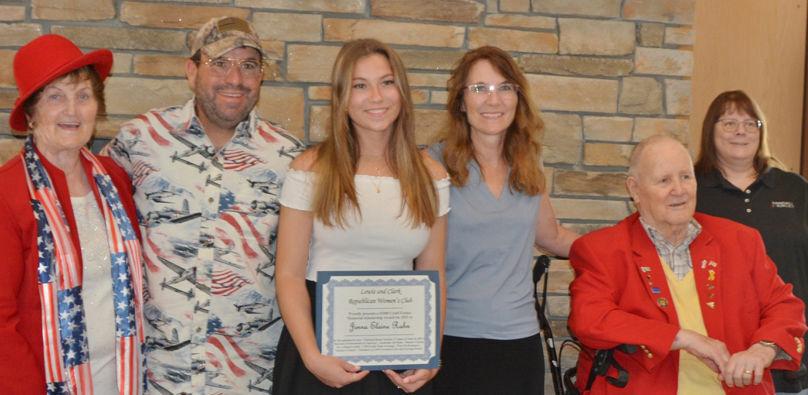 Lewis and Clark Republican Women awarded their ninth annual Cyndi Forbes Memorial Scholarships at the Green Meadow Country Club on June 4. Jenna Elaine Rohn received a $1,000 scholarship. She will be attending Montana State University and will major in criminology and psychology. The awards were presented by John Forbes and his daughter, Bonnie, scholarship benefactors, and husband and daughter of Cyndi Forbes.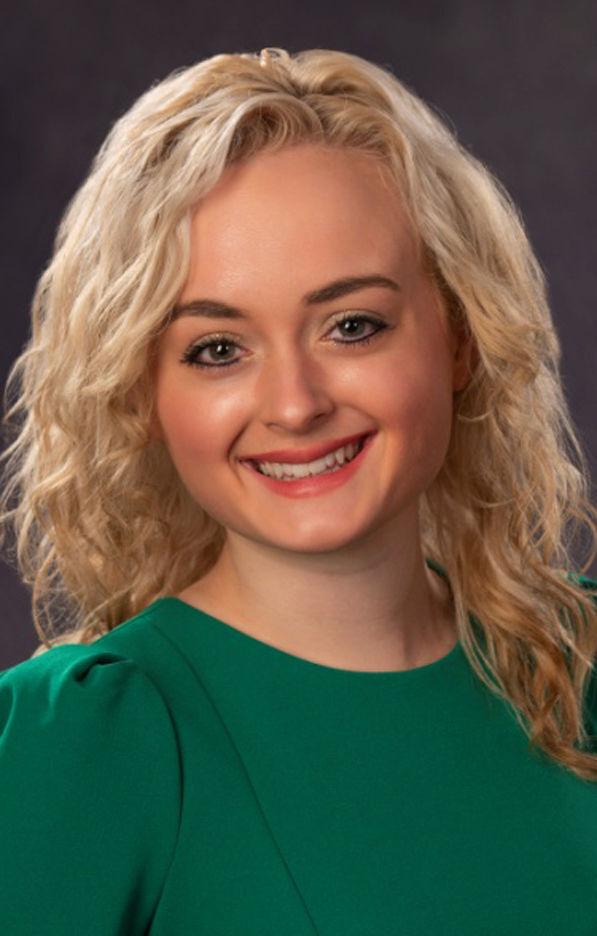 Isabella Brooks Melton also received a $1,000 scholarship. Melton is serving an internship with Sen. Steve Daines in Washington D.C. She attends the University of Montana and is majoring in political science and history. Far left is Shirley Herrin, Scholarship Chairman.
P.E.O. awards $20K scholar award
Libby Ehlers, a Ph.D. candidate in Wildlife Biology at the University of Montana, is one of 100 doctoral students within the U.S. and Canada selected to receive a $20,000 P.E.O. Scholar award from the P.E.O. Sisterhood. She was nominated by P.E.O. Chapter BK of Helena.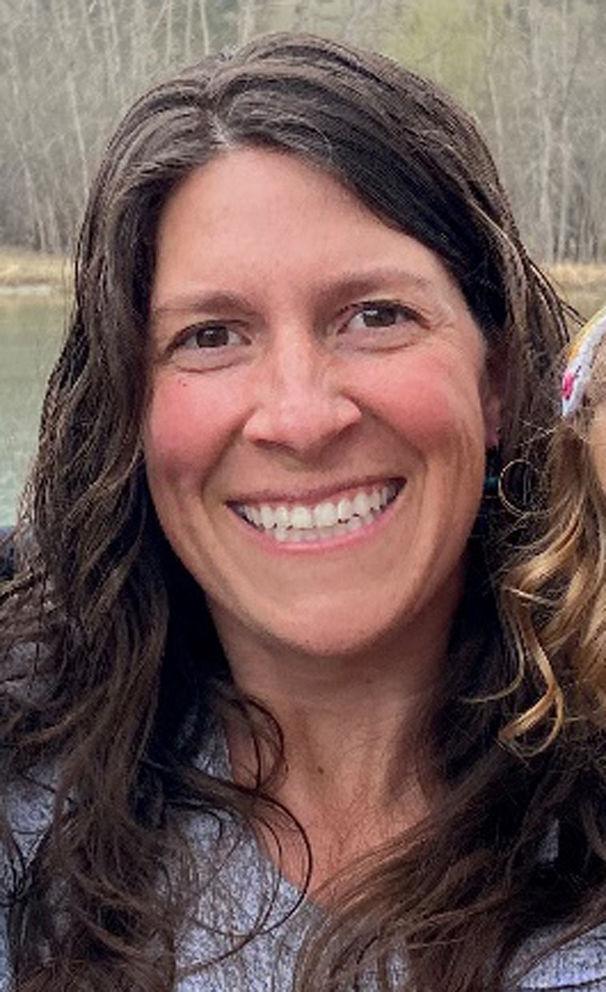 Ehlers is a graduate of the University of Vermont and the University of Northern British Columbia. She has worked professionally in the field of conservation biology for over 20 years. Libby plans to graduate from the University of Montana in May 2022, where she recently received the notable W.A. Franke Fellowship.
Her Ph.D. research focuses on understanding factors contributing to changes in wildlife populations in the arctic and associated impacts to communities reliant on subsistence resources. 
The P.E.O. Scholar Awards program, established in 1991, provides substantial merit-based awards for women of the U.S. and Canada who are pursuing a doctoral-level degree at an accredited college or university.
To learn more about P.E.O., its educational philanthropies and see stories of women who have benefited from the programs, visit peointernational.org.
MSU names 2021 presidential scholars
The Montana State University Presidential Scholarship awards are based on scholastic achievement, demonstrated leadership and exemplary public service. Students receive an annual stipend plus a tuition waiver. The scholarship is for four years if the students maintain a superior academic standing at MSU.
The scholars were selected from a pool of nearly 1,000 applicants. 
Area students receiving the awards are:
Heath Caldwell graduated as valedictorian from Helena High School and intends to major in paleontology and ecology. A Montana state champion in the Science Olympiad in multiple categories, he was also part of the winning Science Bowl team in the Big Sky Regional Tournament. A Montana University System Scholar, he has volunteered at the Carter County Museum in Ekalaka where he discovered a complete mosasaur which he named for his mother. For his Eagle Scout project, he installed wheelchair-accessible ramps and flooring at the Montana Learning Center's astronomical park. His parents are Rodney and Vickie Caldwell from Clancy.
Amanda Haab graduated as co-valedictorian from Capital High School in Helena and intends to major in microbiology and minor in economics. A Montana University System Scholar, she was also recognized by the College Board National Recognition Programs as a rural and small town scholar. She served as president of the Business Professionals of America and as captain of her school's varsity track and field team. A pianist and violinist, she co-led the Bruin Pure Performance Club to promote a drug-free high school experience for students. Haab has volunteered at her church through music ministry and youth leadership. Her parents are Kent and Melissa Haab from Helena.
Sarah Heller graduated as co-valedictorian from Capital High School and intends to major in physics and mathematics, with a minor in computer science. She served as a student representative on an Office of Public Instruction task force during the pandemic. She is a Montana University System Honor Scholar, National Merit Scholar and an AP Scholar with distinction. She participated in the math, Latin and science clubs in high school as well as the Western Aerospace Scholars Program. For several years, she served as a counselor for STEM summer camps at her local science museum. Her parents are Julie and Luke Heller from Helena.
Haley Moseman graduated as valedictorian from Capital High School and intends to major in nursing. She was a state champion in gymnastics and was an active member in DECA and National Honor Society. She was involved in many fundraisers around her local community. In addition, she was a member of the Montana Office of Public Instruction Learn Task Force to provide direction to Montana schools for serving students during the COVID-19 pandemic. She worked in nutrition services at St. Peter's Hospital in Helena. Her parents are Tracy and Mark Moseman from Helena.
Brooke Sangray is a homeschool graduate who completed her associate degree in interdisciplinary studies from Liberty University while in high school. She intends to major in environmental design and is a member of the first cohort of Honor Bound American Indian students in the Honors College. She served as the committee secretary for the chief clerk of the House of Representatives for the 2021 Montana Legislature and competed nationally in speech and debate. She was ranked seventh in the nation in illustrated oratory in the National Christian Forensics and Communications Association National Championship. Her parents are Kathy and Brad Sangray from Helena.