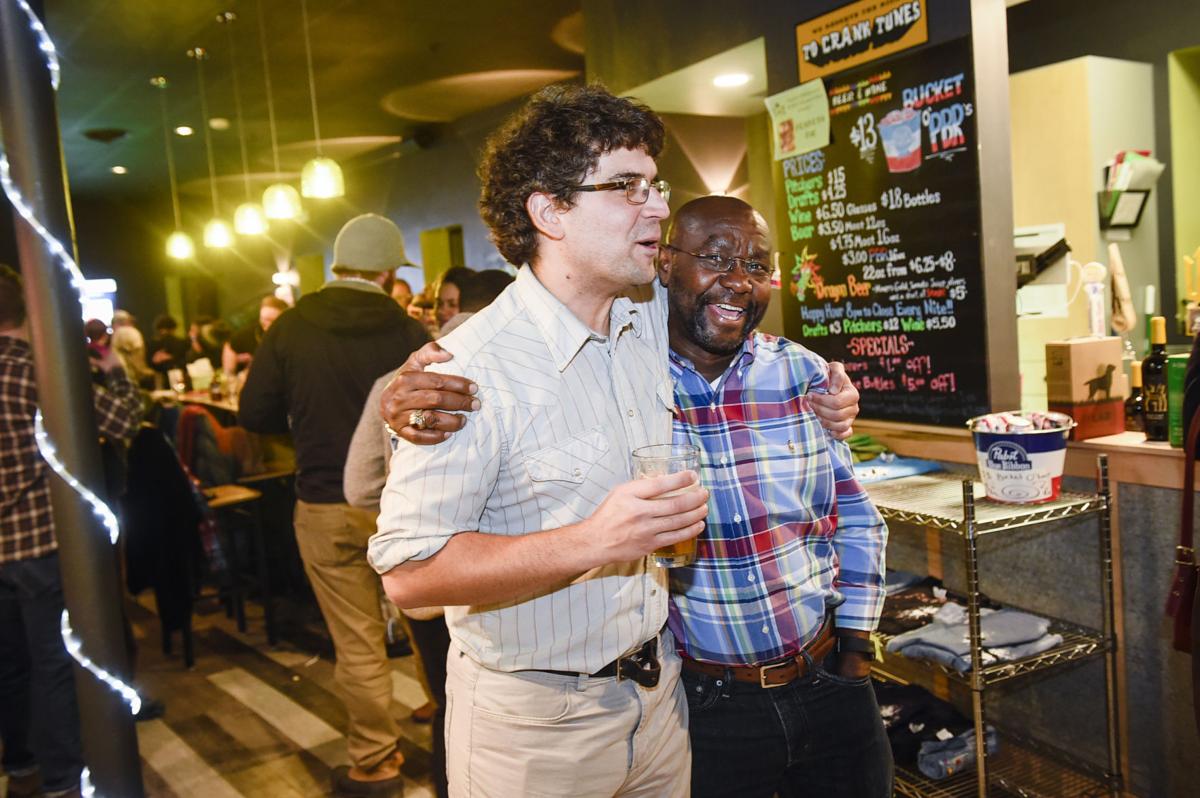 Wilmot Collins will be Helena's new mayor, unseating incumbent Jim Smith in a close race Tuesday. 
Collins, 54, will be the city's first new mayor in 16 years after running a long campaign based in progressive principles.
"The people of Helena have spoken, and I am honored to be able to serve them," Collins said as the night drew to a close. "I intend to work with commissioners, work for the people of Helena and find what is best for this city."
Collins also sought to praise Smith for his work over the past decade and a half.
"I commend Mayor Smith. He's done a great job for the city, and I hope to work with him in the future," Collins said. 
At the La Pa Grill on 6th Avenue in downtown Helena, Collins and other members of the self-described "progressive ticket" watched and waited for the results of the 2017 election.
The feeling was festive as Collins received a call from U.S. Sen. Jon Tester congratulating Collins on his victory. Victory cigars were passed around the room at the end of the night as the large crowd of Collins, Heather O'Loughlin and Andres Haladay supporters ate and drank while waiting for the results.
While the mayoral race was close, the Helena City Commission races were extremely tight.
O'Loughlin was the first member of the "progressive ticket" to breathe a sigh of relief Tuesday night. "I feel good," O'Loughlin said. "I'm excited about all the work we put in and I'm excited about serving Helena."
"I know I have a lot to get up to speed," O'Loughlin continued, "I want to dig in early. ... I really come from the beginning wanting to learn, listening to others."
Haladay came in second after O'Loughlin, narrowly beating out Sean Logan. When reached late Tuesday night, Haladay said "it was close, I'm really excited to continue working for the commission and see Wilmot Collins and Heather O'Loughlin join us."
The three newly elected Helenans are focused on a mixture of different policy proposals.
Collins' Independent Record candidate survey looked at addressing teen and veteran homelessness, improving tourism and ensuring access to clean water. O'Loughlin's focused on changing the city's budget in order to "improve the daily service we as Helenans rely upon," as well as making a growth plan for downtown and midtown Helena. Haladay's sought a new fire service levy and making Helena a bigger player in affordable housing for the community.
But for now, Collins, Haladay and O'Loughlin are enjoying their win.
"The first step is to sleep all Wednesday," Collins said with a laugh. "Then, listen to the people of Helena."
With provisional ballots yet to be counted, here were the results reported at the end of Election Night. Results are considered unofficial until canvassed: 
Helena Mayor
Wilmot J. Collins: 5,139 votes, 51.28 percent
James Smith: 4,801 votes, 47.90 percent
Helena City Commission
Justin Ailport: 725 votes, 3.9 percent
Mark A. Burzynski: 3,626 votes, 19.5 percent
Andres Haladay: 4,288 votes, 23.06 percent
Sean Logan: 4,144 votes, 22.29 percent
Heather K. O'Loughlin: 4,834 votes, 26 percent
Gary L. Spaeth: 891 votes, 4.79 percent
Neighborhood Council District 1
John E. Andrew: 924 votes, 21.3 percent
Patricia Christian: 804 votes, 18.53 percent
Mary Ann George: 1,080 votes, 24.89 percent
Flannery Herbert: 855 votes, 19.71 percent
Michael Marchesini: 631 votes, 14.54 percent
Get local news delivered to your inbox!
Subscribe to our Daily Headlines newsletter.