Visitors to downtown Helena will see a "soft opening" of new parking kiosks and meters next month before the system fully goes live in July, according to Helena Parking Commission Director Dave Hewitt.
The process behind the new equipment began in 2016 with of the Business Improvement District's downtown master plan, which described Helena's present downtown parking situation as "inconvenient and confusing."
"It was determined by (WGM Group, a Missoula planning and design firm that undertook the master plan) that all the areas of downtown should be pay-to-park," Hewitt said. "And that promotes turnover and (provides) options for people to come down and shop, dine."
Hewitt added that the city will hold back on issuing parking tickets at lots and meters in June while crews hit the street to demonstrate the new equipment.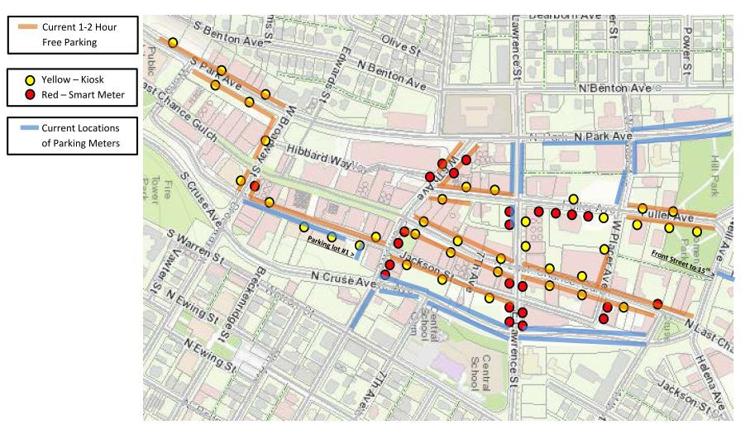 A map provided by Hewitt shows 39 kiosks and 24 "smart" meters to be installed mostly along stretches of downtown streets currently reserved for free 1-2 hour parking. The new meters will still accept coins and Goldie Coins as well as credit and debit cards. Hewitt said only the "guts" of meters are replaced to allow for card access and that the city hopes the project can pay its own price tag of about $500,000 in two years.
You have free articles remaining.
"We manage all five parking garages in the downtown area and 11 parking lots, so all our revenues go right back into expenses and the maintenance of all those facilities," Hewitt said. "The 6th Avenue parking garage, I think it was built in the mid-'70s. So it takes a tremendous amount of maintenance on a yearly basis to keep those structurally safe for the community."
Rates at kiosks are $1 per hour for the first two hours before progressing to $1.50 for a third and $2 for every hour from the fourth on. 
The first hour of parking will remain free, Hewitt said, in five lots and garages: the Getchell Street and 6th Avenue garages and parking lots in the 200 block of Cruse Avenue, the 200 block of Park Avenue and the 300 block of Jackson Street.
"A lot of that's to discourage employee parking so we can find them a better, cheaper place to park off-street," Hewitt said of the progressively higher rates. "Pay-to park, like I said, will create turnover and leave the best spots available for customers that are willing to pay to get to their favorite store or coffee shop or restaurant."
Alongside the new equipment, the city will begin accepting payment though the same Passport Parking app used in Great Falls and Missoula, allowing motorists to pay from their phone.