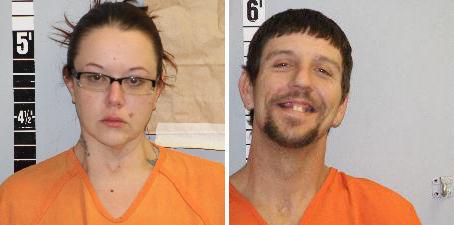 Felony charges have been filed in connection with two separate armed robberies last week in Helena. 
Christopher James Vanlandingham, 31, of Helena, was charged with felony robbery and his 35-year-old girlfriend, Carissa Ashley Soltis, of Helena, was charged with felony accountability to robbery in connection with an incident on Nov. 1. 
According to court documents, the victim says Vanlandingham and Soltis entered his hotel room and Vanlandingham began assaulting him before brandishing a flare gun and demanding that he hand over his cellphone and money. Soltis is accused of brandishing a knife and holding it close to the victim's face.
The victim told investigators that his cellphone and money were stolen from the room. Additionally, he felt the assault may have left him with a concussion. Police said the pair stole about $160 in cash and two cellphones.
Police said Vanlandingham and Soltis were both acquaintances of the victim. 
Vanlandingham was charged with felony accountability to robbery for a second incident the following day, Nov. 2. 
Vanlandingham and an unknown male are believed to have been gambling in a casino near the victim, who won a large amount of money. 
As the victim left the casino and went home, he was allegedly followed by Vanlandingham and the other suspect. As he approached his front door, the other suspect allegedly approached and hit him from behind, saying "give me what you won." 
You have free articles remaining.
The victim said he turned around and saw the barrel of a gun in his face before being struck in the nose with the gun. Officers noted a nose wound on the victim, which was bleeding. 
The victim said he was able to push the suspect away and lock himself inside his residence. 
Vanlandingham is believed to have stayed in the vehicle when the other suspect robbed the casino winner.
Witnesses at the casino said Vanlandingham was sitting next to the victim when he won the money. They also claimed to have witnessed Vanlandingham follow the victim out of the casino. 
Police then learned Vanlandingham was a suspect in the previous robbery. 
Police located Vanlandingham at a different nearby casino the following day, Nov. 3. Upon questioning, the defendant allegedly admitted to being at the first victim's hotel because he was "upset due to the victim stealing drug money from him." 
Vanlandingham allegedly admitted to the assault, robbery and firing off a round of the flare gun into his own leg. Police say the defendant told them he stole a cellphone, cigarettes and food from the hotel room. 
Soltis was arrested outside of the building where police found Vanlandingham. Soltis allegedly admitted that she grabbed a knife in the hotel room, but she told police it was to prevent anyone in the altercation from using it. 
It is unclear if the second male suspect has been apprehended at this time. 
All charged are presumed innocent until proven guilty.