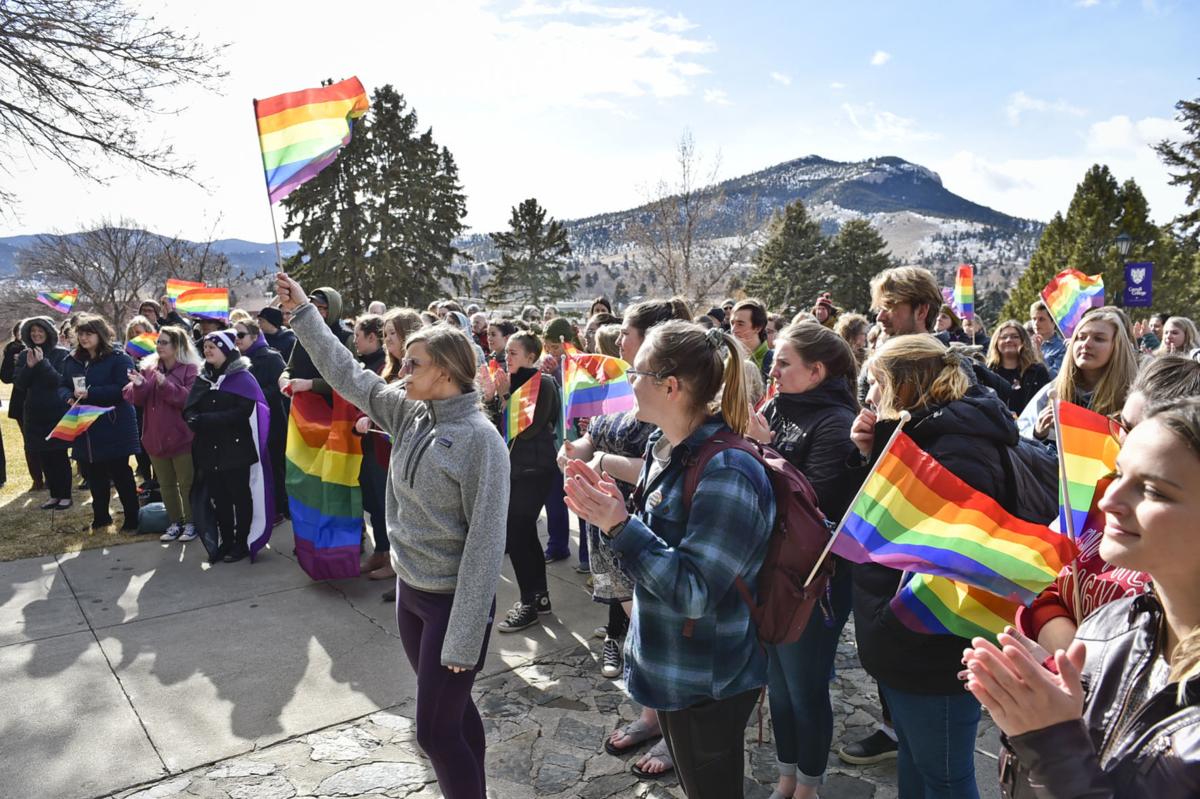 Several dozen people rallied in support of Carroll College's Gay Straight Alliance on Tuesday afternoon, after the group canceled a planned drag show because of restrictions imposed by the private Catholic school. 
Tuesday's rally on the steps of St. Charles Hall was hosted by the GSA alongside the school's Feminists Advocating Equality club. The club planned to host the drag show for the first time this year during Carroll College's Spring Fever week, which is held each February. 
Madison Fernandez, co-president of FAE, said the "fun drag show event" was meant to show love and support to the college's LGBTQ community. Event planners had secured a Montana drag queen to tailor a show specifically for Carroll College.
Fernandez said the GSA decided to cancel the show after receiving the list of restrictions from the Carroll College administration, as the group "could not preserve the integrity of the event." While the list of restrictions has not been made public, several students mentioned that it included a dress code.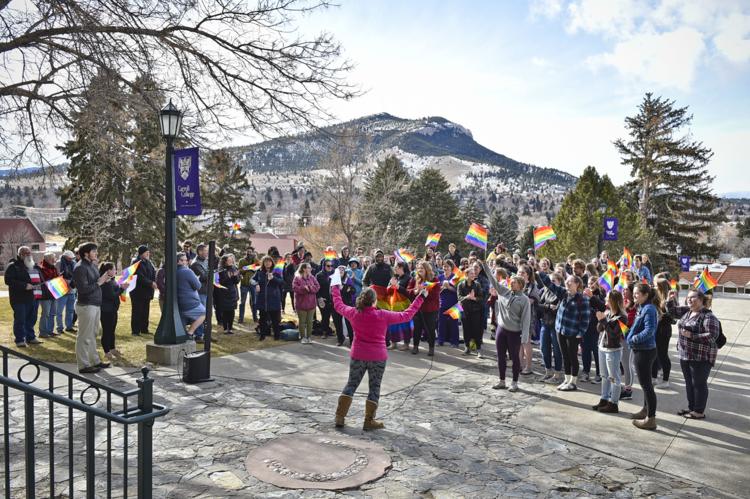 Chato Hazelbaker, vice president of enrollment management and marketing at Carroll, said he was impressed with the students and their thoughtfulness throughout the rally. 
"The students were articulate in their responses and passionate about creating a great community here at Carroll," Hazelbaker said.
According to Hazelbaker, the college shares a goal with the organizers of creating a positive and affirming environment for all of its students.
The students previously met with Carroll President John Cech, but were unable to reach a compromise prior to Spring Fever week. Hazelbaker said the students and Cech have another meeting scheduled for Wednesday to "continue the dialogue to ensure we are fostering an inclusive environment." 
During Tuesday's rally, student body President Emma Nylin read aloud a letter from a Carroll College alum who wrote that the school has a long history of not fully supporting its gay students. The letter drew attention to a 2001 attack on a gay student on Carroll's campus. 
Shawn Reagor, a former Carroll student who now works for the Montana Human Rights Network, said he received significant support from his peers and staff during his time at the school. He said he hopes Carroll will again become the college he once knew. 
"The college taught me that my life mattered," Reagor said. "The decision to cancel this drag show is not true to Carroll."
Reagor said Carroll is sending the message that it will only support its LGBTQ students when they aren't doing anything divisive. Reagor said his prayer is for Carroll to have a deep conversation and look into the history of drag and what it means for the LGBTQ community. 
"Let's be the beacon of hope against those who tell students that they can't be gay and Catholic," Reagor said. 
Big Sky Pride President Kev Hamm said he was shocked to find out the Carroll drag show had been canceled. Hamm played a major role in organizing the Former Felons' Ball drag shows that were held in three downtown Helena bars over the weekend and were attended by many members of Carroll's LGBTQ student community. 
"Carroll better get its act together," Hamm said. "It had its act together for a long time." 
Hamm said he experienced homophobia only once during his time at Carroll, and it was precipitated by a drunk student from a rival college. Even then, that student's mother personally apologized to Hamm. 
Hamm said he has been in discussions with several drag queens across Montana, and he offered to host the GSA drag show without restrictions as a fundraiser for the group. 
"They can say no to us," Hamm said. "But they can't erase us." 
Fernandez and GSA president Miriam Jensen ended the rally with a formal statement from those who attempted to organize the show. The statement said the students were "sickened by the actions of those who prevented us from holding an event supporting the LGBTQ+ community." 
Jensen said she chose to attend Carroll because she grew up in a religious household. Jensen was raised by a lesbian and was taught to leave the judgement to God.
"What is so shameful about knowing who you are and who you want to be?" Jensen asked. 
The GSA and FEA statement said Carroll's LGBTQ community feels as though ill defined standards are placed on those students. The statement also said LGBTQ students feel like the administration is making an attempt to hide them.
"There is a stark difference between tolerance and acceptance," Jensen said. "The LGBTQ+ community on this campus will not be silent." 
Get local news delivered to your inbox!
Subscribe to our Daily Headlines newsletter.