Carroll College President John Cech announced a draft proposal this week aimed at driving enrollment and strengthening the college's financial health.
Cech shared the draft program prioritization report with faculty, staff and student leaders as the college prepares to take it before the board of trustees later this month. The report calls for a multi-faceted approach to Carroll's course offerings, including establishing a school of professional and graduate studies, attracting more transfer students, and consolidating and cutting some lower-interest programs.
In an interview, Cech touted school accomplishments such as high graduation rates and placements in professional graduate programs, but noted that the landscape of higher education is changing. More competition for high school students has meant lower freshman enrollment as a national trend, to which Carroll has not been immune. The report reflects Carroll's desire to proactively work toward both financial stability and higher enrollment, he said.
"As we plan for our future here at Carroll we know that while our core is sacred to us, we need to diversify our mission and we need to diversify who we're reaching out to," he said.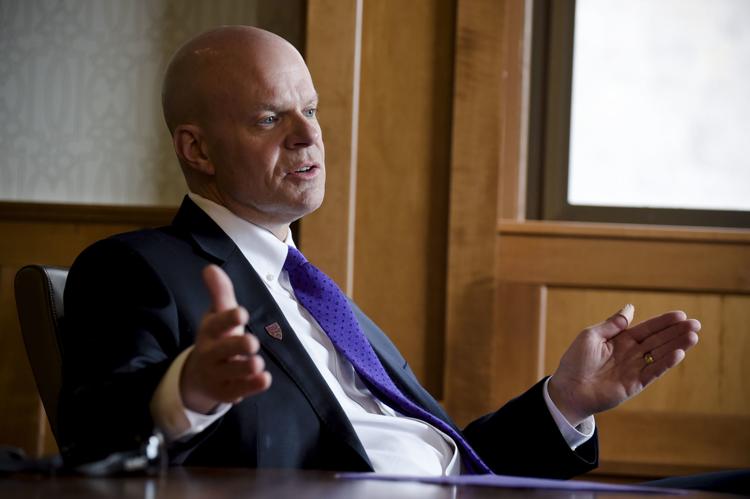 With an identified need in fields such as health care, Cech said the college is pushing to offer graduate programs but is also committed to maintaining liberal arts as part of its education, believing it helps student development and compete for graduate placement.
"That focus, that liberal arts foundation, is something we don't want to lose and we will not lose," he said.
Early in his tenure as Carroll president, Cech held an August all-campus meeting to offer a sobering reality of declining freshman enrollment and financial strains, and a need to develop new opportunities and ways of attracting students. The college established two task forces of faculty and staff that analyzed 177 program reports covering both administration and academics.
"We left that Aug. 17 meeting knowing that we needed to chart an expanded future for Carroll College, and in doing that we would have to make some difficult decisions that would ultimately result in possibly realigning some positions, realigning some degrees, maybe some degrees would sunset, and some positions as we knew them would be phased out," he said. "We knew going in that it would impact people and we knew that that would be difficult and we had to be compassionate and thoughtful as we did that."
Cech called the process that involved more than 200 people, "The most thorough, transparent and engaging process for planning that this college has ever seen."
The preliminary report makes 17 recommendations to the board for consideration.
Highlighting those recommendations is a task force to create a school of professional and graduate studies. Carroll began offering its first graduate degree last year, a master's in accountancy, and under a new school the college could begin offering several additional degrees. Under consideration are a master of social work, master of genetic counseling, master of physician assistant studies, graduate level nurse practitioner and other professional certificates.
"This is an area where we believe Carroll College can further develop programs given our very strong record in allied health and nursing," Cech said.
Within three years Carroll would be a candidate for either the nurse practitioner or physician assistant program and the school is still exploring which would be the best fit. Due to a shortage of doctors, nurse practitioners and physician assistants have become a means of filling those healthcare needs, he said.
"We have tremendous needs for health care here in Montana," Cech said. "The Montana Department of Labor recently presented a report that's estimating that we will need in this state in the next 10 years to hire close to 1,300 health care professionals per year.
"There's a huge need and Carroll wants to be a part of the solution, and we feel we have the depth and breadth of faculty, of labs, of support to do that."
Carroll will also look at adding bachelor's degrees in health administration, exercise science, cyber security and Catholic studies, he added. The college has existing space to house new programs, Cech said, noting that much of the programming will include online courses.
If approved by the board, Carroll will embark on a fundraising campaign to bring the professional and graduate school to fruition. The college is in the process of hiring a new vice president of institutional advancement to head Carroll's fundraising arm.
"A couple of advantages a college like Carroll has over the public sector is that we are private, we can move very quickly," Cech said. "We have the same accreditation as the public so we have the same credibility but we are nimble, we can move, we can do things quickly, and we have passionate supporters."
As another means of attracting students, Carroll proposes greatly expanding its summer school, which would give students the opportunity to graduate in three years if they want to. 
"We're going to blow up our summer school and completely redesign it," he said. "This place where we live is one of the most beautiful communities on the planet, I think, especially in the summertime."
As a Catholic institution, Carroll has expanded outreach and scholarship opportunities for Montana's Catholic high schools and regional schools.
"I think that Catholic heritage is very very important," Cech said.
To further expand Catholic services, Carroll has requested an order of sisters to reside on campus and become involved in student life. An order has not lived on campus since the 1970s, he said.
Transfer students will also become a greater focus at Carroll, including recruiting students from regional community colleges to work toward four-year degrees. The college plans to revamp its marketing strategy as well to reach students online as they make their higher education decisions, Cech said.
The recommendations will mean a number of changes for current undergraduate offerings. The report recommends sunsetting four majors, 11 minors, three certificates and one associate degree, as well as consolidating some programs.
The four majors identified in the report have a current enrollment of 26 students, who will be allowed to finish their degrees. Freshman and sophomore enrollment in the 11 minors is currently at four students.
Three other majors would be consolidated under larger majors with a track to graduation. In the post-secondary education major, nine individual degree options, many with two to zero students, would be consolidated into fewer options.
Cech declined to identify other programs that could see cuts or consolidations or say how many faculty and staff could be affected, noting those decisions still need consideration by the faculty assembly and board of trustees. Development of new programs will mean additional positions possibly open to those phased out.
"The implementation plan will be phased in over the next couple of years, so it's not like turning a light switch off and on," he said.
Kennedy Bahm, Associated Students of Carroll College executive president, said the students have had a lot of questions but are supportive of the plan.
"We've had a lot of conversations about program prioritization, what it was and what it would entail," she said. "I think it's all about how you phrase it – Dr. Cech is such a great leader – and looking at efficiency, how sustainable are current programs, and yes cuts are a part of that that have made some students nervous. Some things are necessary to phase out and all working together benefits everyone."
Cech met with student leaders Thursday and after examining the recommendations, Bahm says she does not have concerns nor has she heard concerns about the plan. Students do have many questions and interest in the expanded programs including the graduate and professional programs, she said.
Cech says reaching out to the greater Helena community will also be a priority. The college intends to artificially turf the football field, which could open up high school sports opportunities, and the installation of lights will make it the third largest nighttime concert venue in Montana.
Cech said the opportunity to redevelop the course of a college to this level is something few college presidents see in their careers.
"I can honestly say the future of Carroll College has never been brighter than it looks right now," he said. "I think the direction that we're looking at and the fact that we've made the commitment to support and foster our liberal arts foundation is what's going to make us different, and what will make us solid, and our Catholic foundation is a part of that."