Future nurses and engineers. Your next attorney or accountant. Tomorrow's educators and business leaders.
With one of the largest classes in recent years, Carroll College graduated 315 students Saturday to the applause of faculty, staff, fellow students and loved ones. Carroll's 109th class boasted high numbers of degrees in anthrozoology, accounting, biology, psychology, political science, nursing and the college's first ever master's degrees in accountancy.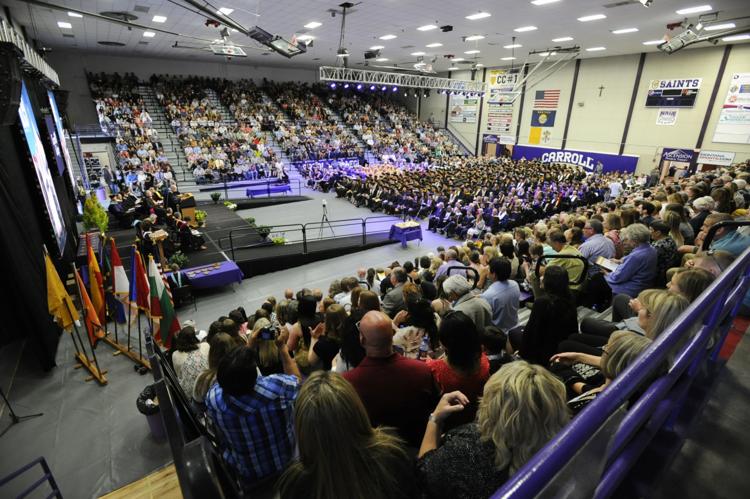 With newly inaugurated President John Cech presiding before a packed Carroll P.E. Center, graduates listened with bittersweet excitement as their college careers were celebrated.
Long-time Carroll nursing professor Donna Greenwood offered her humorous advice to students, such as brushing teeth and eating vegetables, before delving into the lessons learned at a weekly campus potluck lunch. It was in 2015 when Greenwood happened upon the potluck that included staff and faculty, and as she became a frequent attendee, saw the parallels it offered to the greater sense of community.
"I came to understand potlucks through a whole new lens," she said. "They are about hospitality and community. They are about giving without the expectation of getting anything other than friendship in return."
In closing, Greenwood encouraged graduates to pursue the same building of relationships and communities in their lives and to "organize some potlucks and invite everyone."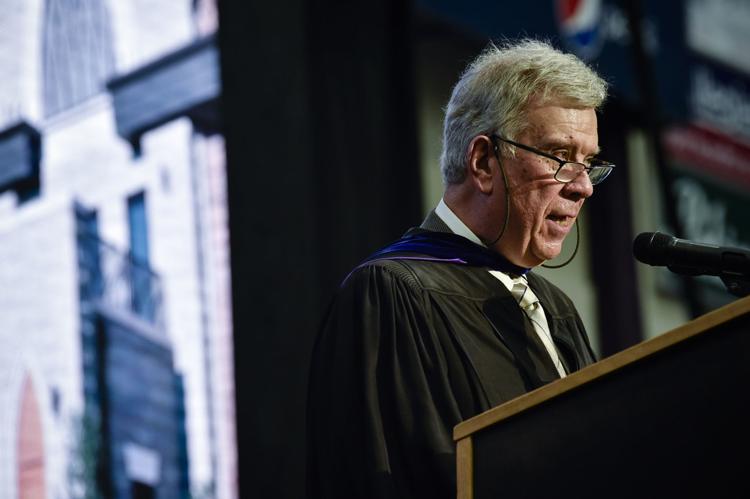 Carroll's student speaker, Conor Coutts, could not attend for medical reasons. In his stead, professor Brent Northup read Coutts' words, describing the student as a man of faith and an inspiration to his classmates.
Coutts wrote of the college experience at Carroll, its highs and lows and the gratification that comes with earning a diploma.
"Whether it was slaying that unforgiving beast organic chemistry after the second or third attempt or having the humility and courage to ask for help when the cross you carried became too burdensome for only one, the suffering we experienced at Carroll made us better people because they ended in the accomplishment of something, and prepare us for the much tougher and intense opportunities in the future where we will have to sacrifice greater and love more deeply," he wrote.
Coutts wrote of a terrifying experience earlier this year, suffering a brain abscess while at a debate tournament that required going to Seattle for surgeries. Northup stayed with him for a week, sleeping in a chair in the waiting room and conducting his classes via video.
"Brent's enduring love shows Carroll at its best — nurturing others first, asking questions later," he wrote.
Terry Cox came to Carroll from Spokane, Washington, to play soccer for the Saints. But it was far more than his time on the field that marked his college experience, where he majored in mathematics and data science.
"I really appreciate the professors especially, always willing to meet and help you," Cox said in an interview. "They want you to succeed, they always find the time and genuinely care about you and your coursework."
Cox, who was admittedly busy during his time at Carroll, also became a mainstay on the college's math modeling team. Over the last three years the team has fared well in regional and even international competitions, solving complex problems and even regularly besting Ivy League schools.
As he prepared to pursue his doctorate in applied mathematics, a new opportunity through Carroll put those plans on hold. Cox will head to Hawaii for nine months on a fellowship at the Keck Observatory. The new partnership Carroll fostered with the observatory is the only one of its kind for an undergraduate institution.
But Cox says he will miss far more than Carroll's academics and athletics.
"I'm going to miss the family aspect of it for sure … it's very sad it's coming to an end," he said. "But the department has prepared me and made me ready to move to the next step — they've impacted my life so much and I don't know how much I can ever thank them."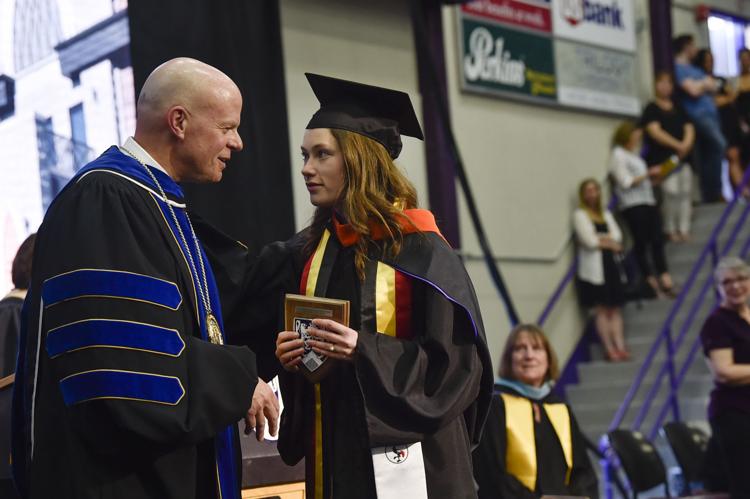 Katie Buckner of Bozeman earned both her degree in engineering and the distinction of the 2019 Michael Murphy Award, selected by faculty for achievement, generosity and leadership.
It was the engineering program that initially drew Buckner to Carroll, where she saw the advantages of a smaller class size. And when she had the opportunity to transfer to another school to finish her degree, she decided that Carroll was where she wanted to be.
"I had so many opportunities in leadership that a small school provided for me, and the opportunity to travel and work in communities," she said in an interview. "I could have transferred after my junior year and gone into a different field, but once I got in I wanted to stay with my cohorts and finish out my time and I knew the opportunities I had here."
One of the highlights of Buckner's college career was working for three years in Uganda through Carroll's Engineers Without Borders program. It was there that she and her fellow students worked on clean water projects, rehabilitating wells and bringing new water sources to a boarding school.
Buckner marveled at the accomplishments of her classmates as well, saying Carroll felt like a home away from home where she grew both academically and spiritually.
"We have such a great group in our class this year, they're just unbelievable in the sense of what they've accomplished and their goals for the next four, eight, 12 years," she said. "All of those kids have made my experience what it is," along with many of the staff and faculty.
Buckner plans to return to Bozeman to work on her professional licensing with a goal of staking a career that continues to allow her to travel.
Graduates took to the stage to receive their diplomas Saturday, pausing for handshakes and hugs and a few photos. Finally it was Cech's turn to address the class of 2019, to tout with pride their many accolades both as students and as people.
"Each of you have more than satisfied the requirements needed to earn your respective degrees from Carroll College," he said. "However, and I believe, just as importantly, you have demonstrated you care about your fellow human beings and the future of this world in which we live."