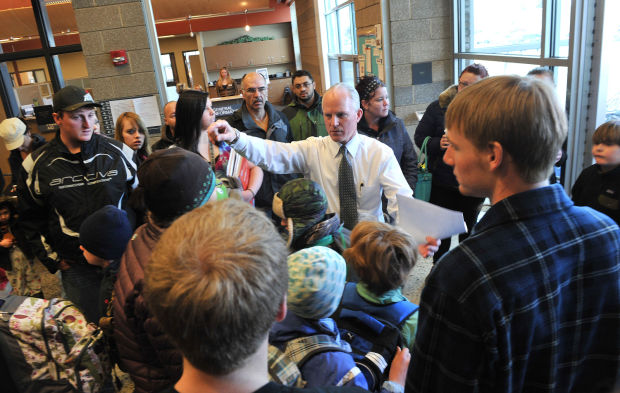 A 14-year-old Dublin, Calif., boy was arrested Friday in connection with three bomb threats called in to Helena schools in the last five days, including a threat Friday that caused the cancellation of classes for all K-12 schools.
With the help of the Lewis and Clark County Sheriff's Office, the FBI and the Department of Homeland Security, Cole Alan Woodruff was apprehended shortly after the Friday morning threat came in.
"We believe that he has made all three of the calls," Helena Police Chief Troy McGee said at a news conference Friday afternoon. "The police put a lot of resources in to try and locate the caller."
According to an affidavit issued by Lewis and Clark Deputy County Attorney Jeremy Gersovitz, Woodruff admitted to placing all three calls in which he threatened to have left a bomb in Capital High Monday, backpacks containing C-4 in an elementary school Wednesday and bombs in all Helena area schools Friday.
"It's going to blow," Woodruff told Helena dispatchers during Wednesday's threat, the affidavit said.
Woodruff made all three calls using an Internet based telephone service called "Magic Jack" after connecting and working with a 16-year-old Helena High School student over Xbox, the affidavit said.
He will be charged with three counts of felony intimidation, one for each of the calls, a warrant for Woodruff's arrest said.
The warrant said he is being held in a California detention center on a $25,000 bond.
Sheriff Leo Dutton said the joint efforts put forth by McGee's officers, his deputies and the federal agencies made Friday's evacuations proceed relatively smoothly.
"The police department did a wonderful job working and tracking this down," he said.
"It's unfortunate that we have to go through this to refine it," he said of the evacuation process.
"These threats are no joke," Dutton said. "The issue becomes a threat to our peace and tranquility that we enjoy here in the Helena area."
"One thing we want people to know is that, while someone may take this as a joke, we don't," he said. "We'll pursue you. We'll find you. And we'll prosecute you."
Welcome time of reflection
Next week's spring break will provide a time of welcome reflection for school administrators.
A Monday bomb threat at Capital High School prompted a police investigation.
A Wednesday threat alluded to a bomb hidden somewhere in a Helena elementary school, prompting a temporary evacuation and another police investigation.
Friday's threat claimed that a bomb was hidden in every Helena school, prompting a district-wide evacuation of all 17 of Helena's K-12 schools and yet another police investigation.
None of the incidents turned up any actual bombs.
"I'm really hoping that, since we have a week of spring break, a couple of things happen," Superintendent of Helena Schools Kent Kultgen said.
"Number one, it allows time for the police to do their investigation," he said of the caller. "It also allows for people to take a breath and this energy to calm down."
Evacuations went relatively smoothly this week, Kultgen said, but some concerns about traffic and idle students will need to be addressed should future incidents occur.
"We're going to debrief and see what we can do better," he said. "What we missed this time.
"We've received input from our community, from our staff saying 'Hey this is what you can do better,'" Kultgen said.
The increasing vagueness of the three calls prompted increasingly serious reactions from the school district and increasing panic among parents.
"With Capital, it was a very specific place, and the police went there," Kultgen said. "We could go right to the gym (where the bomb was supposedly hidden), secure it and the kids are back in.
"In the second one with the elementary schools, no matter what it sounds like and how credible it is, 'bomb threat' was in there," Kultgen said, referencing the caller's mispronunciation of Helena, which raised questions about its validity.
"This one was broader yet. K-12," Kultgen said of Friday's call. "It's so broad that we need to pull out.
"We have so many buildings, 17 campuses to clear, we thought it was best to get them home," he said.
Police received Friday's call around 8 :30 a.m. and the last school was not deemed clear until almost 1 p.m.
The district's biggest challenge going forward, Kultgen said, is to restore faith in children's safety during school hours.
"I think when we come back (from spring break), we've got to ensure that our student, staff and parents know that we have a safe environment for our children," he said. "Just assure them that they're in a safe place and we're taking care of them."
Students from all K-12 schools were sent to their pre-planned alternative sites Friday. East Helena schools were not included in the threat, but were swept by police and declared safe, according to an email from school officials. However, in East Helena all Friday recesses were held inside.
Students from Central-Linc School were evacuated to Helena College of Technology, where parents anxiously waited outside the auditorium to see their kids.
Friday was the second day this week during which Lisa Henson has had to rush to pick up her fourth-grader at Central-Linc due to a threat-related evacuation. Add to that a sixth grade daughter at Helena Middle School whom she had to retrieve as well, and it made for a chaotic Friday, she said.
"I've never experienced anything like this before," she said. "I'm kind of baffled."
She was most frustrated by the fact that her child had now missed two full days of instruction.
"It's messing up the kids' schedule," she said. "They should be learning right now, not freaking out if their parents got the message (to come pick them up)."
Natasha Jones has a daughter in first grade and a son in fifth grade at Central-Linc. She and her family recently moved to Helena from Arkansas and were drawn by the town's quiet, friendly atmosphere.
"I was just really shocked to get those calls," she said Friday. "We have never had this experience.
"It's pretty scary," she said. "I'm concerned with what they want to do in the future in these situations."