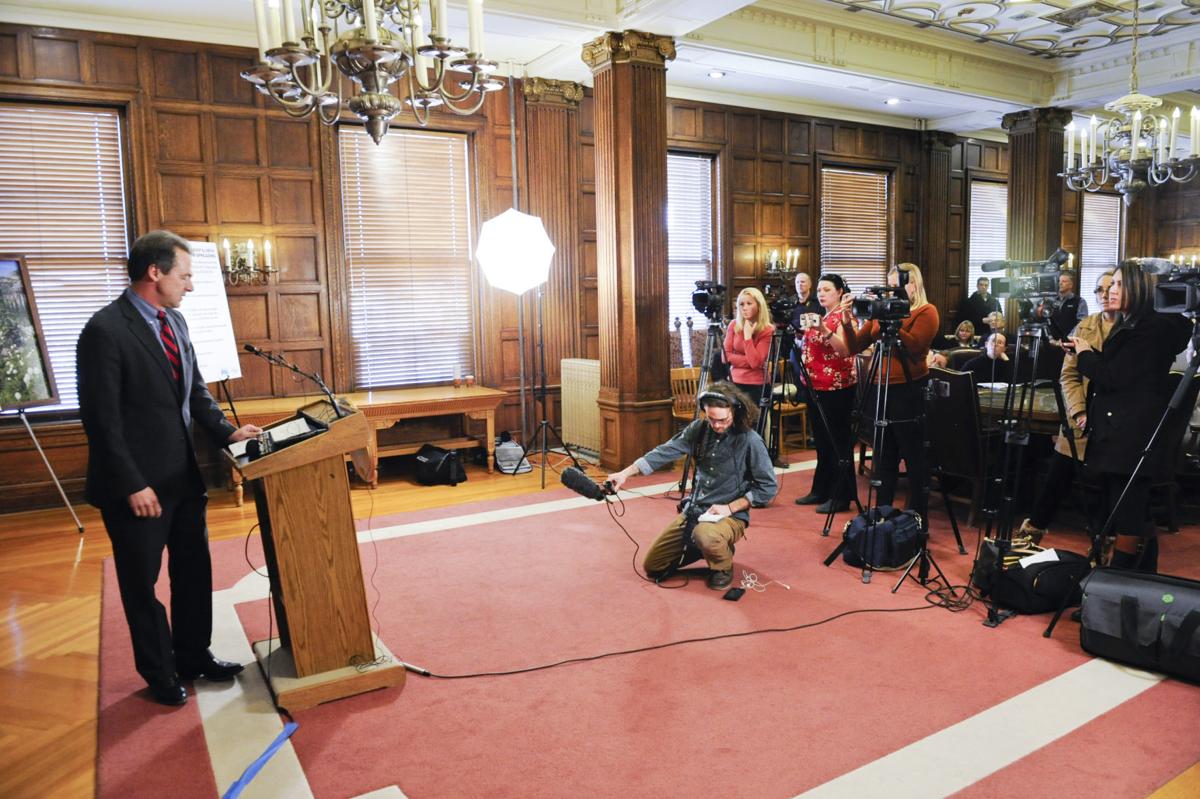 Montana Gov. Steve Bullock on Wednesday said calls to cut the state's budget are premature and his office projects to have $113 million in general fund reserves at the end of July 2021.
The Democratic governor offered up budget estimates following Republican lawmakers saying earlier in the week they're drafting a letter, to be discussed in a May 20 meeting, that asks Bullock to make spending reductions.
"We'll handle the budget just like we've handled our response to COVID-19, based on science and data and by responsibly handling the day-to-day changes. We won't handle it based on politics," Bullock said Wednesday in a call with reporters.
Montana will end the current fiscal year in June relatively close to revenue estimates adopted by the state Legislature in 2019, projected Tom Livers, Bullock's budget director. But then things will take a turn.
"(It's) likely in the second year of the biennium starting July 1 we do expect to see some, undoubtedly, significant revenue falloff," Livers said.
The state pushed back its income tax filing deadline to July 15, so there's still not much data to form Montana-specific projections revenue projections.
Livers said his office's estimates are coming from the state's market analysis firm and others, which are done on a national basis, with customizations he's making for Montana. That includes the state's reopening schedule, which is more aggressive than many others, and takes into account a higher rate the federal government is matching the state for some medical programs.
Livers also said he's accounting for moving the costs of the state's COVID-19 response to be paid for with money from the $1.25 billion Montana received from the federal Coronavirus Aid, Relief and Economic Security (CARES) Act.
CARES Act money covers the state's spending to tackle the coronavirus, and last week Montana opened up grants for $123 million of that funding to assist businesses, nonprofits, renters, homeowners and more. The federal money cannot be used to offset lost revenue states will face, though there are discussions in Congress about directing some funding toward that.
The Legislature's own fiscal division has a more pessimistic prediction, following a report from Moody's Analytics, that shows the state's revenues could drop from 15.4% to 18.7%.
Rep. Greg Hertz, the Republican speaker of the state House from Polson, told the Associated Press on Wednesday he disagreed with Bullock.
"The sooner we react, the easier it's going to be in adjusting our budget," Hertz said. "We want to be proactive. The governor doesn't seem to be concerned at this point in time."
"If this decline were to occur relative to annual revenues, it would be the single largest decline in the LFD fiscal records," the report from the Legislative Fiscal Division reads.
Outside the general fund balance, Montana has $117 million in a budget stabilization reserve fund and $55 million in its fire fund.
Bullock said of the calls last month, again from Republican state lawmakers, to cut spending and furlough state employees that "adding to the unemployment rolls doesn't make a heck of a lot of sense, or cutting services that Montanans reply upon doesn't make a heck of a lot of sense right now either."
The governor did say the state is taking measures to reduce spending, such as not filling some open positions and closely watching agency budgets.
"We're not in a position to have to make unnecessary, across-the-board cuts to essential services," Bullock said, adding he doesn't want to repeat mistakes from the 2017 special legislative session that slashed human services budgets.
Bullock did add that though Montana is in a better position than many other states, it's not immune to the fiscal challenges presented by the coronavirus. The state relies heavily on tourism, hospitality and service industries, all of which have been significant hurt by both a monthlong stay-at-home order that's now lifted and general reluctance by people to travel, eat out or do activities that would bring them into close contact with others.
Concerned about COVID-19?
Sign up now to get the most recent coronavirus headlines and other important local and national news sent to your email inbox daily.