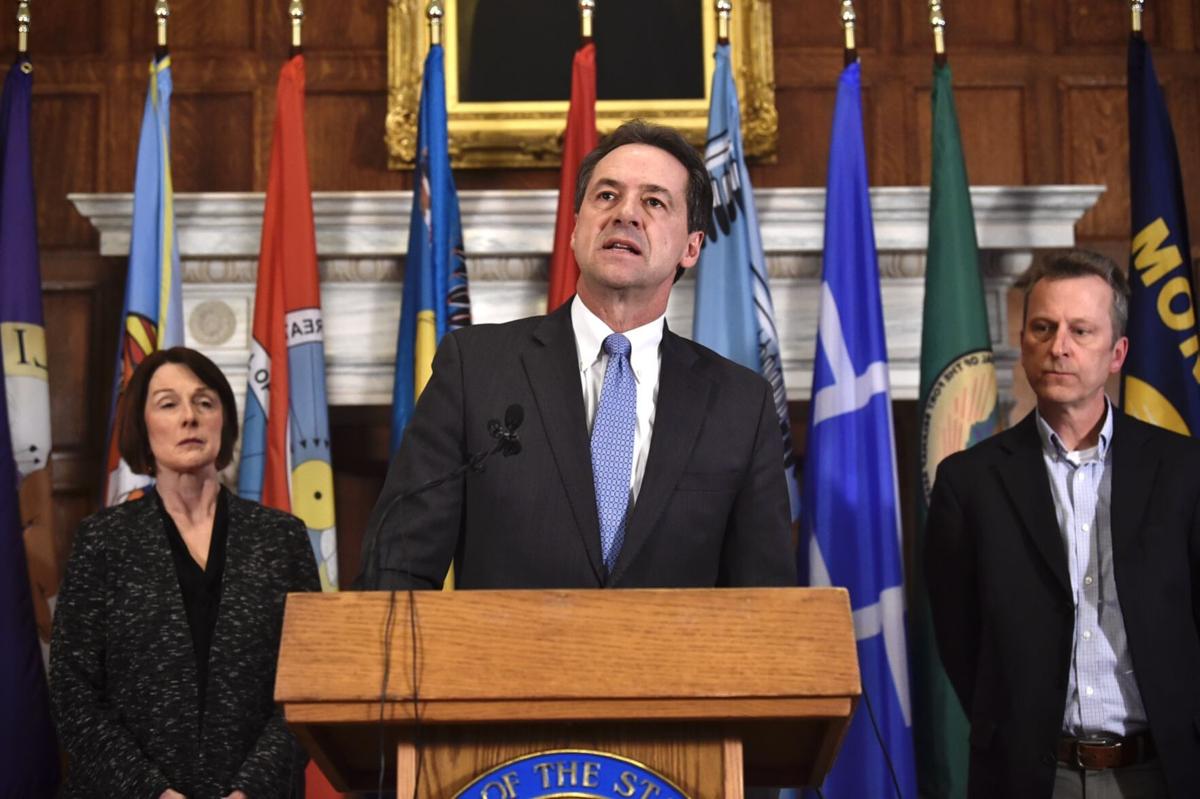 The exchange between the two-term Democratic governor and GOP lawmakers illustrates the tone of Montana's divided government hasn't faded away in this exceptional time, though Bullock did chastise the state speaker of the House and Senate president twice in the first two paragraphs of his message for what he called "politicizing the pandemic."
Speaker of the House Greg Hertz, R-Polson, said Thursday lawmakers did not aim to politicize the pandemic. "Our intent is to look out for the health and safety of all Montanans just like the governor is," Hertz said, adding early Thursday afternoon he hadn't received a copy of Bullock's letter yet.
Though daily case growth since Monday has been smaller than it was in the prior two weeks, Bullock and public health experts say that's evidence social distancing is working and must be kept up to preserve any gains Montana has made during the past month. In his letter, Bullock cited a report from the University of Wyoming that found social distancing will save more than a million lives and cause far less damage to the economy.
Bullock's letter points out that Montana has a "significantly lower rate of infection per capita" than other regional states, "because we acted early with input from public health, business and emergency response experts."
"I've said before that I want to reopen our economy as much as anyone and have already begun to consult with public health officials and business leaders on what a responsible path forward could be," Bullock wrote. "But it would be irresponsible and potentially fatal to move too quickly and risk an unnecessary spike in cases and deaths of Montanans. We cannot risk becoming another hot spot like our neighbor South Dakota."
Hertz disputed comparisons to the possibility of turning into South Dakota.
"South Dakota has 1,300 cases, New York has over 200,000; 1,300 cases in South Dakota is not a hot spot. And South Dakota, like Nebraska and a couple other central states, have had one or two employers who did not make sure that their employees were safe."
While the GOP lawmakers' letter was critical of what work was deemed "essential" under Bullock's stay-at-home order, the governor pointed out he largely followed definitions from Republican President Donald Trump's administration. 
"To the extent the designations are different, it is because I added businesses and workers beyond what the federal guidelines instructed, to keep as much of our economy up and running as possible," Bullock wrote.
Hertz said he thinks Bullock should have modified things further to allow more operations staying open to the public.
In responding to Republicans' decrying Bullock for not furloughing state employees, the governor responded that beyond emergency planners, other government workers are providing things like expanded mental health services and access to food assistance. He also said the Legislature has not furloughed their own staff.
Hertz said he's concerned about the state budget, which lawmakers will set again in 2021. Revenues are expected to take a significant hit; COVID-19 has also caused job losses severe enough to erase national employment gains of the past decade.
Bullock's letter also pointed out that in declaring a state of emergency and issuing directives, he's complying with laws crafted by previous state Legislatures.
"It is the constitutional duty of the executive branch to respond to this crisis pursuant to the laws that you, the Legislature, passed," Bullock wrote.
Hertz acknowledged that with the Legislature not in session, its power to act is limited and it's highly unlikely lawmakers could call themselves back for a special session.
"Unfortunately for the last several decades, the legislative branch has given away its authority to manage in emergency situations," Hertz said. He predicted lawmakers would work in 2021 on "how do we roll back some of this responsibility we gave to the executive branch and how can we keep the legislative body engaged?"
Experience in legislative leadership has made him familiar with criticism, Hertz said, but he's still open to working with Bullock.
The governor also said he would hear suggestions and input, but not make decisions that could cause more people to get sick or die.
"We have worked together in the service of Montanans for close to eight years and as always, I welcome ideas that serve Montanans. But I will not act irresponsibly and put Montanans' lives and the recovery of our economy further at risk," Bullock wrote. "As much as any Montanan, I look forward to the day when we can move past the health and economic challenges facing our state and nation."