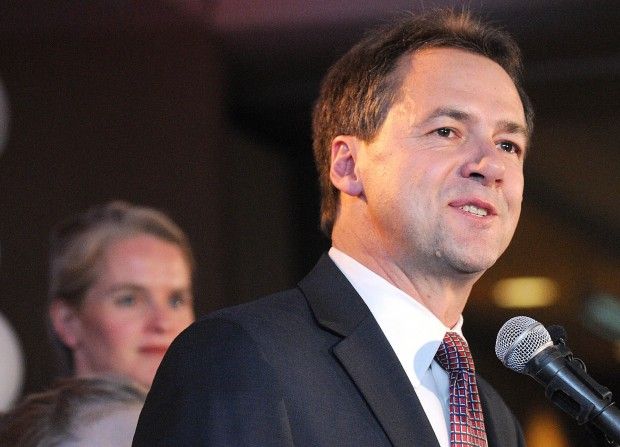 Montana Gov. Steve Bullock, a vocal critic of corporate money in politics, now heads up the Democratic Governors Association, which raises millions in corporate dollars to help elect Democratic governors – but says that doesn't make him a hypocrite.
In an interview this week, the Democratic governor said he still supports banning corporate spending on campaigns and "full disclosure" of campaign donors and spending.
Yet when Republicans are raising big money from corporations to elect GOP governors, the DGA must join the battle under the same rules, and not "unilaterally disarm when expenditures are increasing," he said.
"Given that the Republican Governors Association raises well over twice as much as the DGA … I think (Republican) criticism of me probably rings a little hollow," Bullock said.
Fellow Democratic governors last week elected Bullock as chair of the DGA for the next year.
As chair of the DGA, Bullock said he'll help recruit Democrats to run for governor in 2016, put together a campaign organization, act as a public and policy spokesman for the group – and raise money.
"One of the reasons I was interested in this was because, as a Rocky Mountain Democrat, or a Midwestern Democrat, we need to make sure that other leadership is being exerted, and that this isn't just a party of our coasts," he said.
His elevation to DGA chair prompted the state Republican Party to call Bullock "Governor Hypocrite," noting he has "railed against corporate money" but will now be raising it.
"Gov. Bullock wants to appear to be fighting the influence of corporate money in our elections, but is all too eager to accept unlimited corporate dollars when it serves his own self-interest," said Chris Shipp, executive director of the party.
You have free articles remaining.
The DGA raised about $65 million for the 2014 campaign cycle, to help Democratic gubernatorial candidates, and spent about $50 million.
It accepts money from unions, corporation and individuals, can spend it on "Independent expenditures" that promote or oppose a candidate, or make donations directly to candidates in some states. Some of its largest donors include Blue Cross, pharmaceutical companies, other health insurers and labor unions.
Until 2012, Montana had banned corporations from spending on most campaign ads in the state. That ban was overturned by the U.S. Supreme Court, in the wake of its Citizens United decision.
As state attorney general, Bullock argued against lifting the ban. Corporations are still banned from donating directly to candidates in Montana.
The Republican Governors Association raised about $100 million for the 2014 campaign cycle, including many corporate donors, and spent $56 million. It also raised about twice as much as the DGA for 2012.
Bullock said this week he thinks "there is too much money in the system and certainly too much undisclosed money." The DGA and the RGA generally report their donors and spending.
Bullock is the second Montana Democrat this year to head a national party group that will raise millions of dollars to help Democrats get elected in 2016.
Sen. Jon Tester last month became chair of the Democratic Senatorial Campaign Committee, which raised $166 million for the 2014 campaign cycle. The DSCC, however, does not accept corporate funds, raising its money from individuals and political-action committees, and publicly reports its donors and spending.
Tester also has been a critic of unlimited and undisclosed money in politics.
Marnee Banks, spokeswoman for Tester, said that "every dollar Jon raises for the DSCC is transparent," and that he will "continue to fight for more transparent elections and a campaign-finance system that doesn't allow the wealthy few to drown out the voices of regular folks."
Get local news delivered to your inbox!
Subscribe to our Daily Headlines newsletter.