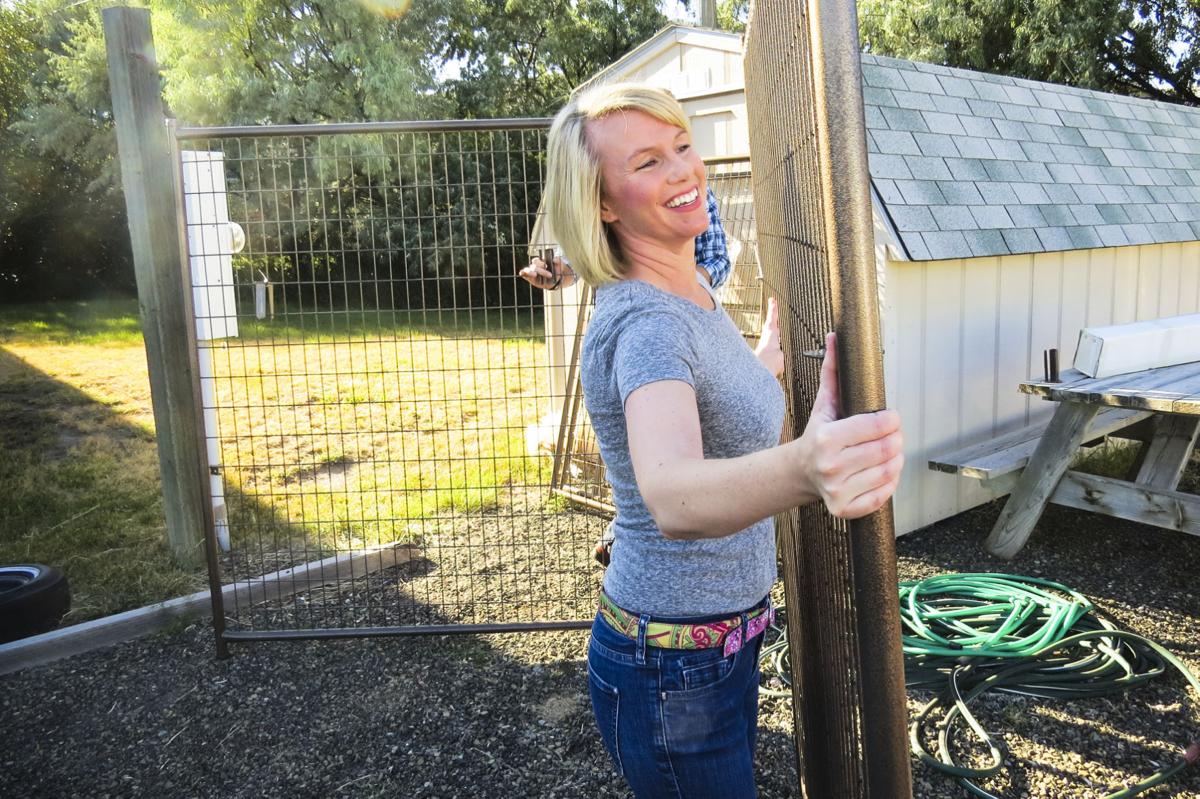 Jill Steeley, the new Cooperative Health Center director, has plans for improving the quality of care available in Lincoln.
She intends to seek grants that will allow dental services to again be offered at Parker Medical Clinic in Lincoln as well as provide mental health services there, she said on Friday as she assisted in loading equipment that would help doctor Leonard Blinder with the daily demands on his time.
Steeley and county staff placed wire panels onto a trailer that would be assembled into a dog pen once it arrived at the clinic.
Blinder, who's been the town's doctor for about a year, has a German shepherd and is planning on getting a puppy, Steeley said.
Having a dog pen at the clinic will mean Blinder won't have to worry about getting home midday to let his dog out of the house for a break, she explained.
"He's very close to his dog and it's very important to him that he be able to take care of the dog during the day," Steeley said.
Steeley, 37, was hired in March and transitioned from her role as director of health and human services with the Gallatin City-County Health Department in Bozeman to being the Cooperative Health Center's director.
She was with Gallatin City-County Health Department for 3 1/2 years before joining the Cooperative Health Center.
"I was wanting to work somewhere where people shared my same mission: to serve the underserved," she said.
"I think that they are forgotten. It is easy to look the other way and focus on people who can afford services, who can afford health care and bring money," she explained.
"I like to help people and I like to be around other people who like to help," Steeley added.
The Cooperative Health Center has a long-standing history of providing good care at all of its locations, she said of services provided in Lincoln, at its newly renovated facility in Helena and through its efforts at God's Love, a Helena shelter for people who are homeless.
"I don't want to change that but build on that," she said.
While grants could allow for dental services to return to Lincoln, the Cooperative Health Center is evaluating how it provides health care services for the homeless at God's Love to ensure the hours meet the people's needs, Steeley said.
In the past four weeks, the organization has been examining how health care services are provided to patients at the Cooperative Health Center to make it a better experience for those people, she added.
Staff and medical providers are friendly and "incredibly good" at what they do, she noted.
Another of the ongoing projects is a rebranding for the organization that will culminate in mid-September with an event to launch the new brand and organization's new name: PureView Health Center.
"I think health care in America is changing and progressing and we want to keep up with that, she said.
The organization's new brand, "is really a look at health as a whole system, living a healthier life rather than just health care."
There's already a new phone number, 457-0000, for the Cooperative Health Center. The phone number is no longer shared with county's health department, Lewis & Clark Public Health, whose phone number is now 457-8900.
The Lincoln clinic is open Monday through Friday from 8 a.m. to 5 p.m. with the exception of Wednesday afternoon, Steeley said.
Medical services through Healthcare for the Homeless are offered at God's Love Monday through Wednesday from 8-11 a.m. and the Helena clinic is open Monday through Thursday from 8 a.m. to 5:30 p.m. and from 8 a.m. to 5 p.m. on Friday.
While patients who qualify for Healthcare for the Homeless program are treated at no cost, others pay a flat fee depending on their incomes. The minimum charge on this sliding fee scale is $15. Assistance is also available for prescriptions but there is a $10 fee, she said.
Steeley sees opportunities at the Cooperative Health Center rather than challenges.
Medicaid expansion in Montana has provided more people with health coverage but this means seeking ways to retain patients who now have more choices in where they may seek care, she said.
The make-over and expansion of the Cooperative Health Center will help in recruiting medical providers as well as patients, she said.
Steeley is also looking forward to a strategic planning session with the organization's staff and its board later this year.
The outcome of a plan, she said, would be "to give us some guidelines and a road map of where we want to go in the next three to five years."