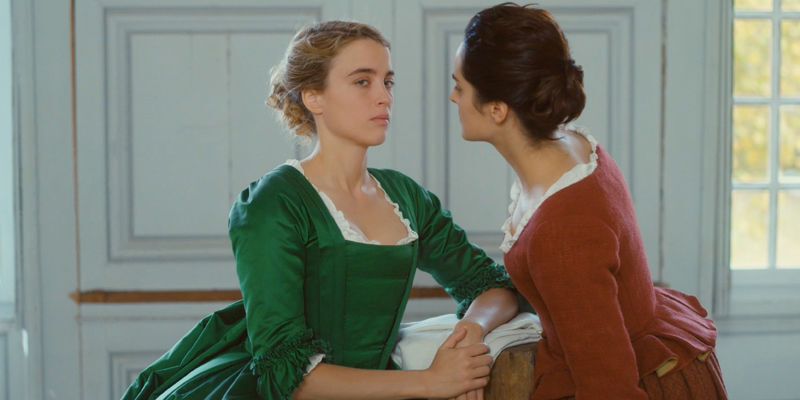 Portrait of a Lady on Fire
Stream on Amazon Prime et al
(R)
"Read it again, Dad?" my daughter would say when I finished reading "Goodnight Moon."
And that's exactly how I felt after watching Celine Sciamma's 2019 French masterpiece "Portrait of a Lady on Fire."
I pressed "Start Over," and soaked up this bittersweet romance yet again. Perfect, times two.
Set in late 1800s, this portrait of a portrait begins with young students trying to sketch their teacher Marianne, who is posing for them in her blue velvet dress.
Nearby, sits a painting of a woman standing in the dark, her dress afire.
"Did you paint that?" the students ask Marianne.
Into that painting we go, transported back aboard a boat being rowed to an island off the coast of Brittany. On board is Marianne, who sees a box fall into the water.
Marianne dives into the waves to retrieve her canvas.
Drenched, she trudges up a hill toward an estate where she has been commissioned to paint the wedding portrait of Heloise.
Heloise, unhappily, has been brought home from a convent by her Countess mother who has arranged her marriage to a Milanese nobleman. The portrait will be sent to her betrothed.
The reserved and reluctant Heloise has already chased off one painter, by refusing to pose. Marianne must follow her subject around – to the beach, to the garden, to dinner – catching glimpses she might extrapolate into a portrait.
So begins a relationship that will evolve into romance, building ever-so-slowly as suspicion turns to tolerance, then to trust and, finally, to love.
There is no fabricated melodrama to embellish a simple love story.
The tale rests on two exquisite interior performances by actresses Noémie Merlant and Adèle Haenel, digging deep to capture the quiet ways love blooms.
Add a third touching performance by the servant Sophie, a dear and gentle friend to both Marianne and Heloise.
The three ladies form as fine an ensemble as I've seen in decades – genuine, subtle, intuitive.
Only rarely does a film sweep me completely into its undertow and carry me away as "Portrait" did. Such a sad, tender tale.
Director Celine Sciamma paints every scene, with the finest of micro brushes. When we see Marianne adjusting a fold in a dress or repositioning a hand in a lap, we are seeing Sciamma at work. No detail too small, like the loose strands of curls in Mona Lisa's hair.
Many scenes are shot when the sun is slipping away, highlighting silhouettes and shadows. The flames of the title burn in the fireplace, in a campfire and, as promised, on the hem of a dress.
And the sound! Oh my, the sound.
The rare music is always diegetic, emanating from a scene which both characters and audience can hear. The most frequent sound is silence, but the most glorious sound occurs when women burst into an a cappella chant around a campfire at the 116-minute mark.
Sciamma wrote "La Jeune Fille en Feu," in Latin, borrowing from children's melodies and adding clapping for rhythm.
Marianne and Heloise stare into one another's eyes across a campfire as that song builds, and it's at that moment that their love catches fire – as does Heloise's dress. The flames are quickly extinguished, but the love that bloomed will last well past goodbye.
Which brings us to the exquisite ending. Heloise, now married into privilege, sits in her royal box seat above the symphony as the strings usher in Summer from Antonio Vivaldi's "Four Seasons." Heloise has heard this before, when she asked Marianne to explain orchestral music.
"It's not easy to relate," she said, as she sat at a harpsicord and played a few notes of Vivaldi. Heloise, a sheltered nun, had heard only liturgical music, and longed to experience more of life, love and art.
Now, from her lonely perch, she cries for two minutes, as she hears Vivaldi again, and thinks of Marianne.
Marianne, sitting far away in the auditorium, unnoticed, is in tears, too.
Fair warning to those who blush easily, and to all corseted Victorian grandmas. "Portrait" is explicit at times, as this love between women blooms.
Filmed entirely through the female gaze, with uncommon sensitivity to same-sex love, "Portrait of a Lady on Fire" lets the fire burn brightly, worrying not who might be slightly singed by the flames.
Love, like a sunset, is no less beautiful because it was brief.