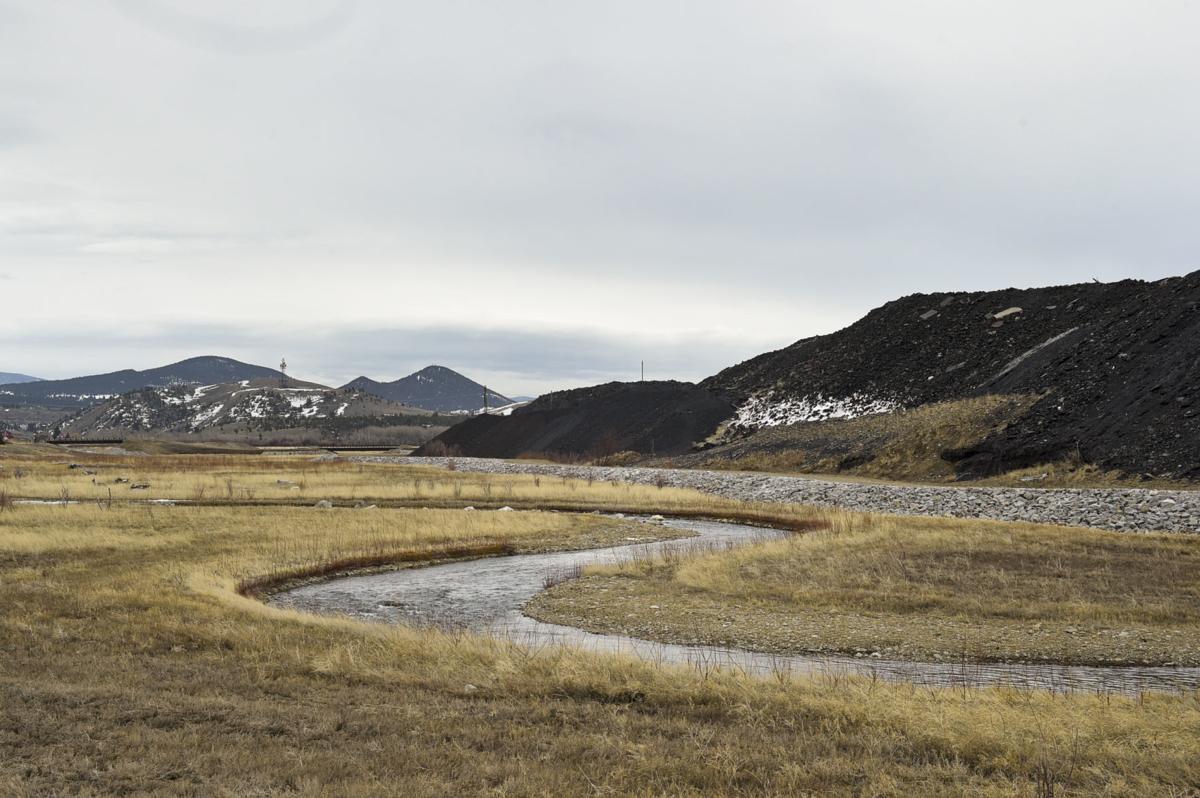 The state of Montana proposes spending nearly $5.5 million on water infrastructure, wetlands rehabilitation and recreation trails and creek access on former ASARCO lands in East Helena.
The Montana Department of Justice Natural Resource Damage Program is taking public comment on alternatives for spending the funds received following ASARCO's bankruptcy about a decade ago. In 2006, the state filed environmental claims against the company due to damages from the former lead smelter. In 2009, as part of reorganization under bankruptcy, the state was paid $5.9 million in addition to an option to acquire 232 acres of ASARCO land at no cost.
The $5.9 million the state received is separate from the roughly $115 million ASARCO paid to clean up lands around East Helena. Those funds are managed by the Montana Environmental Trust Group with the state and federal government via the Environmental Protection Agency as the beneficiaries. In recent years, funding has gone to removal and replacement of contaminated soils along Prickly Pear Creek as well as other contaminated sites and dropping of ground water levels to isolate contaminates.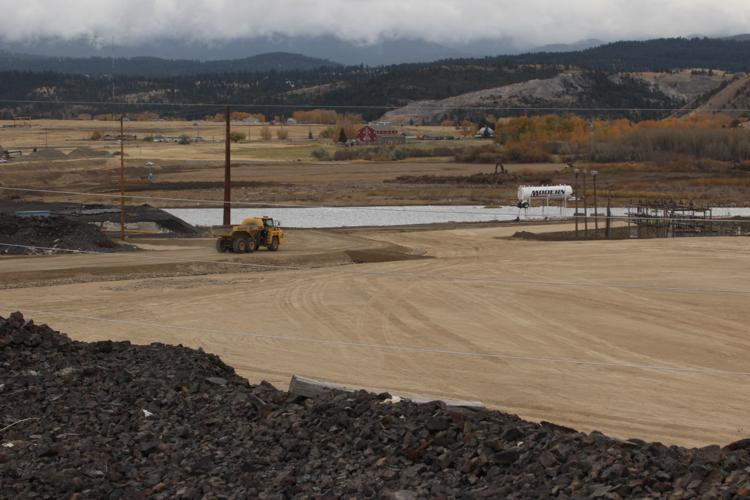 Last year, EPA proposed capping the East Helena slag pile as part of its final plan for cleanup, although that plan and what type of cap to be used has not been finalized. The final report, called a "corrective measures study," is expected in the coming months.
Greg Mullen, environmental scientist with DOJ, said the timing of the state's proposal coincides with completion of restoration work by EPA, what officials call the "remedy."
"Superfund law is restoration picks up where remedy leaves off," he said.
Mullen wrote the restoration plan with fellow state environmental scientist Alicia Stickney. Both emphasized that plans and spending of funds require coordination with EPA and the trust.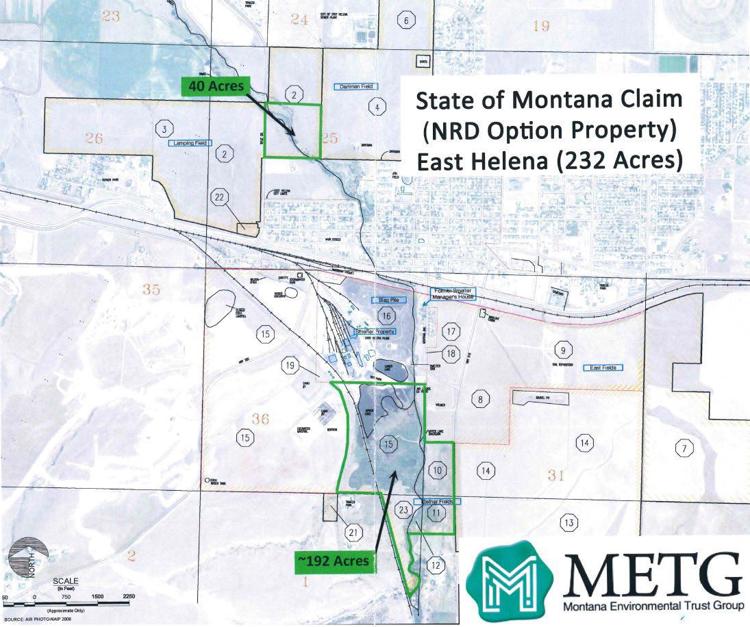 DOJ's proposal and alternatives call for some combination of recreation and restoration of ground and surface water. While the plan does assume certain things will occur, such as the state taking ownership of the 232 acres for which it has first rights to, officials are confident that the alternatives meet their restoration mission.
"We're the Natural Resource Damage Program, so we're here to provide benefit to the natural resources that were injured by the smelter," Stickney said. "The open space and wetlands along the creek would be right along those lines, as well as the groundwater that's also been injured."
The projects identified in the proposal are focused on those already vetted through the community, including a feasibility study for area trails and growth and master plans for water in East Helena.
Specifically, the alternatives dedicate funding to construction of some portion of the proposed Greenway Trail linking East Helena and Montana City, plus open space open to the public. Under environmental trust ownership, the public is not allowed on the property, but under state ownership or a conveyance or sale to Prickly Pear Land Trust or another entity, the trail could be constructed and open.
"People would have access to the creek – that hasn't been possible for 100 years," Stickney said.
Mary Hollow, executive director of the land trust, said the organization has been in conversations for a decade about the future use of the property.
"The community has wanted to see public access in some form and the DOJ funding would support not all but some of the trail development, so obviously we're really excited about that," she said. "It is of utmost importance to Prickly Pear Land Trust that whatever ends up happening is very community led and engaged."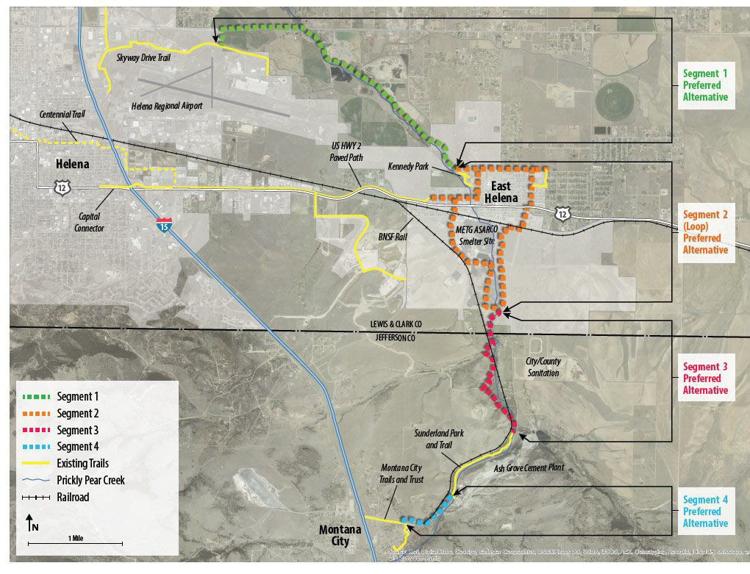 While it is unclear who would ultimately own the land – Hollow believes a regional parks district makes sense – the land trust would likely own the property for at least 10-15 years. She does believe Prickly Pear has the capacity to maintain the trails once completed.
"As we've gone through this process it's been exciting to think about the investment potential and economic potential for the future of East Helena in a way that honors the past and its history but also looks at business investment and things that will be a positive for East Helena going forward," she said.
Total cost for the 11.4-mile trail from the airport to Montana City is about $4.3 million.
Also identified in the proposal is replacement of East Helena's McClellan Tanks, which supply city water but have major leakage. An engineering report put acceptable leakage for the two unlined concrete tanks at 550 gallons per day. Analysis determined that water loss came to nearly 48,000 gallons.
The cost to replace the tanks comes to about $3.3 million.
Three alternatives would allocate $5.5 million with Alternative 1 not taking action.
Alternative 2 puts 70 percent of the funding toward groundwater with 27 percent to trail/open space and another 3 percent to restoration along Prickly Pear Creek.
Alternative 3, identified as the preferred alternative by DOJ, puts 39 percent of funds toward groundwater projects and the remainder to recreation trails and creek restoration.
Alternative 4 puts an equal amount toward recreation and groundwater.
East Helena Mayor James Schell said the city is thankful for the funding but was planning to draft a letter endorsing spending the bulk on groundwater projects.
"We understand the need for recreation and appreciate those types of projects, but we are probably going to ask for more a shift toward groundwater infrastructure," he said. "We believe that shift in funding will help put the lands that ASARCO turned over back in use quicker, but we absolutely do appreciate the recreation aspects of these funds."
"All the alternatives will result in some groundwater compensation, surface water on Prickly Pear Creek and some amount of Greenway Trail," she said.
Reporter Tom Kuglin can be reached at 447-4076 @IR_TomKuglin
Get local news delivered to your inbox!
Subscribe to our Daily Headlines newsletter.