Animals with an attitude.
Well, they're actually morphed animal-people with an attitude.
Betsey Hurd's ceramic creations have a way of capturing the imagination, and for some, their hearts.
Take for instance one labeled "That's MISTER Muttonhead to You" — a black ram standing with one hoof on hip and the other gesturing an emphatic point.
Hurd's critters will be on display at 1+1=1 Gallery from 5 to 9 p.m. Friday, Nov. 8, during the 36th Annual Fall Art Walk in downtown Helena (A full list of venues can be found in today's Your Time.)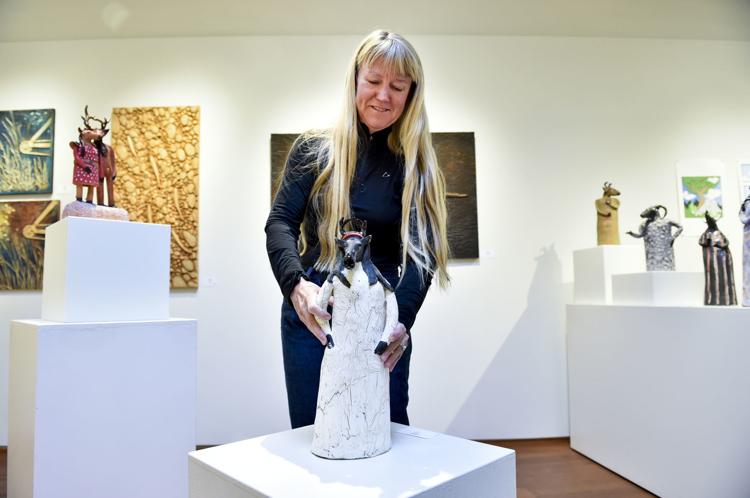 Altogether, there are about a dozen from Hurd's menagerie in the gallery, and you've got to meet them to appreciate them.
Hurd said she's an animal lover — dogs, horses, sheep — you name it.
Another interesting creation in the show is "Marriage of the Elk People," a terracotta statue of a standing bull elk with his arm lovingly encircling his partner, who is dressed in a red elk-tooth dress. Both seem blissfully happy.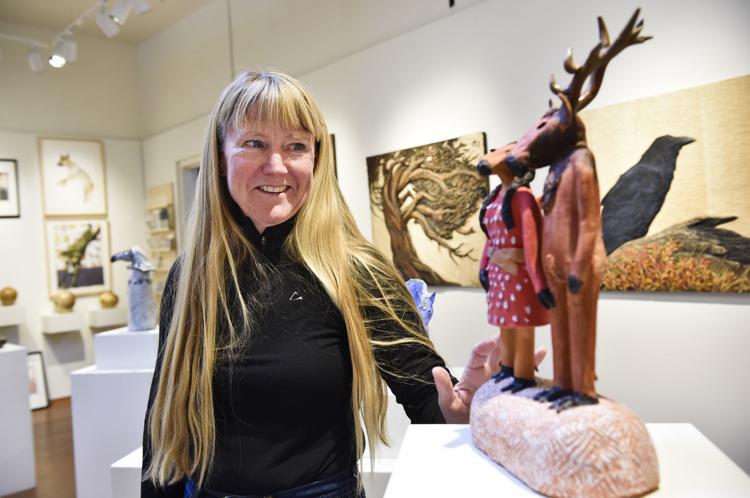 And then there is "Humphrey" — a blue horse, sort of mixed with a dog and maybe a dragon. Wearing a peaceful expression, he holds slender dinosaur-like arms gently across his chest.
Hurd also creates what she calls her gender-fluid works, such as Santerra, who is fresh from the kiln. Santerra sports a glossy black horse head, but also antlers, deer hooves, a long tail and female breasts.
Hurd calls her critters a cross between humans and animals, and has even coined a name for what she creates -- Polymorphic Fabulism.
"The reason I do the work is that connection between humans and animals is what my life is all about," she said, "kind of blurring that line.
"So, my work is about finding that inner spirit that connects with the animal, and making a place to listen to animals so they have a way to connect with humans."
Hurd just might be on the cutting-edge of launching a new Polymorphic Fabulism art movement right here in Helena, suggested gallery owner Maureen Shaughnessy.
"I don't always know where I'm going," Hurd said of how she creates.
She started drawing out her Elk People, she said, but stopped herself.
You have free articles remaining.
"I just have to make it," she said. "They just evolve in the making."
Even with her paintings, she's totally hands-on, approaching her paint and canvas like her ceramics.
"I brush with my hands," she said.
Hurd said she dons a pair of nitrile gloves and just dives into her paints.
Not only does this give her the same tactile pleasures as manipulating clay, but she doesn't have to clean paint brushes when she's done.
But it's not just paints and clay that draw Hurd's interest.
She's also a spinner and weaver who, as an avid horsewoman, weaves horse blankets.
In fact, she's so avid that on Tuesday, while the sun beckoned, Hurd said she was having a hard time making herself stay in the gallery rather than race home to ride one of her three horses.
Hurd calls her sculptures maquettes, or small preliminary models, that are really meant to be people-sized or larger.
"When I grow up, these are all going to be 5 to 6 feet tall," she said.
She envisions a gallery show someday where people walk in and meet her polymorphs face to face.
She just needs to problem solve how to do that.
In the meantime, despite being small in stature, Hurd's polymorphs have plenty of character, charisma and swagger just the way they are.
Of course, not everyone falls under their spell, said Hurd.
Some people take to them immediately. Others walk past and don't even see them.
"The people who get these get them because they have a human connection with animals," she said. "People who are just people-people don't even see them. They just don't get them. It doesn't register. The people I'm trying to connect with are those who have that connection to the natural world."
Perhaps, for some people that spark just might reawaken when they meet her polymorphs.
"I like thinking, we're all polymorphs," she said. "People will say, I'm a horse person. Or, I'm a dog person. Or I'm a cat person. When I was a little girl, I wanted a tail and to be covered with fur."