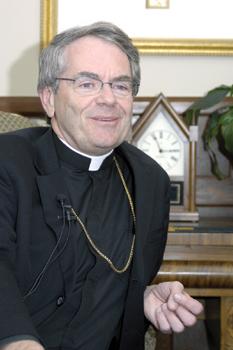 Bishop George Thomas said he was exhilarated by watching Pope Benedict XVI speak in Washington last week.
"It made me want to be a better bishop," Thomas said Monday afternoon.
Thomas, who returned to Helena late Friday night, said he was "still in the clouds over the whole thing." He proudly showed off photos he snapped of Benedict standing beside President Bush.
Thomas said he was impressed with Benedict's energy and ability to connect with youth.
"He emerged as a grandfather figure, clearly," Thomas said.
Benedict spoke of helping immigrants, the poor and the unborn, he said.
"He's very courageous too. He does not dodge the hard topics," Thomas said.
In regards to the sexual scandals within the Catholic Church, which have caused a lot of hurt and sadness within the community, he said, Benedict "chose to walk directly into that."
By meeting with victims, Thomas said, Benedict showed that all in the priesthood are not "brushed with a common paintbrush." A small portion of individuals have tainted the image of the vast majority, who are hardworking and dedicated, he said.
After witnessing a speech, along with hundreds of other bishops, Thomas said he received many calls from people in Helena who had seen him on television. He said he had never seen such a mass of media in one place before.
The speech was "simple but very powerful," Thomas said.
One issue Benedict emphasized is to leave room for dialogue.
Thomas said he agreed with Benedict's stance on academic freedom at Catholic school -- to be very clear in honoring but not compromising the Catholic identity by taking a stand that does not coincide with the church's values.
Thomas said he is excited to meet with Carroll College President Thomas Trebon, who also went to hear Benedict speak in Washington, to discuss their impressions.
"Carroll College is a great resource for us," said Thomas, who received his bachelor's degree in literature and philosophy from the college in 1972.
In interviews with the Independent Record, Thomas and Trebon said one of the points Benedict made during his first trip to the U.S. that really hit home is that it is the colleges' responsibility to transform students into a person as a whole, especially by serving the community.