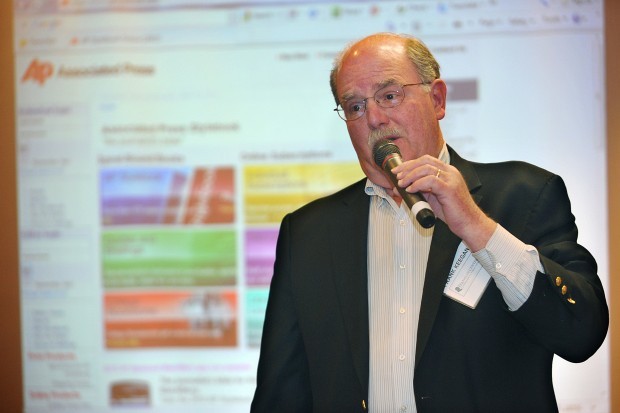 Local bloggers — and potential additions to the cyber writing community — received a crash course in citizen journalism Saturday.
At a six-hour gathering in the Red Lion Colonial Hotel organized by the nonprofit media outlet Montana Watchdog, an assembly of speakers offered their insight into the range of resources bloggers have at their disposal and the things they should keep in mind as they try to increase their influence in the community.
"A lot of people think of bloggers as just folks spewing opinions. I think we're all better off if they do some original research," said Montana Watchdog reporter Michael Noyes, who had the idea for the event, titled "Online News and Open Government."
The day's lecturers included Aaron Flint, host of the statewide "Voices of Montana" radio show and editor of "The Flint Report" blog; John Barrows, executive director of the Montana Newspaper Association; and Carl Graham, president of the Montana Policy Institute, which acts as the publisher for Montana Watchdog.
Anne Bauer, a researcher for the Helena-based National Institute on Money in State Politics, offered a tutorial on using the institute's much-noted website, followthemoney.org, which collects reports from agencies across the United States to offer a range of information about campaign contributions to state-level politicians. Eventually, information about expenditures could be available on the site as well, Bauer said.
Among the features available on the site are national overviews of the amount of money spent on candidates and committees dating back to the 1990s, breakdowns of who exactly contributions are coming from and when those donations were made. One resource, the Legislative Committee Analysis Tool, compares legislative committee rosters and campaign donor data.
Frank Keegan, national editor of the Franklin Center, a nonprofit that offers resources to investigative journalists, flew in for the event as well. He noted the challenges news organizations are facing with corporate mandates, limited budgets and staff cuts, saying that citizen journalists like bloggers have the potential to help fill news coverage voids. But, he said, their work will only receive widespread attention if it is picked up by larger news organizations. And that means they must follow the standards used by professional journalists, referring to resources like the Associated Press Stylebook and trade sites like Poynter.com and hitting the streets to gather direct information instead of looking for facts by sitting at a computer.
"Somebody has to go get it," he said. "It's like farming; it's like mining."
On top of that, Keegan said, bloggers should attach their name to the things they write.
"That's the key to credibility," he said.
He noted that though the popular Montana Cowgirl blog is "pretty sparky," editors like himself would never consider using any information from the site because its author is anonymous.
James Schell, an East Helena blogger, said that in some cases — especially locally — those things might be easier said than done. He was one of a roomful of individuals gathered to glean some ideas at the event. Also among them was Big Sky Tea Party Association board member Roger Nummerdor, who thinks it might be time to start doing some blogging.
He's not getting too carried away, though.
"I don't think I'll ever be a Tweeter," he said.