Elementary students in East Helena will be part of an early education game to prevent suicide by reducing behavioral problems and mental health issues.
Blue Cross Blue Shield and American Chemet provided almost $17,000 in grant funding to train Kindergarten through third grade teachers on the PAXIS Institute Good Behavior Game last month. Teachers in Kindergarten through third grade will implement the program with a goal to develop coping skills for social, emotional and behavioral challenges that will last a lifetime.
In 2014, Montana had the highest rate of suicide in the nation and has been among the top five states for 40 years, according to a report by the Montana Suicide Mortality Review Team.
The 2017 Legislature appropriated $1 million to be administered by the Department of Health and Human Services for suicide prevention. A spokesperson for the department said $250,000 will go toward the Montana Native Youth Suicide Reduction Coalition. The department will decide how to spend the remaining $750,000 through a bidding process beginning this fall. While it's unclear who will receive that money, the East Helena School District found their own funding source with guidance from Carl Rosten, the state suicide prevention coordinator at DPHHS. East Helena is one of several communities looking to continuously implement prevention programs due to a particularly high rate of suicide.
"We've had too many suicides in East Helena of our kids. We believe that something can make a difference for kids," Superintendent Ron Whitmoyer said. "This is a statistically proven program."
The last day of school was June 8, but Whitmoyer said every teacher volunteered to attend the full day training on June 9. Teachers are already including the Good Behavior Game in their summer school program.
Sarah Sandau, who teaches first grade, said she uses the game during normal school activities like instruction or group work. Students first learn what good behaviors are, referred to as "Pax" during the game, while bad behaviors are referred to as a "Spleem." Sandau said "spleem" doesn't have the same negative connotation as "bad" and students are able to quickly move toward "pax" behaviors without dwelling on mistakes.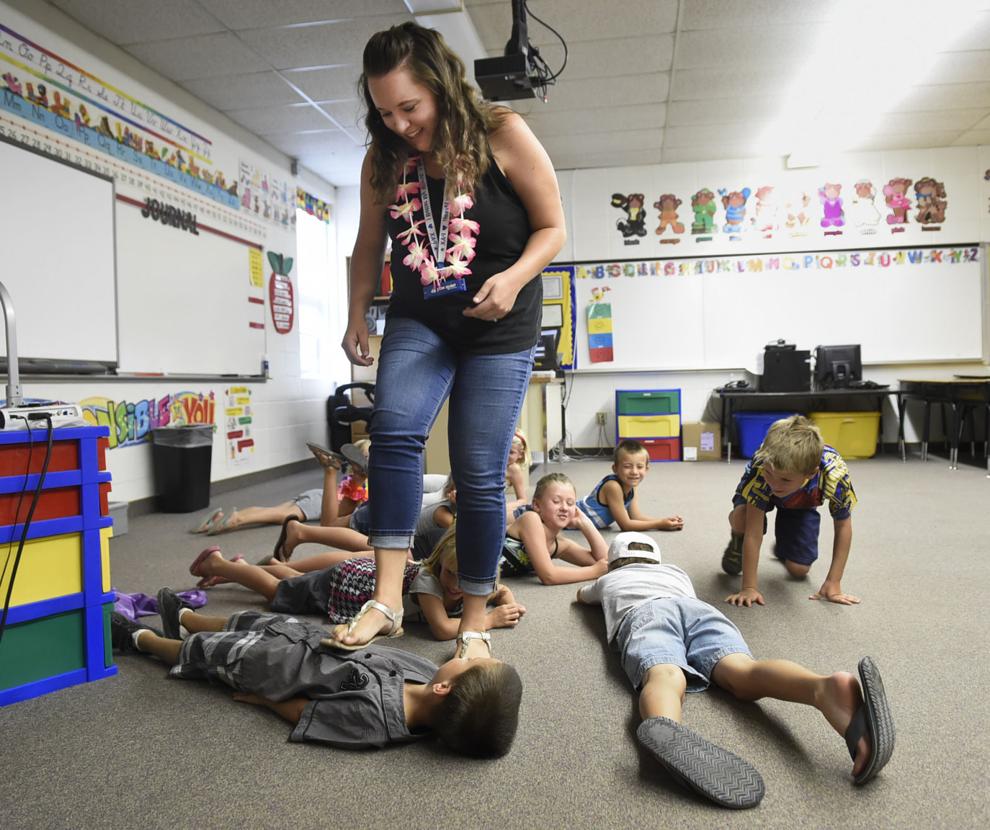 During the game students are on teams and learn to self-regulate, work together for common goals and guide their peers toward "pax" behavior in a productive way. Teams with the most "pax" behaviors win and get a small prize which is usually focused on silly behaviors that aren't typically seen in a classroom. Sandau's students like reading under their desk and sitting backwards on chairs, she said. When a team loses, teachers have the opportunity to teach resiliency.
"I tell them, 'It's OK, and I can try again next time,'" she said.
When the game is over, students are more likely to stay aware of their behavior and self-regulate when needed.
All of the strategies in the Good Behavior Game were developed by teachers and tested by prevention and behavioral scientists. It's been used in 32 states and has reached 105,000 students in 650 schools.