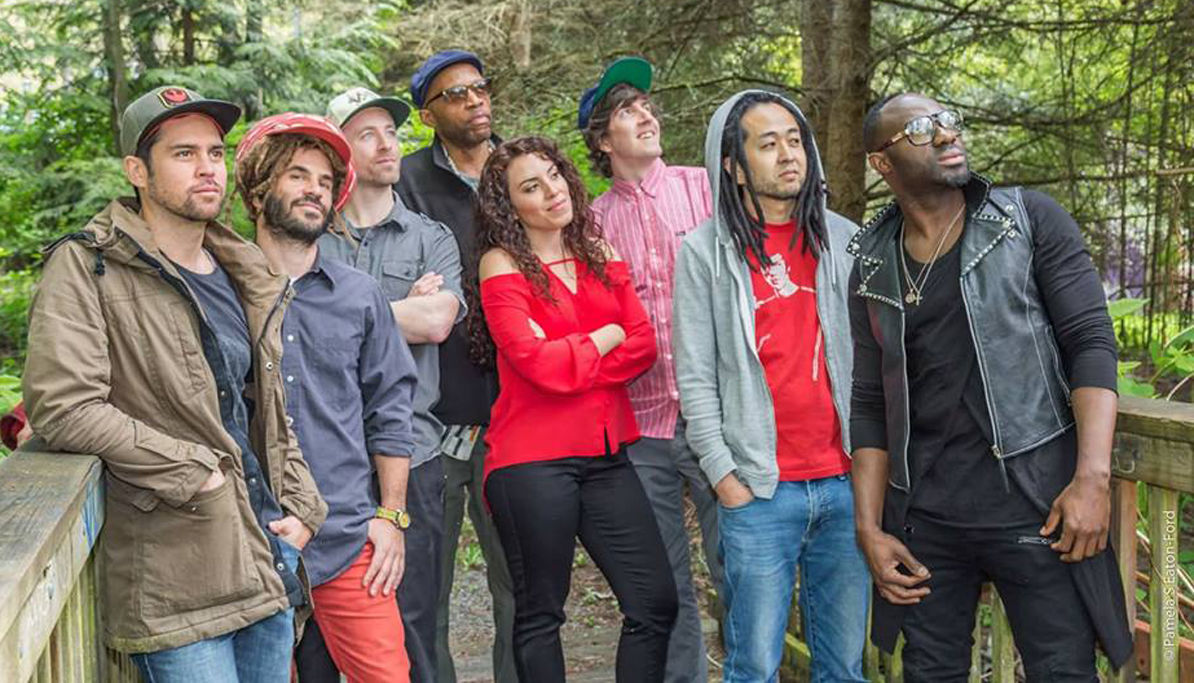 music
Starz on Stage: ABBACADABRA
Starz on Stage Productions presents ABBACADABRA, The Ultimate ABBA Tribute show 7:30 p.m. Thursday, Oct. 10, at the Helena Civic Center Ballroom, 340 Neill Ave.
For info, visit www.starzonstage.net. Tickets $35. Season tickets, $149. Table seating, with the Algeria Shrine providing a no-host bar. For more info, contact 406-227-9711 or joyofmusic66@q.com.
Reggae at Lewis & Clark Tap Room
An authentic and unique reggae band from Seattle, plays 7 p.m. Thursday, Oct. 3, at Lewis & Clark Brewing, 1517 Dodge Ave. No cover.
The Highlife Band brings rhythms from the French Caribbean, Brazil, and West Africa combined with Jamaican rockers, steppers, one-drop, and dancehall reggae traditions.
The band has been entertaining audiences from France to Canada to the Western US with original songs made for dancing and singing since 2011.
Marbin plays jazz-rock
Chicago band Marbin plays progressive jazz-rock 7 p.m. Friday, Oct. 4, at Lewis & Clark Brewing. No cover.
Marbin started touring in 2011 and has played over a thousand shows since. So far, they've released five albums and collaborated on tours with a number of other musicians.
Alt folk group: Collapsing Stars
Twin cities alt-folk quartet Collapsing Stars plays 7 p.m. Saturday, Oct. 5, at Lewis & Clark Brewing. No cover.
"Collapsing Stars' languid folk songs are punctuated by forceful stabs of bluesy guitar…. The effect can be whispery and beautiful, but the band's music maintains a welcome undercurrent of reflection, doubt and even dread." – Stephen Thompson NPR Music. Named a Top 100 SXSW band.
theater
'They Promised Her the Moon'
Carroll College Theatre stages "They Promised Her the Moon," through Oct. 6, at the FLEX Theatre in the Campus Center.
The play is about Jerrie Cobb, one of the first women to be tested for space flight.
Tickets are $15 general admission, $10 students/seniors, $5 children 12 and under, and $5 for those with current Carroll College ID. Tickets available at the door or online.
dance
Bollywood is back
A memorable night of dancing returns to Helena.
Tibetan Children's Education Foundation presents its annual Bollywood Night benefit, with acclaimed DJ Prashant teaching the dance moves and spinning the discs for your dancing pleasure.
The event starts at 7 p.m. Saturday, Oct. 12, at the Helena Civic Center, 340 Neill Ave.
Doors open at 6:30 for people needing help with Bollywood/Indian attire. Costumes are welcome.
The gala features an Indian style photo booth, a bazaar, live and silent auction, heavy hors d'oeuvres and desserts. Tickets are $35 in advance and $40 at the door and are available at www.TibetChild.org or 406-461-8745.
'Ishmael' at The Myrna
"Ishmael," a critically acclaimed one-man show based on the classic novel, "Moby Dick," takes the stage at The Myrna Loy, 7:30 p.m. Thursday, Oct. 3.
Actor Jack Weston, in the role of Ishmael, tells the riveting tale of a country schoolteacher who as a young man seeks adventure and signs onto a whaling ship.
Tickets are $20 adult and $15 student and are available at the box office, 15 N. Ewing St., or call 443-0287 or visit themyrnaloy.com.
library
Lorna Milne on Evelyn Cameron
Helena author Lorna Milne presents "A Frontier Photographer and a Naturalist: Evelyn and Ewen Cameron," 7 p.m. Thursday, Oct 10, at Lewis & Clark Library, 120 S. Last Chance Gulch.
The annual Stephen Ambrose Memorial Lecture Series is followed by a reception.
Milne is the author of the much acclaimed 2017 biography, "Evelyn Cameron: Photographer on the Western Prairie."
Her lecture will be richly illustrated with slides of Cameron's photos and Milne's meticulous research.
Copies of "Evelyn Cameron" will be available for sale and a book signing will follow the lecture.
Library solar tour
The Lewis & Clark Library, 120 S. Last Chance Gulch, hosts a solar open house on Saturday, Oct. 5, from 10 a.m. to 5 p.m. as part of the National Solar Tour.
Open house attendees can ask questions, connect with others interested in solar and learn about how to go solar.
Most importantly, attendees will learn how the library has benefited from going solar.
Library and Carroll College
Big Read features women scientists
Carroll College hosts the NEA kickoff event for this year's Big Read, featuring the book "Lab Girl," by Hope Jahren.
A group of seven Carroll College women scientists present "Telling Stories One Scientist to Another: Lab Girl and Carroll College's Women in Science," 7 p.m. Thursday, Oct. 3, in the lower level, Campus Center, Carroll College, 1601 N. Benton Ave.
You have free articles remaining.
Free and open to the public.
Other upcoming events include: Nature Journaling in the Fall and Winter at 11 a.m. Saturday, Oct 5, and author Jim Robbins & the People Who Plant Trees at 7 p.m. Monday, Oct. 7. Both events are at Lewis & Clark Library, 120 S. Last Chance Gulch.
The Big Read is sponsored by Lewis & Clark Library.
Carroll College
Foreign film series
The Carroll College Foreign Language Film Series presents "Shoplifters," 7 p.m. Tuesday, Oct. 8, in the Sage Room at Carroll College's Corette Library, 1601 N. Benton Ave.
"Shoplifters" is a 2018 Japanese drama film directed, written and edited by Hirokazu Kore-eda, starring Lily Franky and Sakura Ando. It is about a non-biological family that relies on shoplifting to cope with a life of poverty.
family fun
Vegas entertainer to headline event
The Helena Area Chamber's Annual Big Night Out event featuring Las Vegas entertainer Jeff Civillico is scheduled for 5:30-10 p.m. Oct. 11 at the Lewis and Clark County Fairgrounds.
Civillico blends physical comedy, action-packed stunts, and world-class juggling with family-friendly audience interaction and insane amounts of energy in this hilarious clean comedy show that is great for all ages. The Big Night Out will also feature the chamber's third annual "Chair Affair" silent auction.
film
Racism and immigration series
The Helena community is invited to explore topics of racism, immigration and democracy through a free five-part film series.
Screenings are on Tuesdays, 6:30 to 8 p.m., Oct. 8 and 22, Nov. 5 and 19, and Dec. 3 at the Holter Museum of Art, 12 E. Lawrence St., followed by discussions.
The first film "Long Walk to Freedom," tells stories of 12 ordinary people from different backgrounds who accomplished extraordinary things in the Civil Rights movement.
For more information on the films visit Facebook page helena.mt.dsa.
art
Corks and Canvas at the Holter
First Friday at The Holter Museum of Art, 5 to 7 p.m. Oct. 4, features opening receptions for three new exhibits as well as the Holter's monthly Corks and Canvas class.
Shows include: "Montana Fiber Traditions," organized by the Helena Spinners and Weavers Guild, Oct. 4-Nov. 8; "Coping with the Landscape," with photographs by Ryan Parker through Nov. 3; and "Picturing Paradise: Cuadros from the Peruvian Women of the Pamplona Alta as Visions of Hope" through Nov. 20.
benefit and art
Seeking Asylum interactive event
Hands On Global holds an interactive evening at The Myrna Loy, 15 N. Ewing, 7 p.m. Tuesday, Oct. 8, about the current refugee crisis.
The group works both in Greece and on the U.S./Mexico border.
Team members will tell stories of the refugees they've met, and there will be a 12-minute film featuring Omar Alkashal (founder of Refugee4Refugees) as well as an art show, plus music by Judy Fjell and Will Boland.
The goal is to have attendees experience the life of an asylum seeker.
Donations requested for medical supplies and a mobile clinic.
outdoors
latest bird research
Join Montana Audubon's Amy Seaman and Caroline Provost for a tour of the research and citizen science outreach they completed during the recent summer's survey season.
The talk is 7 p.m. Tuesday, Oct. 8, at Montana WILD, 2668 Broadwater Ave.
Sites include waterfalls throughout western Montana, the Madison and Missouri Rivers, Ninepipe NWR and colonial waterbird habitats.
Learn how each of these projects relate to the specific watershed and geography where they occur, and how your local watershed may shape the bird species you see around you.
Hiking Adventures & Misadventures
Helena Outdoor Club members recount their hiking adventures and misadventures 7 p.m. Thursday, Oct. 3 at Montana WILD.
Learn from their good and "not so good" experiences. Also, they will review the 10 Hiking Essentials.
Sponsored by Helena Outdoor Club and open to all ages
helena movie listings
Cinemark
Joker, R
Abominable, PG
Downton Abbey, PG
Judy, PG-13
Rambo: Last Blood, R
Ad Astra, PG-13
IT Chapter Two, R
Hustlers, R
The Peanut Butter Falcon, PG-13
Myrna Loy
Downton Abbey, PG
Linda Ronstadt, PG-13