The Archie Bray's annual first-year artist exhibition will showcase an unusual and exuberant set of artists over the next six weeks.
The show runs from Aug. 15 to Sept. 28 and will open today with a reception from 6 to 8 p.m. in the Warehouse Gallery. The show will then be available to the public from Monday-Saturday from 10 a.m. to 5 p.m. and on Sunday from 1 to 5 p.m. After Labor Day, when it will be open from Monday-Saturday from 10 a.m.-5 p.m.
Jessica Brandl, Kelsey Duncan, Stuart Gair, Iva Haas and Kelly Stevenson have been in residency at the Bray since 2018. Together their work fills the classic, simple gallery space of Archie Bray's warehouse. Brick walls provide a good backdrop to the other forms baked clay can take, from the classic ceramic-wares of plates to the wild, strange sculptures of the uncanny.
The artists hail from all over the world. Haas comes from across most of a continent and an entire ocean from her birthplace of Belgrade, Serbia, while Stevenson's hometown is down the road in Livingston.
Haas' work in particular is deeply unfamiliar. Using mixed medias like yarn and metal, her fired clay seems to sprout uniform bristles or form soft curves mixed with softer materials. In her artist's statement, Haas said her work is attempting to combine and memorialize the "decay of a post-WWII financial and brutalist architectural boom in Serbia, ultimately creating buildings that belong to a fictional city."
Other artists focused on the disconcerting nature of three-dimensional objects themselves. Brandl, a Kansas City artist and Taunt Fellow, has focused her backstory and the creation of her new identity into a relationship with the unsettled.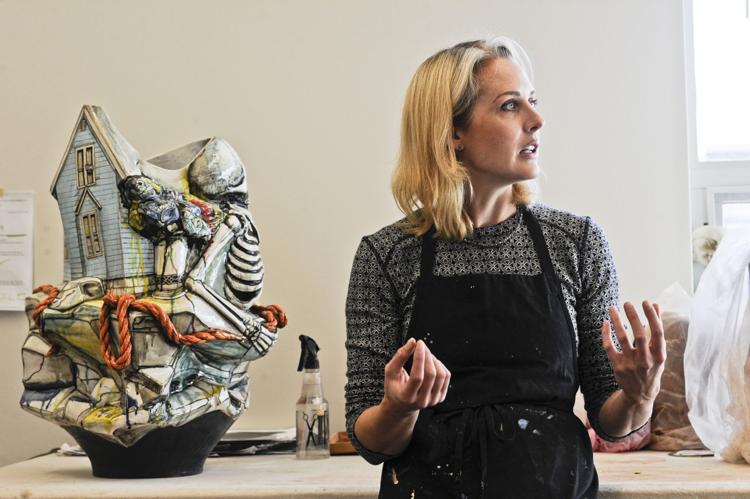 "I'm really fascinated by 3D objects," Brandl said in an October interview. "I had to deal with, organize, get rid of stuff at home, and that all went into sculpture."
Brandl's work has engaged with historical objects, like Pompeiian artifacts and the tail of a drunken elephant shipped across the Atlantic Ocean, as well as the domestic normalcy of things like muscle cars and coffee cups.
"I liked plastic things, the relationship of reading objects," Brandl said, "objects, not big interrupting things. I was suspicious of that." 
You have free articles remaining.
Artist Gair focuses on the function of his forms. The Ohio-native is known for making cups, vases, pitchers, teapots and other deeply domestic and historic objects.
"By examining form, function, balance, elegance, silhouette and volume, [Gair] thinks about how objects are displayed and how they can occupy a space in ways similar to the historical objects he admires," his artist's statement reads.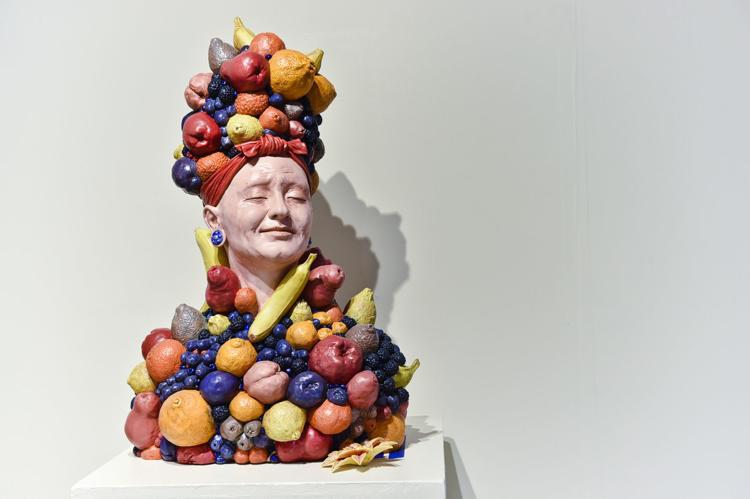 And then there's Duncan's burlesque statuary. Duncan, who grew up in Idaho Falls, said he was fascinated by the culture of burlesque that's proliferated in small town America.
"I try to empathize with the object, the sculpture," Duncan said. "I want you to spend time with it."
Duncan said that his work is "as far from being self-portrait as you can get."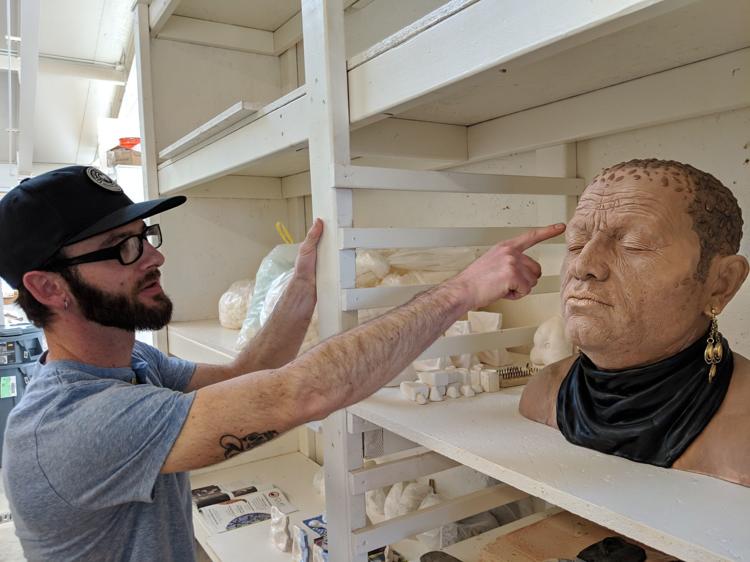 He makes his pieces by coiling, taking long rolls of clay and wrapping them into the form his pieces will eventually take. Depending on the size of the work, he can be molding, touching up, reforming and slicing material away for over a month. 
"There are dynamic juxtapositions that make the object feel human," Duncan said. "It's turning elegance into something an audience can find in one singular object."