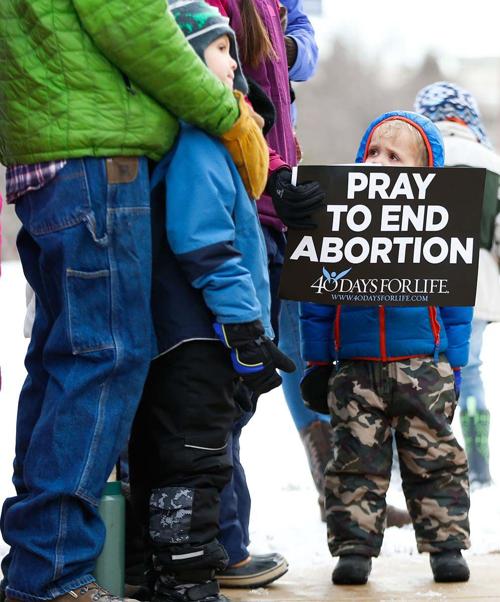 Pro-Life Helena hosted the 2020 Montana March for Life on Saturday morning in front of the state Capitol.
About 100 people attended the event, which marks the 47th anniversary of Roe v. Wade, to voice their commitment to the value of life.
"I hope people will walk away from this with a reaffirmed value of all life and the importance of ending the need for abortion," Pro-Life Helena Director Sharon Nason said in an interview. "We seek to provide support for women with unplanned pregnancies other than abortion."
Pastor Steve Bostrom served as master of ceremonies. He welcomed attendees and introduced the event's speakers Donna Nickerson, Eric Hutch and Jack Curren, a representative of Sen. Steve Daines' office.
Following the oration, the crowd was treated to a live ultrasound courtesy of CareNet of Missoula, a branch of the 45-year-old nationwide religious organization that stands against organizations like Planned Parenthood.
A CareNet volunteer conducted the ultrasound in the organization's mobile medical unit parked near the steps of the Capitol, and it was broadcast on television screens positioned in front of the crowd.
The event culminated in a march around the Capitol building led by Knights of Columbus.
You have free articles remaining.
Catholic Social Services Administrative Assistant Allison Sever fielded questions from her booth at the event.
Sever said her organization provides support to struggling parents, including adoption services and help navigating the process of adoption.
"The Catholic Church is about the broader scope of it all, so you spread the resources as far as you can," she said.
State Rep. Dennis Lenz, R-Billings, also attended the event. As an adopted child, Lenz said the organization's message resonates with him. He said he was born prior to Roe v. Wade, the landmark decision by the U.S. Supreme Court in 1973 that protects a pregnant woman's liberty to choose to have an abortion, but said he regularly wonders what could have been — or not — if he were born later.
Lenz, attending the event following his involvement in Legislative Week with his wife, said the day's message reaffirmed their decision to start a family.
"Our oldest daughter is 30 years old. Lots of thoughts about her today," he said. "Just because it's not perfect, just because things don't line up perfectly, doesn't make family any less valuable."
Get local news delivered to your inbox!
Subscribe to our Daily Headlines newsletter.