The memorial to Confederate soldiers is a granite fountain in Hill Park. Though statues and memorials that honored controversial figures of the Civil War are being taken down in cities around the country, the Helena city commission is working to install a sign explaining the fountain's history. That sign has not yet been installed.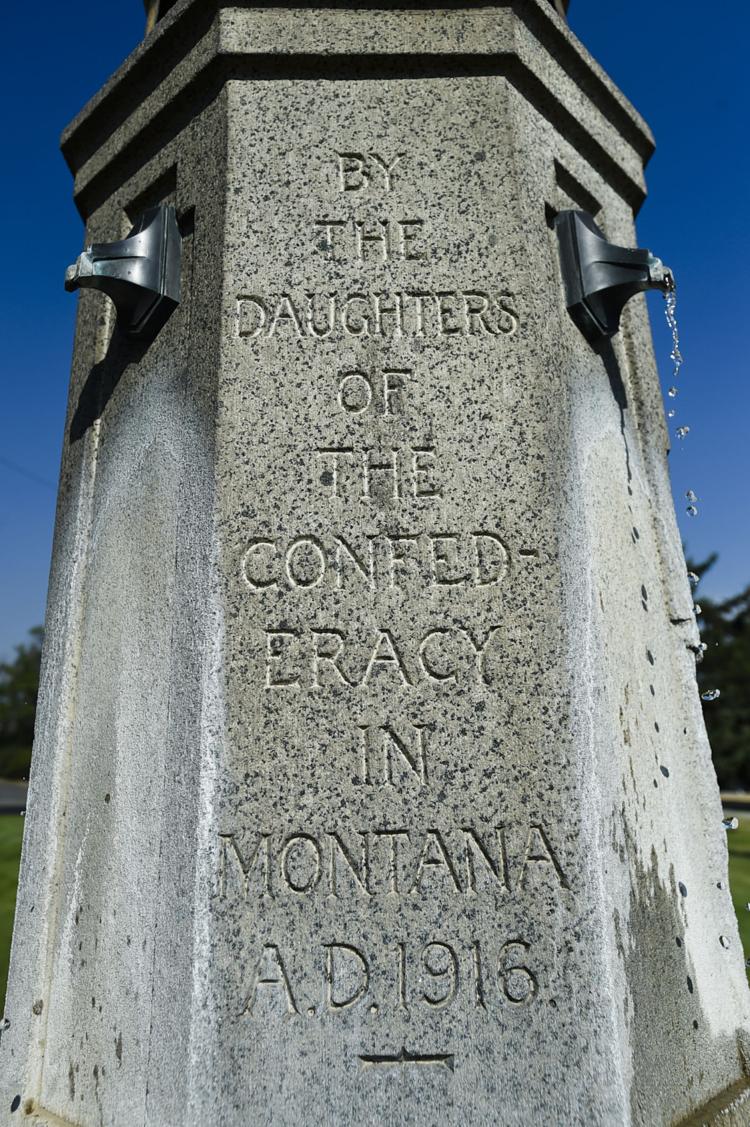 Over the weekend, three people were killed as white supremacists and neo-Nazis gathered for a "Unite the Right" march in Charlottesville, Virginia. President Donald Trump has come under fire for initially refusing to denounce the hate groups and later only doing so under pressure.  
"Today, we must recognize the fact that the Confederacy and its symbolism has stood for segregation, secession, and slavery," reads a letter from state lawmakers Rep. Shane Morigeau, D-Missoula; Rep. Jonathan Windy Boy, D-Rocky Boy; Rep. Bridget Smith, D-Wolf Point; Rep. George Kipp III, D-Heart Butte; Rep. Susan Webber, D-Browning; Rep. Sharon Stewart-Peregoy, D-Crow Agency; Rep. Rae Peppers, D-Lame Deer, and Sen. Jason Small, R-Busby.
"The Confederate flag was even used by the Dixiecrats, a segregationist political party of the 1940s. The flag continues to serve as an emblem for racism and racial inequality for domestic terrorist groups such as the Ku Klux Klan, neo-Nazis, and other white nationalist organizations."
The group is calling on the Helena City Commission and all statewide officials to remove the memorial.
Helena Mayor Jim Smith, who is seeking re-election, said the city commission will likely discuss the future of the fountain at an administrative meeting scheduled for 4 p.m. Wednesday, Aug. 16, in room 326 of the City-County Building. There will be an opportunity for public comment, he said.
"This is something we want to talk about and we want to hear from people about," Smith said. 
Though he has previously said he was opposed to removing or altering the fountain, Smith said he is open to the idea now. He said he wants to discuss the issue with the community and the city commission before making a decision.
"I'm just deeply troubled by what's going on in the country today, and the fountain's a part of it, so we'll have a discussion about the fountain," he said. "But are we headed toward the second American Civil War? There's larger questions that need to be discussed."
You have free articles remaining.
Commissioner Dan Ellison also said he'd like to hear from the other commissioners before making a decision, though at least one commission member has already made up his mind.
"After Charlottesville the only contemporary context is racial and political hate. Now the Memorial must be removed," Commissioner Ed Noonan said in an email. " … I think that leaves it open to being treated as an artifact to be stored for future disposition."
In their letter, members of the American Indian Caucus said white nationalists, neo-Nazis, members of the alt-right and any other groups that propagate hate, discrimination, violence and bigotry have no place in this country. 
"These groups dishonor the basic principles of equality on which this nation exists. Advocating hate through violence is terrorism and shouldn't be labeled as anything less. Generations of soldiers and civilians have given their lives fighting for equality. We are grateful to our veterans, our active military members, and those who lost their lives serving and defending our Constitution and country," the letter reads.
"Our ancestors fought and our family members still fight for our right to life, liberty and the pursuit of happiness. Thousands of American Indian soldiers fought for the Union Army to end slavery, and thousands more fought fascism and genocide in World War II. American Indians will continue the fight against those who are misguided enough to perpetuate those beliefs.
"That is why we call upon the Helena City Commission and all of our statewide officials to step up and remove the Confederate Memorial Fountain from Helena, Montana, our capital city. The fountain was commissioned by the United Daughters of the Confederacy, an organization that openly supported the white supremacist views and mission of the early Ku Klux Klan. This is the only Confederate monument in the northwestern United States."
The letter calls out the commission for voting to add the sign, saying the fountain still has its roots in a racist movement.
"We ask that you all recognize the harmful message that this fountain sends to Indians, minorities, and all Montanans of this great state. Please take a stand and recognize that this fountain is a divisive symbol in Montana and represents a history that our country and citizens have repeatedly fought against. Public property in Montana should not be used to promote Nazism, fascism, totalitarianism, separatism, or racism. Please send a message that there is no hate in our state by removing this divisive memorabilia from the capital city."
The fountain was given to the city in 1916 by the United Daughters of the Confederacy. The memorial hardly drew a second glance before a 21-year-old man who had previously been photographed with the Confederate flag shot and killed nine people at Emanuel African Methodist Episcopal Church in South Carolina in June 2015, which sparked a robust community discussion about what to do with the Confederate symbol in Helena.
"This Confederate fountain needs to go," Dunwell said. "It fans the flames of hatred and represents deep hurtful prejudice — historic preservation must not jeopardize public safety or supersede social justice. I'm saddened by the history our country is making with its racist rhetoric and hateful killings. Let's denounce the hate and lovingly remove the fountain."