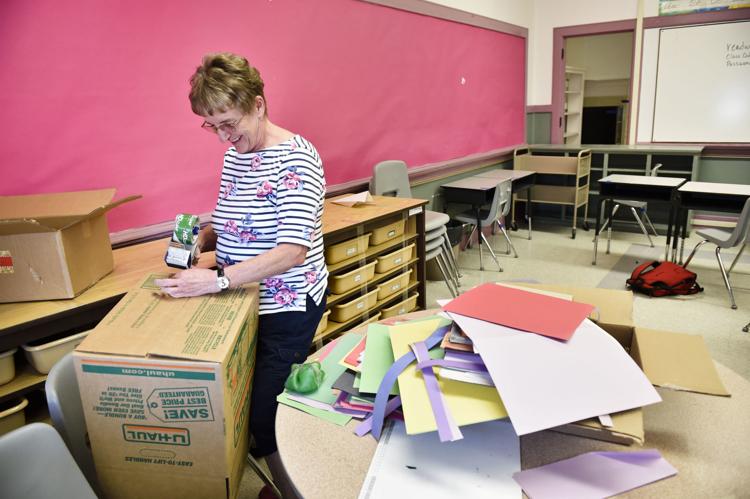 Thursday was the last day of classes before summer break. The old Bryant building will be demolished before students return to a brand new building in the fall. 
Kathy Canevaro has been a teacher at Bryant for 14 years, and she has been in the same classroom that whole time.
In the 28 years she has taught school, Canevaro has never been in a new school building. 
"I say goodbye as I go, but I'm excited to move on," Canevaro said. "The staff is the school. These are just walls. I think those who went to school here as kids probably feel it more." 
Over the past year, Canevaro's class has experienced the rumbling of construction work just outside their door. They've taken several tours of the new school and Canevaro is already preparing for her new learning space.
"I have gorgeous windows," she said. "I love how gorgeous and bright the new space is."
This is a big contrast to the dark and narrow halls of the old Bryant. Canevaro said that when she first saw the new building she thought to herself, "I can't retire now. I have to do at least one year at the new school." 
Bryant Principal Trisha Klock said the moving process at Bryant has been fairly easy. As teachers have been packing up boxes, students have been signing the walls of the old Bryant building. 
"It's been nice to see the look on teachers' faces," Klock said. "It's been a fun way to move into a new school."
Canevaro has spent three weeks packing up boxes. She called it a "cleansing moment" as she tossed clutter from the past 14 years. She even found items left behind by the two teachers who had the room before her. 
Klock said many students at Bryant became upset when they discovered the old Bryant building would be demolished. "This is their safe place," Klock said.
When they finally saw the new building, however, the students were OK letting the old one go. 
"With the shape Bryant is in right now, people just want a nice space for kids," Klock said. "We've been making do for the past year. We keep saying 'one more year,' 'one more month' and 'one more week.'" 
Like the other principals, Klock said the Bryant staff is incredibly thankful that the community agreed to fund all three new schools. 
Asbestos abatement at Bryant started Friday, June 7. Demolition of the building will begin approximately two weeks after.
Get local news delivered to your inbox!
Subscribe to our Daily Headlines newsletter.